A long round loaf of bread. That's what you get if you bake your bread in a Pyrex Bake-a-Round.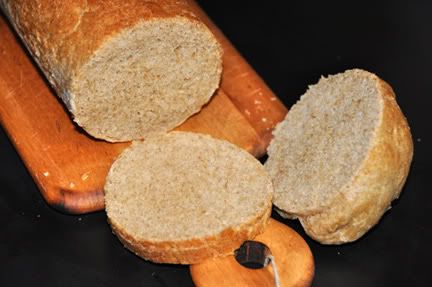 Back in the 1970's Corning marketed a clear glass tube for baking bread under the Pyrex brand name and called it a Bake-a-Round. The tube holds dough for a one pound loaf and sits in a metal rack for baking and for storing. When baked the loaf is about 3-4" in diameter and 18" long. (That's approximate, I didn't go measure.) I love my Bake-a-Rounds. I had at least one from back in the day. Later I purchased more on eBay so that I could have two in town and two at the farm. Bake-a-Round bread is really good for little hands. I used them a lot when my girls were small. Makes a nice party bread, too.
These were only sold for a few years before being discontinued. While I have always loved mine, I think they must not have been too popular. Many that are around for sale today still have their original boxes and recipe posters. I no longer have the boxes for my Bake-Arounds here in town, but
click here
for some great photos at Pyrex Love.
Yesterday I baked
All-Bran Bread
again and decided to go with the long round loaf. I haven't used a Bake-a-Round in well over a year and had to go looking for it. Only found one, but as I was only baking one loaf, that was OK. I'm sure the other is around here somewhere! I will ask the people who cleaned up everything whilst I was gone.
But when I came out with it, DD#2 got all excited about me baking in the Bake-a-Round. First I set the breadmaker to make the dough for us. Then I sprayed the inside of the tube with PAM before putting in the loaf. The directions called for covering the ends of the tube with foil, so I have always done that.
Here's the dough in the tube ready for rising.
Baked and still in the tube.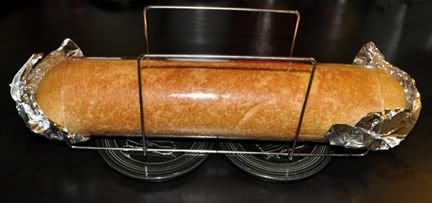 Out of the tube to cool.

And here we have some sliced and ready to eat.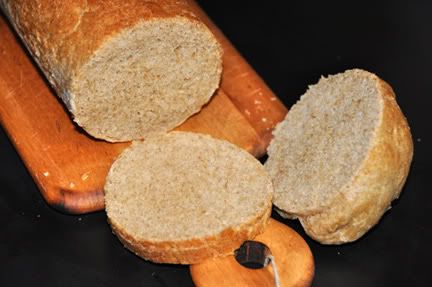 I had two thin slices to make a peanut butter sandwich yesterday for lunch. Then last night, Mike fixed some for us with some olive oil mixed with pesto as part of our dinner. YUM.
If you don't have a Bake-a-Round and are interested in finding one, they often turn up at garage sales and can nearly always be found on eBay. Many times they appear to be still NIB (new in box). And they can often be purchased very inexpensively. Good luck!
namasté,