Well, I was surprised to note that I have not blogged about this dish before. The Barefoot Bloggers made it back in June of 2008. It's a
TNT recipe from Ina Garten
and a favourite pasta salad at our house.
As is my wont with most recipes, I have changed it up just a bit. Mainly I cut back on the mayo and the total amount of olive oil, but add more Parmesan and pignoli. Also, I make my pesto with all pignoli and no walnuts. I freeze a lot of pesto every summer, but if I am out and want to make this in a hurry, I find that that Costco's Kirkland brand of refrigerated pesto works very well. And as I always have a choice of several different pastas in the pantry. I just choose from what's there. Yesterday I used some mini farfalle and bag of pasta DD#2 got for Christmas that had shapes of gingerbread men, gingerbread houses, and evergreen trees.
This recipe makes a LOT of salad, so I'll have enough to share with my Mom & sister, as well as having some for lunch this week. It's mixed up in the largest Fiesta baking bowl.
Some of our ingredients - I really like using the smaller sized pastas for this salad.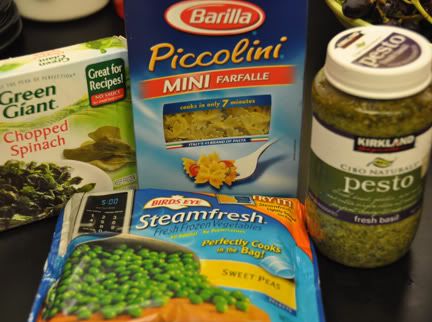 Pastas cooked and mixed together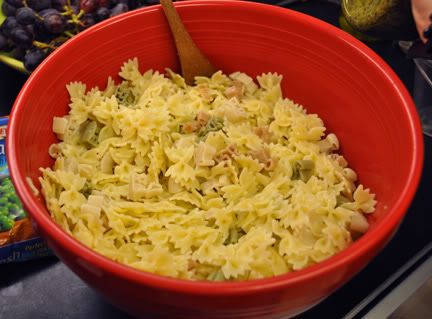 The best way to squeeze spinach dry is with a potato ricer. A friend of mine from an internet message board actually had this tip published in
Fine Cooking
.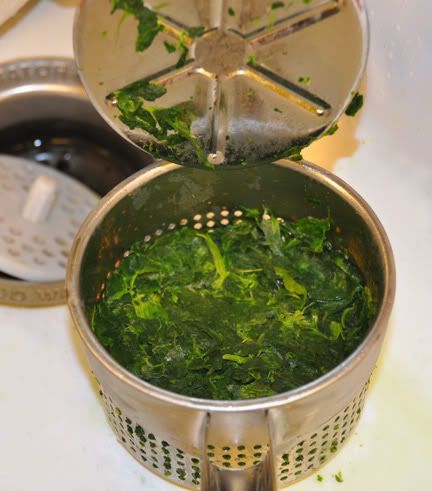 Spinach, pesto and lemon juice processed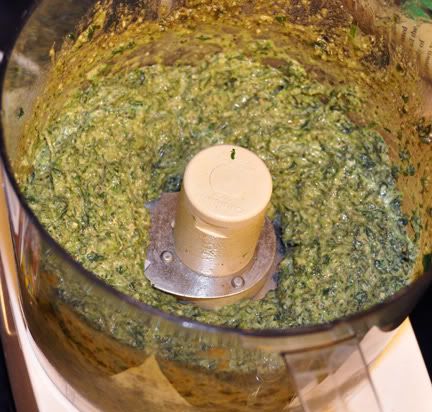 Pesto mixed into pasta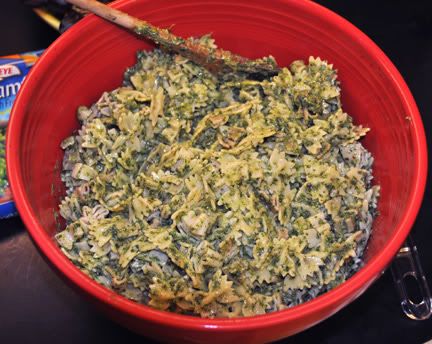 Parmesan. peas and pignoli added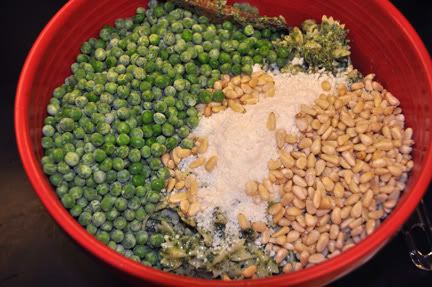 All mixed in a scarlet Fiesta mixing bowl and ready to serve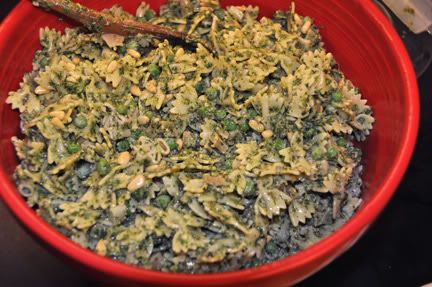 Pasta, Pesto and Peas
adapted from Ina Garten's recipe in Barefoot Contessa Parties

* 3/4 pound fusilli pasta
* 3/4 pound bow tie pasta
* up to 1/4 cup good olive oil
* 1 1/2 cups pesto (packaged or see recipe below)
* 1 (10 oz) package frozen chopped spinach, defrosted and squeezed dry
* 3 Tbsp freshly squeezed lemon juice
* 1/2 cup good mayonnaise (I use Hellman's light.)
* 3/4 cup freshly grated Parmesan cheese
* 1 (12 oz) package frozen English peas, defrosted
* 1 cup pignoli (pine nuts)
* kosher salt and freshly ground black pepper, to taste

Cook the fusilli and bow ties separately in a large pot of boiling salted water until each pasta is al dente. Drain and toss into a bowl with the olive oil. Cool to room temperature.

In the bowl of a food processor fitted with a steel blade, purée the pesto, spinach, and lemon juice. Add the mayonnaise and pulse again to mix. Add the pesto mixture to the cooled pasta and then add the Parmesan, peas, and pignoli. Mix well, then taste and adjust seasonings. Serve at room temperature.



Note:

The exact amount of peas is not critical. Bag sizes vary. I've used as little as 8 oz and as much as 16 oz.



Pesto:


* 1/2 cup pignoli (pine nuts)
* 3 Tbsp chopped garlic (9 cloves)
* 5 cups fresh basil leaves, packed
* 1 tsp kosher salt
* 1 tsp freshly ground black pepper
* 1 1/4 cups good olive oil
* 1 cup freshly grated Parmesan

Place the pignoli, and garlic in the bowl of a food processor fitted with a steel blade. Process for 15 seconds. Add the basil leaves, salt, and pepper. With the processor running, slowly pour the olive oil into the bowl through the feed tube and process until the pesto is thoroughly pureed. Add the Parmesan and puree for a minute. Use right away or store the pesto in the refrigerator or freezer with a thin film of olive oil on top.

Notes: Air is the enemy of pesto. For freezing, pack it in containers with a film of oil or plastic wrap directly on top with the air pressed out.

To clean basil, remove the leaves, swirl them in a bowl of water, and then spin them very dry in a salad spinner. Store them in a closed plastic bag with a slightly damp paper towel. As long as the leaves are dry they will stay green for several days.

Yield: 4 cups
Click here
to see what other Barefoot Bloggers think of this recipe.
namasté,