I love tea breads. They are easy to make and one of the things we used to have a lot for after-school snacks when I was growing up. I also love to use fresh herbs in my cooking. And I grow my own every year. At the farm I have lots of herbs in my raised beds, but this year I will be growing them in pots here in town.
One of the way I tend my love of herbs is to go to classes and workshops. Many years ago I went to one and came home with this recipe. It is delightful and always a surprise to people who don't expect herbs in sweet quick breads. I used to bake it in a loaf pan, but it looks so pretty baked in the Williams Sonoma Lemon Slice pan that it's the only pan I use for this now. Typically I garnish this with fresh citrus leaves. The texture is very much like pound cake.
I wasn't able to get the in progress photos, but here is the final product served on a chartreuse Fiesta platter.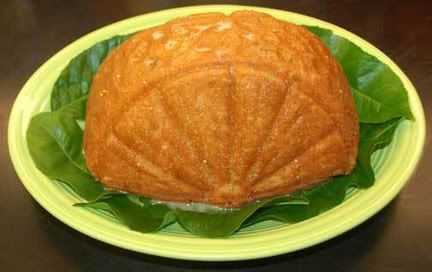 Lemon Thyme Tea Bread

3/4 cup milk
1 Tbsp fresh lemon thyme leaves
1/2 cup butter, softened
1 cup sugar
2 eggs
1 1/2 cups unbleached flour
1/2 cup whole wheat flour
1 1/2 tsp baking powder
1/4 tsp salt
1 Tbsp lemon juice
zest of 1 lemon



Glaze:


3/4 cup confectioner's sugar
2 to 4 Tbsp lemon juice
pinch salt

Preheat oven to 350°F.

Combine milk and lemon thyme in a microwave safe bowl and heat on high for 1 to 2 minutes, or till bubbly. Let steep 5 minutes.

Cream butter and sugar. Add eggs, one at a time, beating well after each. Mix flours, baking powder and salt. Add dry ingredients to egg mixture alternately with the herbed milk. Stir in the lemon juice and zest.

Pour into greased and floured loaf pan (9"×5"×3") and bake 40-45 minutes or until cake tester comes out clean. Cool for 10 minutes before turning out onto wire rack for cake to finish cooling. When cool, transfer to serving platter.

Mix the glaze ingredients, using enough lemon juice to make it the desired consistency. Drizzle over bread.



Notes:


1. Can use regular thyme if lemon thyme is not available.
2. I like to make my glaze really thin, poke holes in the bread with a cake tester and spoon the glaze over the bread while it is still warm.
namasté,