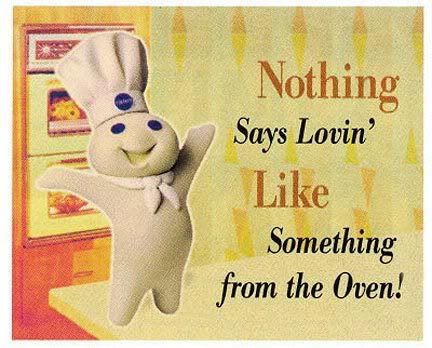 The
Pillsbury Bake-Off®
is a cooking contest that was run by the Pillsbury Company from 1949 to 1976 as an annual event. Since that time the contest has been held every other year. Originally it was called the
Grand National Recipe and Baking Contest
and was conceived as a way for Pillsbury to celebrate their 80th birthday. They invited homemakers across the country to share their treasured recipes. Response was so great that Pillsbury decided to hold the contest again the following year, and the year after, until it became an institution. The media seized on the name, Bake-Off and that's what Pillsbury began using. The Grand Prize Winner gets a cash prize and other gifts. In 1949 the cash was $50,000. Since 1996 it's been a cool million plus kitchen appliances.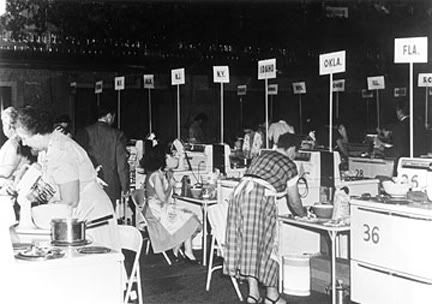 Photo from the 1949 contest - courtesy of Pillsbury
When the contest first started, the only required ingredient was Pillsbury's main product — Pillsbury's Best® Flour. But the Bake-Off has always served as a mirror for America's ever-changing lifestyle and palate. Now many Americans are less apt to be mixing up dough than driving up to a fast-food window. While the earlier winning entries were all made from scratch, recent winners are big on convenience items, such as boxed mixes and refrigerated dough items.
General Mills acquired Pillsbury in 2001 so now they give contestants a
list of approved products
that can be used in the entries. This year contestants had to incorporate two of the products in their recipes. A Bake-Off recipe booklet with the 100 top recipes in it is published for each contest.
Click here
and you can see pictures of the cover of each one. If you or your mother or grandmother cooked at all, it's likely one, two or maybe more are in your recipe collections.
This trend toward using prepacked convenience foods has brought disdain from many food afficianados who believe the contest has become more about opening boxes and packages than skill in the kitchen. There's been an interesting discussion on Chowhound regarding the "dumbing down" of American palates and using processed convenience foods is thought to be part of that. A discussion on another food board believes this is just one of the things contributing to poor health and obesity in today's American society.
There are other ways the Bake-Off has affected how we live and cook. Take the 1966 contest for example: The 2nd place winner (whose entry was actually used as the photo on the cover of that year's cookbook) used a little-known cooking tool in her Tunnel of Fudge Cake recipe - a Bundt pan. The recipe was so popular that demand for Bundt pans skyrocketed. It quickly became the number-one selling pan, and Pillsbury joined up with NordicWare, the creators of the pan, to put out a line of special Bundt pan cake mixes. You could go in any grocery store and buy a Tunnel of Fudge boxed cake mix. It came in chocolate as well as other flavours.
The Bundt pan has maintained its popularity ever since. If you have a Bundt pan or any of its assorted shaped descendants in your kitchen, you probably owe it to the Pillsbury Bake-Off. But if you are wanting to bake the original Tunnel of Fudge cake, you are out of luck. The recipe called for a boxed frosting mix that is no longer made. You can make it totally from scratch, however. Funny that a runner-up recipe is the most famous in the Bake-Off's history.
This year's Bake-Off began today (Sunday, 11 April) in Orlando. The top four finalists will be flown to Chicago and taken to Harpo Studios, where Oprah Winfrey will announce the winner live on Wednesday. There are
100 finalists
at the 44th Bake-Off, all hoping to capture the $1 million first prize.
Here is a list of the previous winners and their recipes. Many, if not all of the recipes are available on the Pillsbury website. However, you will find some of the earlier recipes are not on the website the way they were originally written. (I will make another post about those.) Pillsbury has done things like substitute their refrigerated pie crusts, rather than making the crust from scratch with Pillsbury flour. And there's the aforementioned Tunnel of Fudge Cake. More extensive searching online can sometimes find the originals in old newspaper articles, etc. Or if you have the cookbooks, you can find them there. I wish Pillsbury would make both available. Perhaps you will find a few that tweak your interest.
1949
No-Knead Water-Rising Twists, Theodora Smafield
1950
Orange Kiss-Me Cake, Lily Wuebel
1951
Starlight Double-Delight Cake, Helen Weston
1952
Snappy Turtle Cookies, Beatrice Harlib
1953
"My Inspiration" Cake, Lois Kanago
1954
Open Sesame Pie, Dorothy Koteen
1955
Ring-A-Lings, Bertha Jorgensen
1956
California Casserole, Hildreth H. Hatheway
1957
Accordion Treats, Gerda Roderer
1958
Spicy Apple Twists, Dorothy DeVault
1959
Mardi Gras Party Cake, Eunice G. Surles
1960
Dilly Casserole Bread, Leona Schnuelle
1961
Candy Bar Cookies, Alice Reese
1962
Apple Pie '63, Julia Smogor
1963
Hungry Boys' Casserole, Mira Walilko
1964
Peacheesy Pie, Janis Risley
1966
Golden Gate Snack Bread, Mari Petrelli
1967
Muffin Mix Buffet Bread, Maxine Bullock
1968
Buttercream Pound Cake, Phyllis Lidert
1969
Magic Marshmallow Crescent Puffs, Edna M. Walker
1970
Onion Lover's Twist, Nan Robb
1971
Pecan Pie Surprise Bars, Pearl Hall
1972
Streusel Spice Cake, Rose DeDominicis
Quick 'n Chewy Crescent Bars, Isabelle Collins
1973
Quick Crescent Pecan Pie Bars, Albina Flieller
Banana Crunch Cake, Bonnie Brooks
1974
Chocolate Cherry Bars, Francis I. Jerzak
Savory Crescent Chicken Sandwiches, Doris Castle
1975
Easy Crescent Danish Rolls, Barbara S. Gibson
Sour Cream Apple Squares, Luella Maki
1976
Crescent Caramel Swirl, Lois Ann Groves
Whole Wheat Raisin Loaf, Lenora H. Smith
1978
Nutty Graham Picnic Cake, Esther Tomich
Chick-N-Broccoli Pot Pies, Linda Mowery
1980
Italian Zucchini Crescent Pie, Millicent (Caplan) Nathan
1982
Almond-Filled Cookie Cake, Elizabeth Meijer
1984
Country Apple Coffee Cake, Susan F. Porubcan
1986
Apple Nut Lattice Tart, Mary Lou Warren
1988
Chocolate Praline Layer Cake, Julie Bengtson
1990
Blueberry-Poppy Seed Brunch Cake, Linda Rahman
1992
Pennsylvania Dutch Cake and Custard Pie, Gladys Fulton
1994
Fudgy Bonbons, Mary Anne Tyndall
1996
Macadamia Fudge Torte, Kurt Wait
1998
Salsa Couscous Chicken, Ellie Mathews
2000
Cream Cheese Brownie Pie, Roberta Sonefeld
2002
Chicken Florentine Panini, Denise JoAnne Yennie
2004
Oats 'n Honey Granola Pie, Suzanne Conrad
2006
Baked Chicken and Spinach Stuffing, Anna Ginsberg
2008
Double-Delight Peanut Butter Cookies, Carolyn Gurtz
namasté,