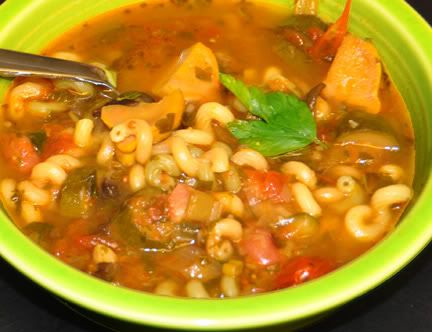 Most of the time when I think about crockpot soups, I think of winter soups. Last night I was perusing
A Year of Slow Cooking
and ran across Stephanie's recipe for
End of Summer Harvest Soup Slow Cooker Recipe
. Hmmm. I had most of those (or similar) ingredients on hand, so I thought I would make an early summer version of the soup. This is great for a day you want to spend the day outside, gardening, at the pool, etc. Just get your ingredients in the crockpot and head on out the door for the day. When you come back in, throw in the pasta and herbs. By the time you get the table set, supper is ready.
Don't the veggies look beautiful? Baby bellas and large spring onions are from the veggie box. Baby yellow pattypans, baby zucchini, and assorted heirloom cherry tomatoes are from Fresh Market. I had intended to use the dried baby lima beans, but switched to Christmas beans instead.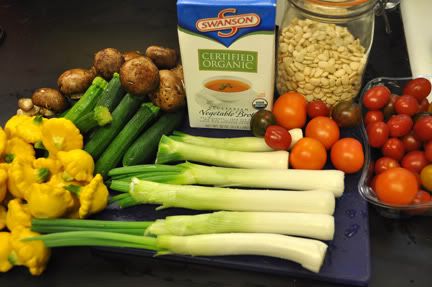 Veggies in the crockpot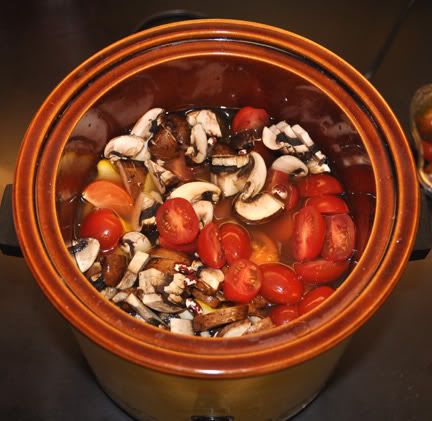 Italian herbs - After getting all my new herbs planted in their containers yesterday, I was anxious to use them.
Close-up of my vintage Wiss flower shears. These are what I always use to clip my herbs. The design allows the shears to clip and then hold the stem of herbs (or flowers).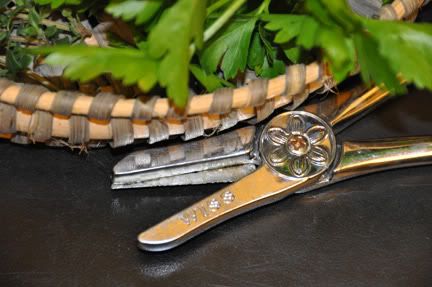 Chopped herbs ready to add to the pot
Pasta!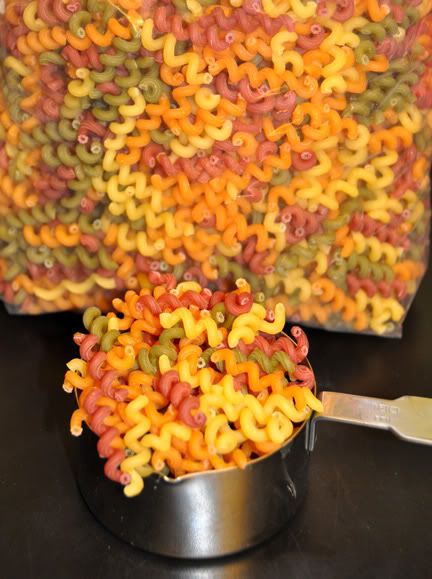 Plated in a chartreuse Fiesta bowl with a Fiesta Masquerade spoon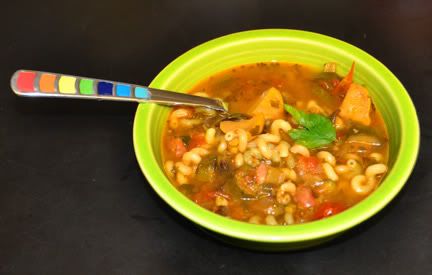 Summer Vegetable Soup in the Crockpot
serves 6-8

6 large spring onions with tender green parts, sliced
8 baby zucchini, sliced in 1/4" rounds
8 baby yellow pattypan squash, quartered
2 cups assorted cherry tomatoes, halved or quartered, depending on size
4 baby bella mushrooms, sliced and then slices halved vertically
1 - 2 cloves garlic, minced
1/4 tsp dried crushed red pepper
1/3 cup dry Christmas beans, rinsed
4 cups vegetable broth
1 cup prepared pasta sauce
1 cup water
kosher salt
freshly ground black pepper
1 heaping cup dry pasta
4 Tbsp chopped fresh parsley
1 Tbsp chopped fresh basil
1/2 tsp chopped fresh marjoram
1/2 tsp chopped fresh oregano
1/2 tsp fresh thyme leaves
1 Tbsp good olive oil
Parmesan and Romano cheeses, optional, for garnish

Place onions, squash, tomatoes, mushrooms and garlic into crockpot. Rinse beans in hot water, and add to cooker. Pour in the broth, pasta sauce, and water. Cover and cook on HI for about 6 hours, or until beans have reached desired tenderness.

20 minutes before serving, add salt and pepper to taste. Stir in the pasta, fresh herbs and olive oil. When pasta is done, taste and adjust seasonings. Serve with grated Parmesan and Romano cheese, if you like.



Notes:


1. My crockpot is old - from 1976. Newer models may cook faster.
2. I used Calabrian hot red pepper that is fairly hot. Depending on the heat of your peppers, you may want to add more or less.
3. For the pasta sauce I used Marcella's Amazing Tomato Sauce that I made with my friend Maria's home canned Crushed Tomatoes.
4. This was my first time to cook pasta in the crockpot. I have always been leery of that, thinking the pasta would turn out gummy or something. That did not happen. The pasta turned out just the way it should.
namasté,