Canning tomatoes is something I love to do. When I was a kid I helped my grandmother do this every summer. Tomatoes would be spread out all over the utility room, One side of the sink would be filled with hot water to quickly blanch the tomatoes so the skins would slip off. Then we'd pack them in the jars and put them in the water bath canners. She always had two canners going at the same time. I haven't been able to can tomatoes this year, though I was able to put up a few jars of oil-packed sun-dried tomatoes earlier this summer.
So Maria, one of my Italian friends from upstate New York, shared her recipe for Crushed Tomatoes with me. Her Mom developed this method to eliminate the peeling step. Between the tomatoes that came in this week's veggie box, and some that are still surviving in our garden, I was able to put up four quarts of these yesterday. It might not sound like a lot, but I was thrilled. And I know they will be delicious this winter. Not only that, the recipe is one of the easiest I have ever tried. Now Maria normally uses plum tomatoes, but I used what I had on hand. This did include a couple of Romas and some Orange Banana tomatoes.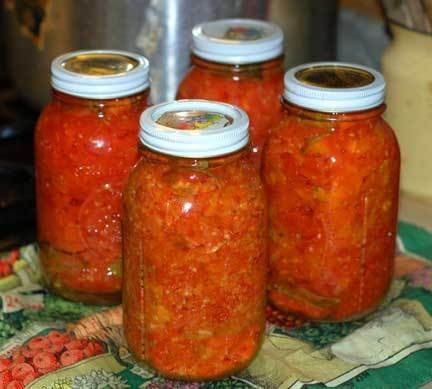 Maria's Crushed Tomatoes

Sterilise quart jars and keep them hot.

Wash tomatoes, slice in half, and squeeze out seeds. Place tomatoes in food processor and pulse a few times (just enough to break down the tomatoes to your preferred texture).

Into hot sterilised quart jars add:
3 basil leaves to the bottom of the jar, along with 1 Tbsp salt (can you use less salt if desired). Fill jar with crushed tomatoes and top with three more basil leaves, leaving 1/2" headspace.

Wipe the rims of the jars and top with sterile, hot lids and rings. Process in boiling water bath for 20 minutes to seal jars. Store and use as desired.

Notes: Don't use iodised salt as it alters the colour of the food. I use Diamond Crystal Kosher. And I used fresh picked basil from my herb garden.