I'm so excited to officially be a member of Barefoot Bloggers! The recipe this week is Cream of Wild Mushroom Soup. It was chosen by Chelle of
Brown Eyed Baker
and can be found in
Barefoot Contessa at Home
.
I started out with the search for wild mushrooms. Fresh Market yielded these: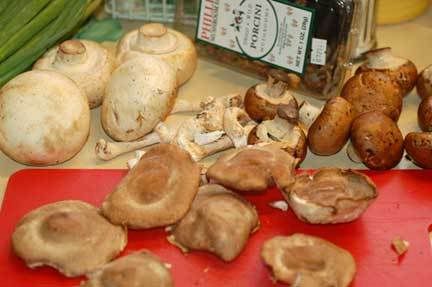 Mostly I use portobellos that come in my CSA veggie box, so I was somewhat surprised at the prices. No fresh Cremini or Porcini were to be found so I had to use dried porcini. Costs were:
Dried porcini - $7.49/ 1 oz. carton
Fresh shiitake - $12.99/lb
Baby Bellas - $5.99/lb
I used the full carton of porcini and reconstituted them in warm water.
The veggies, mushroom stems, and thyme made a lovely start to the broth. Carrots came from the veggie box and thyme from my herb garden.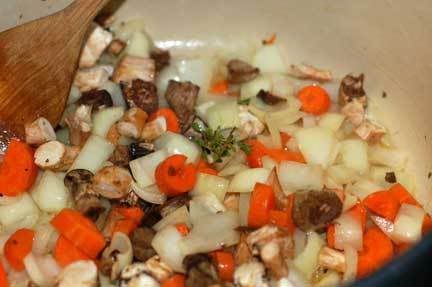 Friends on some other websites had mentioned that the soup didn't have a lot of flavour and the consensus was to use broth instead of water for the liquid. I used the soaking liquid from the porcini and made up the remainder of the 6 cups with organic free-range chicken broth. The house smelled fabulous while this was simmering. I could see using this broth in other soups, too.
My leeks were not huge, so I just sliced them rather than chopping.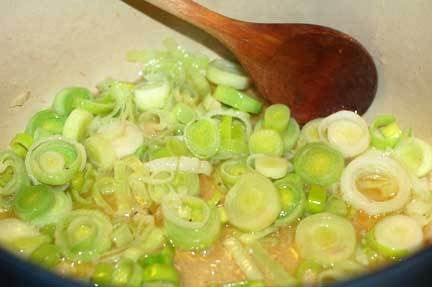 And now the mushroom caps are added to the pot.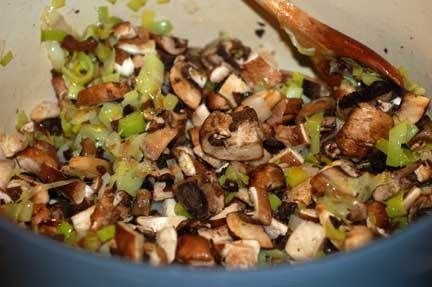 Here we are with the delicious homemade broth added. For the wine, I used Kendall Jackson Vintners' Reserve Chardonnay.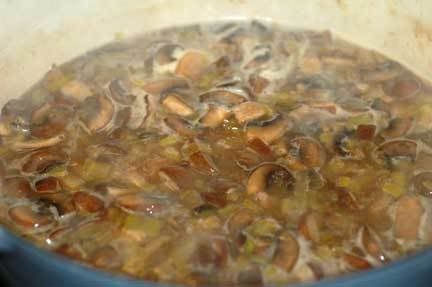 And finally: THE SOUP. Served in a Fiesta jumbo mug.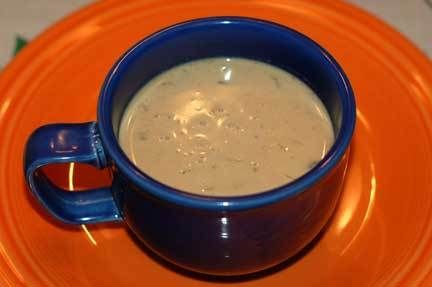 This was actually my lunch the next day and I forgot to add parsley to it then. I thought the soup was even better after letting the flavours meld overnight. The recipe made a large amount. As I am the only one at my house who would eat it, I sent some of it home with my Mom. She thought it was some of the best mushroom soup she ever ate. And while I liked it, I'm not sure how often I would make this again. Probably not unless I were having friends over who like mushroom soup. And then I'd probably serve it in a small cup as an appetiser. I think my favourite thing about this soup is the memory of Mel Brooks enjoying it on the show.
Cream of Wild Mushroom Soup
Ina Garten
5 ounces fresh shiitake mushrooms
5 ounces fresh portobello mushrooms
5 ounces fresh cremini (or porcini) mushrooms
1 tablespoon good olive oil
1/4 pound (1 stick) plus 1 tablespoon unsalted butter, divided
1 cup chopped yellow onion
1 carrot, chopped
1 sprig fresh thyme plus 1 teaspoon minced thyme leaves, divided
Kosher salt and freshly ground black pepper
6 cups water
2 cups chopped leeks, white and light green parts (2 leeks)
1/4 cup all-purpose flour
1 cup dry white wine
1 cup half-and-half
1 cup heavy cream
1/2 cup minced fresh flat-leaf parsley

Clean the mushrooms by wiping them with a dry paper towel. Don't wash them! Separate the stems, trim off any bad parts, and coarsely chop the stems. Slice the mushroom caps 1/4-inch thick and, if there are big, cut them into bite-sized pieces. Set aside.

To make the stock, heat the olive oil and 1 tablespoon of the butter in a large pot. Add the chopped mushroom stems, the onion, carrot, the sprig of thyme, 1 teaspoon salt, and 1/2 teaspoon pepper and cook over medium-low heat for 10 to 15 minutes, until the vegetables are soft. Add 6 cups water, bring to a boil, reduce the heat, and simmer uncovered for 30 minutes. Strain, reserving the liquid. You should have about 4 1/2 cups of stock. If not, add some water.

Meanwhile, in another large pot, heat the remaining 1/4 pound of butter and add the leeks. Cook over low heat for 15 to 20 minutes, until the leeks begin to brown. Add the sliced mushroom caps and cook for 10 minutes, or until they are browned and tender. Add the flour and cook for 1 minute. Add the white wine and stir for another minute, scraping the bottom of the pot. Add the mushroom stock, minced thyme leaves, 1 1/2 teaspoons salt, and 1 teaspoon pepper and bring to a boil. Reduce the heat and simmer for 15 minutes. Add the half-and-half, cream, and parsley, season with salt and pepper, to taste, and heat through but do not boil. Serve hot.
Click here
to see what other Barefoot Bloggers think of this recipe.