As I am low on blood these days, shopping becomes an adventure. Today Mike took me to Costco and Home Depot. Costco to get some food items, flowers, and a new iPod to replace DD's that got stolen. Home Depot to check out these: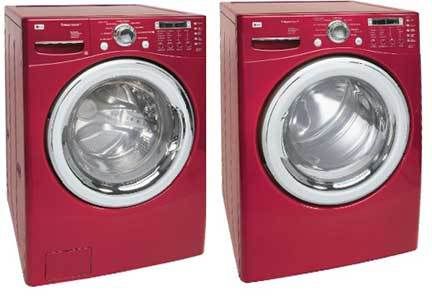 We need a new washer here in town and a new dryer at the farm. I am intending to get this set for in town, have them carry away the washer from here and take the dryer from here to the country. I'm also intending to get the pedestal drawers for the new laundry equipment. It was so nice not to have to bend over to move the clothes. And that's particularly important to Mike as he's doing most of the laundry these days. This set will make us both happy. He won't have to bend over so much and I get Wild Cherry RED.

I am planning to get them from our local appliance store rather than the big box store. Prices are the same and service is much better.