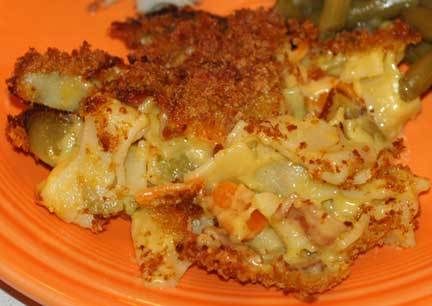 I've been wanting to try this recipe from Ina Garten for a while now, but the other people in my household don't care for bleu cheeses. So tonight we had this with some variations (posted below recipe). To start out, we've got the pasta and cheeses: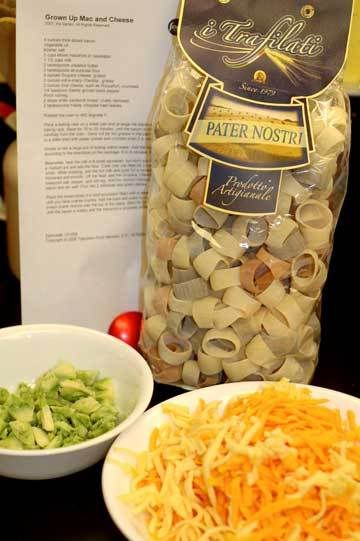 Now the pasta/cheese mixture is just waiting to be topped with breadcrumbs before putting in the oven: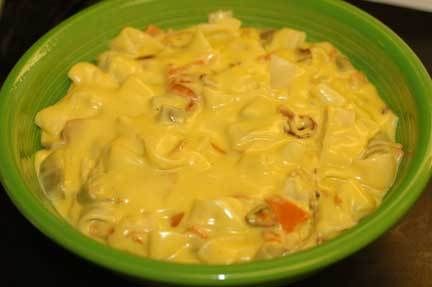 Here is the Mac & Cheese out of the oven. It got left in a little too long as my DH and DD went to fill up our cars as we have gas rationing due to Hurricane Ike.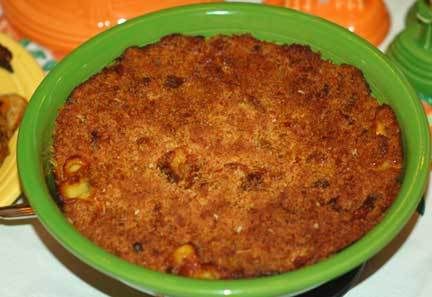 Grown Up Mac and Cheese
Ina Garten

4 oz thick-sliced bacon
Vegetable oil
Kosher salt
2 cups elbow macaroni or cavatappi
1 1/2 cups milk
2 Tbsp unsalted butter
2 Tbsp all-purpose flour
4 oz Gruyere cheese, grated
3 oz extra-sharp Cheddar, grated
2 oz blue cheese, such as Roquefort, crumbled
1/4 tsp freshly ground black pepper
Pinch nutmeg
2 slices white sandwich bread, crusts removed
2 Tbsp freshly chopped basil leaves

Preheat the oven to 400°F.

Place a baking rack on a sheet pan and arrange the bacon in 1 layer on the baking rack. Bake for 15 to 20 minutes, until the bacon is crisp. Remove the pan carefully from the oven - there will be hot grease in the pan! Transfer the bacon to a plate lined with paper towels and crumble when it is cool enough to handle.

Drizzle oil into a large pot of boiling salted water. Add the macaroni and cook according to the directions on the package, 6 to 8 minutes. Drain well.

Meanwhile, heat the milk in a small saucepan, but don't boil it. Melt the butter in a medium pot and add the flour. Cook over low heat for 2 minutes, stirring with a whisk. While whisking, add the hot milk and cook for a minute or 2 more, until thickened and smooth. Off the heat, add the Gruyere, Cheddar, blue cheese, 1 teaspoon salt, pepper, and nutmeg. Add the cooked macaroni and crumbled bacon and stir well. Pour into 2 individual size gratin dishes.

Place the bread slices in a food processor fitted with a steel blade and pulse until you have coarse crumbs. Add the basil and pulse to combine. Sprinkle the bread crumb mixture over the top of the pasta. Bake for 35 to 40 minutes, or until the sauce is bubbly and the macaroni is browned on the top.

NOTES:
1. I cooked the bacon in a cast iron skillet on top of the stove as I didn't want to have to deal with grease splatters in the oven.

2. In place of
4 oz Gruyere cheese, grated
3 oz extra-sharp Cheddar, grated
2 oz blue cheese, such as Roquefort, crumbled
I used
4 oz Hoop Cheddar cheese, grated
3 oz Gouda cheese, grated
2 oz Sage Derby cheese, crumbled

3. For the pasta I subbed the one in the photo. I'd gotten it a while back at a gourmet food store and thought it was time to use it.

4. We did not have any white bread, so the crumbs were made from whole wheat.

5. Because of using the Sage Derby cheese, I chose not to add nutmeg and I used some fresh sage instead of basil in the breadcrumb mixture.

My review of the recipe as I made it.
I was wondering if the Sage Derby would turn the mixture green, but that did not happen. And I baked this in a shamrock Fiesta pedestal bowl, instead of individual bakers. All that worked out really well. All of us thought this recipe tasted too salty. And I have to say, this is the first of Ina's recipes where that has ever happened to me. Like Ina, I use Diamond Crystal Kosher salt, which by volume has less sodium than other salts. I attribute the excess saltiness to the cheeses I used. DD nor I really cared for the addition of bacon, but we lean toward being vegetarian. Sage and no bacon make this an excellent side dish with chicken.

Bottom line, I would definitely make this again with the cheeses and pasta I used tonight, but I would leave out the bacon and the salt. All in all, a keeper recipe.

Click here
to see what other Barefoot Bloggers think of this recipe.