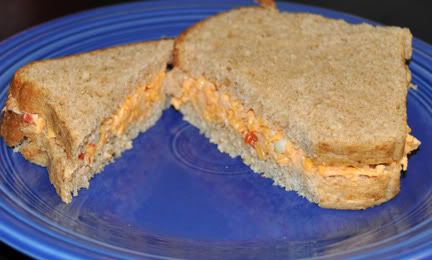 Pimiento Cheese - it's as southern as cornbread, greens, biscuits and fried chicken. And one of the original fast foods. Pimiento cheese was pretty much a staple when I was growing up. Need something quick for lunch? A pimiento cheese sandwich was just the thing. Having a party? There were always some pimiento cheese tea sandwiches for consumption. Sunday dinner? Pimiento cheese stuffed celery sticks were a staple on the table. Want to jazz up a burger or hot dog? Spread on some pimiento cheese.
There are as many receipts for pimiento cheese as there are cooks. And here in the south we can buy pimiento cheese from the dairy case at the grocery store. (BTW, if you are actually in the south and hear people speaking of this, they may call it 'minnuh, 'menta or 'menter cheese, but not always.) But why would you want to purchase something that is so easy to make? Not to mention all the additives in the commercial versions these days.
My grandmother made a pimiento cheese spread that called for melting American cheese. While I like this version just fine stuffed in celery or spread on crackers, I don't really care for it on sandwiches. A traditional pimiento cheese sandwich is made from 2 slices of white bread, mayonnaise and pimiento cheese. Mike has always liked ham and pimiento cheese sandwiches. I like mine on thin sliced wheat bread or pumpernickel bread. There are numerous possibilities. And I just adore it on Wheat Thins crackers. Yum!
At its most basic, pimiento cheese is a mixture of grated cheddar cheese, chopped pimientos and mayonnaise. Optional ingredients include chopped pecans, chopped cooked bacon, celery salt, chopped celery leaves, chopped green olives, Monterey Jack cheese, American cheese, Velveeta cheese, garlic powder, paprika, chopped green onions, cream cheese, a pinch of sugar, chopped dill pickles, Worcestershire sauce, and Tabasco sauce. (NOT all at the same time, of course!) I'm sure there are other additions in different families. For sandwiches, I usually like a combo of cheddar cheese, pimiento, mayo and a little celery salt or minced fresh celery leaves. This is one of those things I've never written down - just mixed it up until it looked right.
Pimiento cheese is not a terribly old food. People were eating it at home in the early 1900s and it was first available in southern groceries by 1915. Its popularity really spread during the Great Depression as pimiento cheese keeps well and is inexpensive - real virtues at that time. And it's a uniquely American food.
There are two spellings: pimiento and pimento. Both are correct.
So here is my grandmother's pimiento cheese spread, just the way she wrote it down.
Pimiento Cheese Sandwich Spread
½ cup milk
½ pound soft American cheese
1 10¢ can pimiento*
dash salt
dash pepper
dash paprika

Heat milk to scalding point. Add cheese, which has been broken into small bits. Beat until cheese is melted. Remove from heat and add pimientos, which have been chopped fine. Add seasoning and beat until smooth. The spread may need more or less milk, depending on the softness of the cheese.

Cool and place in covered jar in refrigerator. A few chopped pecans may be added for variety. This amount makes one pint of spread and is equally good for sandwiches, stuffed celery, or crisp crackers as appetizers.

*Yes, a 10¢ can of pimiento is what she wrote. I'm sure that was probably back in the 1940s. A 10¢ can of pimento is equal to a small jar - 3 or 4 oz.
As I was hankering for a pimiento cheese sandwich I was going to make my standard pimiento cheese. But then I happened to see Sunny Anderson making
pimiento cheese
on her show. Hmmm. She adds pepper jack cheese. That sounds interesting for a change. I decided to use her recipe for a starter and see how I liked it. So I made my version of Sunny's recipe.
Collected ingredients - I grated the cheese in the food processor. It's in a shamrock Fiesta mixing bowl.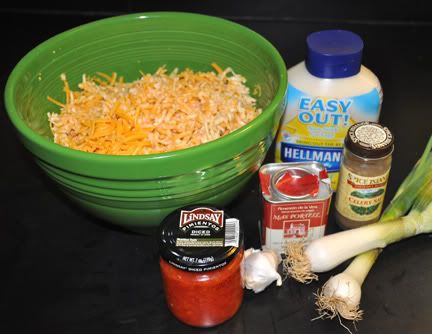 Ready to be mixed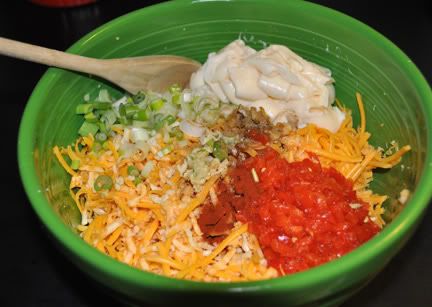 Pimiento cheese - ready to use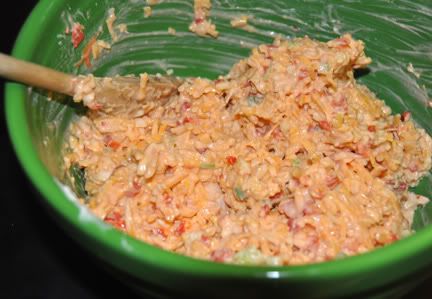 Pimiento cheese sandwich made with homemade bread on a sapphire Fiesta plate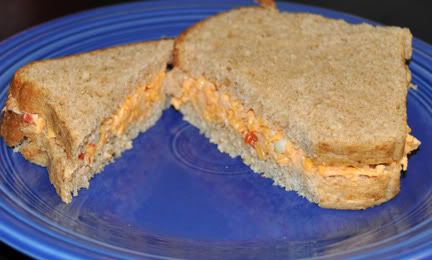 Spicy Pimiento Cheese
¾ pound cheddar cheese, grated
¼ pound chipotle cheddar cheese, grated
1 (4 oz) jar diced pimientos, plus 2 tablespoons juice
2 large spring onions, diced
1 cup mayonnaise (I use low-fat)
3 cloves garlic, finely minced
½ tsp bittersweet smoked paprika
½ tsp ground celery seed
Salt and freshly ground black pepper

Combine cheeses, pimientos, pimiento juice, onion, mayonnaise, garlic, paprika, and celery seed. Mix well and season with salt and pepper, to taste. Store in refrigerator.
My conclusion: This is pretty good for a change and would be great spread on tortillas - either as a sandwich or rolled and cut into spirals for appetizers. I don't think I would care for Sunny's version as she used twice as much pepper cheese as I did. I also think this version would be really good in celery sticks. I really liked the addition of the chopped spring onions. Mike gave it a two thumbs up!
In 2003 the Southeast Dairy Association sponsored a pimiento cheese contest.
Click here
to read about it and get the top three recipes.
namasté,