Saturday was a bad weather day with lots of storms and rain all day. No point even trying to stick my head out the door, so I decided to do some cooking. Luckily the power only flickered a few times, so nothing got delayed.
First, I made a giant batch of
Marcella's Amazing Tomato Sauce
. There were huge cans (106 oz) of San Marzano tomatoes at Costco Friday, so I decided to try those out for the sauce. They worked very well. Most of that got packaged to put in the freezer for future use. It will be nice to have some to pull out when we need a quick dinner. I made the sauce in my Staub 6 qt Coq au Vin pot and it was just the right size.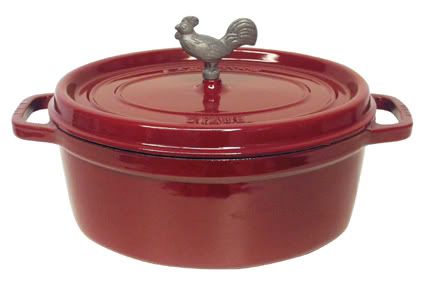 After I got the sauce simmering I had to go rest for a bit. Next up was
Broccoli Almond Salad
. I like to make that one several hours ahead of serving time for the flavours to meld. More rest time before finally starting
Pasta, Pesto and Peas
.
After I cooked the first pot of pasta, DD#2 had a late lunch of a bowl of some of the pasta with Marcella's sauce. I was getting pretty tired, so after she ate, she took over making the pasta salad. And she did a great job, too! It was her first time to use the potato ricer (draining the spinach) and now she is anxious to actually rice potatoes.
For our supper we had a mixed salad plate: chicken salad, Broccoli Almond Salad, and Pasta, Pesto and Peas - all served on persimmon Fiesta plates. DD#2, being vegetarian, left off the chicken salad.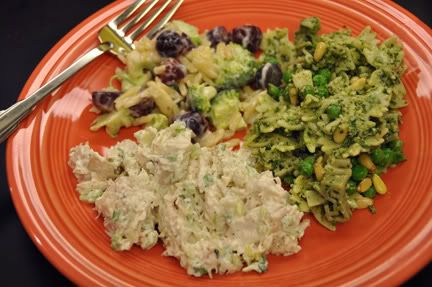 We may have the same thing for dinner tonight.
namasté,