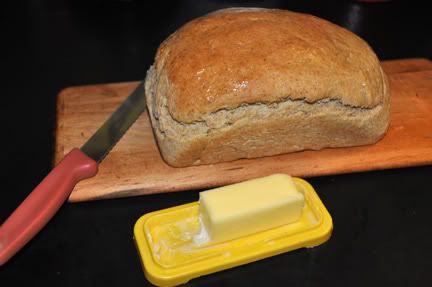 This is a recipe that has been around a long time. When my grandmother became ill with cancer back in 1987 and was not able to do her cooking and baking, one of her best friends started bringing over homemade bread every week. This was the recipe her friend was using at the time. I have no idea where she got the recipe, but it wouldn't surprise me if it was a "back of the box" recipe. As usual, I have adopted it for use in the breadmaker.
When Abbey was born I found the breadmaker to be one of my most used kitchen tools, Just add the ingredients and press start. Voilà! A few hours later a freshly baked loaf. Back then I often let the breadmaker do all the work, but these days I mostly use it to make the dough, then I bake it in my regular oven. I enjoy free form loaves, shaped loaves, loaves baked in standard loaf pans, and bread baked in Pyrex Bake-a Rounds.
Bake-a-Rounds were made by Corning back in the 1970s or early 80s. I had gotten one when they were new and have since picked up several on eBay so that I have a couple in town and at the farm. A Bake-a-Round is a long glass tube that makes a tubular shaped loaf about 4" in diameter.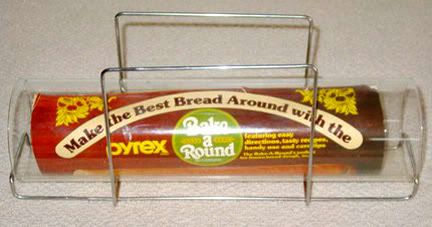 I didn't use a Bake-a-Round for this loaf, but it is a fun shape to serve. Also, it makes nice smaller slices for little child-sized hands.
Just baked loaf turned out on the cutting board. It's still warm from the oven.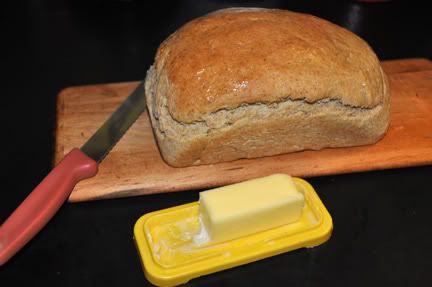 Couldn't wait to cut into it: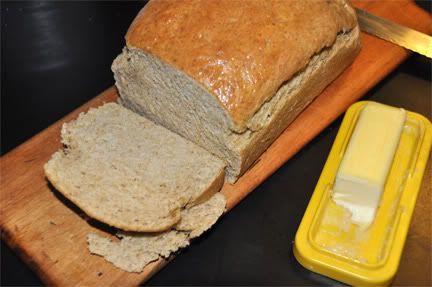 And a lovely buttered slice, ready to eat on a lilac Fiesta plate.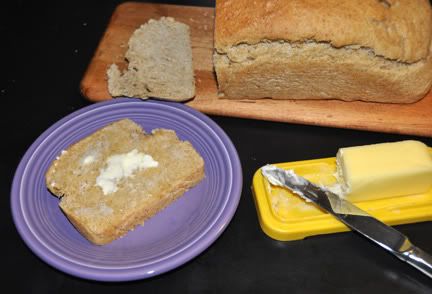 All Bran Bread

1¼ cups All-Bran cereal
½ cup oatmeal, uncooked
1 stick butter, softened
1/3 cup sugar
1½ tsp salt
1¼ cups hot water
1 egg, beaten
2 packages active dry yeast
1 tsp sugar
1 cup lukewarm water
5½ to 6 cups bread flour

In a large bowl put All-Bran, oatmeal, margarine, sugar and salt. Pour hot water over all. Let stand till lukewarm. Dissolve yeast with 1 tsp. sugar in lukewarm water. Set aside for 5 minutes. Add egg, and yeast to bran mixture. Add flour, 2 cups at a time. Knead for 7-8 minutes. Lightly grease and cover. Let rise in warm place 1 hour.

Punch down and knead for a few minutes. Divide dough into 2 or 3 equal parts, depending on the size of your loaf pans. Shape into loaves and place in greased pans. Let rise in warm place 45 minutes. Bake in preheated 350ºF oven for 30 minutes. Remove from pans and lightly butter tops.



Notes:

To make dough in breadmaker:


1 1/4 cups warm water
1 egg, beaten
1/2 stick butter, softened or 1/2 cup oil
2 1/2 Tbsp sugar
3/4 tsp salt
rounded 1/2 cup All-Bran cereal
1/4 cup oatmeal, uncooked
2 cups all-purpose flour
1 cup whole wheat flour
2 1/4 tsp instant yeast

Place ingredients in breadmaker in order listed and start dough cycle. When dough is ready place in pans, let rise about 20 minutes and bake as directed.
namasté,