This week Sunday night is pizza night. All because I was watching Giada on FNTV yesterday and the episode was
Pizza Party
. She made an
Arugula, Ricotta and Smoked Mozzarella Pizza
that looked really good. DD#2 loves arugula, so I used Giada's recipe as a starting point for the pizza we had for dinner tonight.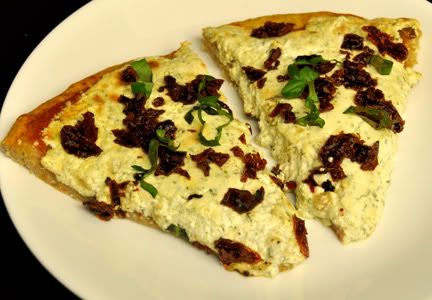 I made the dough yesterday in the breadmaker, doubling
the California Pizza Kitchen recipe
. I subbed out 1 cup of whole wheat flour for 1 cup of all purpose flour this time. Once the dough was made I put it in a Ziploc bag in the fridge to rest and develop until this evening.
Around 4:00 this afternoon I took the dough out to sit on the counter for a couple of hours to come to room temperature. When it had warmed up enough, I divided the dough in half. Each half got shaped into a round and rolled in olive oil. I put one ball in a Ziploc bag, flattened it out and put it in the freezer to use another day. The second ball of dough went in a covered bowl to rise for a couple of hours.
By the time the two hours had passed I was getting rather tired, so DD#2 took over the greater part of the prep. She shaped the dough out on a cornmeal lined pizza pan while preheating the oven.
Meanwhile, I was mixing the cheeses and arugula in the processor. There wasn't any smoked mozzarella on hand, but I did have a carton of those mini seasoned mozzarella balls from Costco. That is what we used. When the dough was shaped, DD brushed the dough with olive oil, then spread out some
Marcella Hazan's Amazing Tomato Sauce
on the crust. Once the crust was sauced, it was time for the cheese topping and baking.
Here's the pizza ready to go in the oven.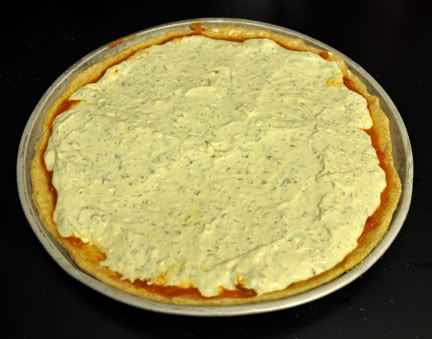 We baked for about 20 minutes. Then topped about 2/3 of the pizza with some diced oil-packed sun-dried tomatoes and chiffonade of fresh basil.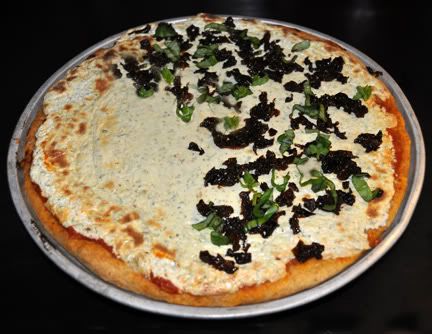 Oh yum! All three of us LOVED this pizza. Mike's only request was for more sun-dried tomato and fresh basil topping next time. DD#2 had hers without the additional toppings and thought it was just right the way it was. All she asked was that next time we make more. Gotta love remarks like that! I could eat it all three ways.
Here's the recipe for our pizza.
Arugula, Ricotta and Mozzarella Pizza
1 cup ricotta cheese
1 1/2 cups seasoned mini mozzarella balls, drained
a nice handful of baby arugula
Cornmeal, for dusting
1 recipe California Pizza Kitchen pizza dough
fruity extra-virgin olive oil
1/3 cup Marcella Hazan's Tomato Sauce with Onion and Butter
1/4 to 1/3 cup finely diced oil-packed sun-dried tomatoes
2 Tbsp chiffonade of fresh basil

Preheat the oven to 450°F. Place a pizza stone on the middle rack of the oven.
In a food processor, blend the ricotta, mozzarella and arugula.

Sprinkle cornmeal on pizza pan and use your hands to press dough out to cover pan keeping a slightly raised edge. Brush olive oil over crust and spread with tomato sauce. Spread the ricotta mixture on top leaving a 1-inch border. Place on pizza stone and bake until crust is golden brown. Should take about 15 to 20 minutes. Remove from the oven, and sprinkle with sun-dried tomatoes and basil. Cut into wedges and serve immediately.

Notes: Next time I will decrease the ricotta down to 1/2 cup and increase the mozzarella to 2 cups. Will also bake @ 475°F.
namasté,