I love Marcella Hazan's cookbooks. It was from her that I first learned to cook good Italian food after Mike and I got married. Her amazing tomato sauce ranks as one of my favourites.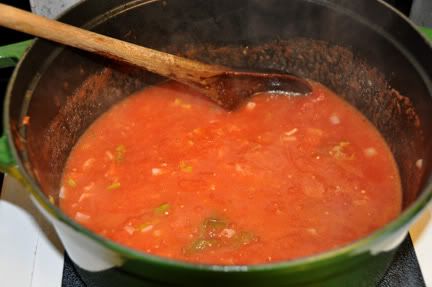 This is one of those deceptively simple recipes that is orders of magnitude more than the sum of it's parts. Four ingredients and you could think you were in tomato sauce heaven. It's rich, it's yummy, it's luscious and sublime.
Marcella's recipe is both famous and unusual for its use of butter, rather than olive oil. Now before you say "Italian sauces don't use butter", you should know that a number of sauces from the north of Italy do use butter in their making. DD#2 is not especially fond of tomato based sauces but she really likes this one. You can actually serve this sauce as tomato soup. It is that good! Or use it to dress pasta, put on a pizza, or (guiltily) eat straight out of the pot.

It's also great on gnocchi.
I try to keep this sauce on hand at all times. Often I make it in a larger batch and freeze it in portions for later use. And rather than chopping the canned tomatoes, I just mash them up with my grandmother's vintage potato masher.
Start with the best ingredients - San Marzano tomatoes, organic green Vidalia onion from the CSA veggie box, Plugra unsalted butter.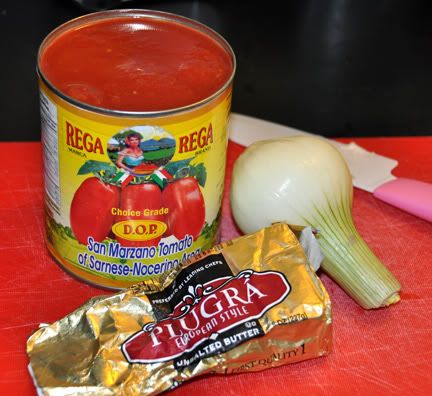 Here's where I vary from Marcella's directions and sauté the onions in the butter.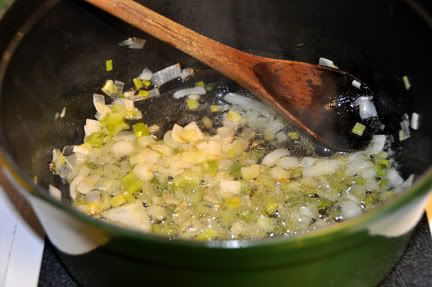 And now it's all simmered down and ready to serve.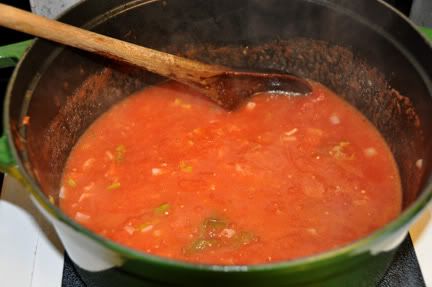 Marcella Hazan's Tomato Sauce with Onion and Butter
from Essentials of Classic Italian Cooking

2 cups canned Italian plum tomatoes, cut up with their juice
5 Tbsp butter
1 medium onion, peeled and cut in half
Salt

Put canned tomatoes in saucepan, add butter, onion and salt and cook uncovered at a slow and steady simmer for 45 minutes or until fat floats from tomato. Stir from time to time, mashing any large piece of tomato in pan with a wooden spoon. Taste and correct for salt. Discard onion and serve sauce with pasta.

Serves 6



Notes:


1. Most of the time I only use 4 Tbsp of butter instead of five, but it really is richer if you make it with the full amount.
2. Marcella says to discard the onion, but as I am often cooking with fresh Vidalias from the veggie box, I can't bring myself to do that. When I'm keeping the onion, I chop it small and sauté it in the butter before adding the tomatoes.
3. While this time I used San Marzano tomatoes, I often use my friend Maria's home canned Crushed Tomatoes. And I used the whole 28 oz can.
namasté,