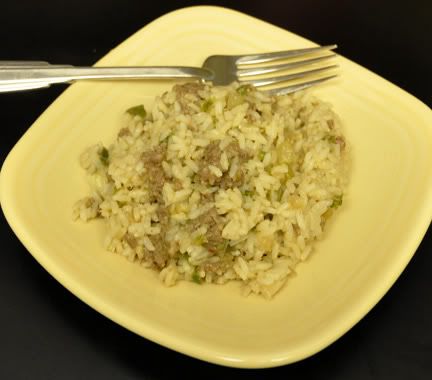 Sometimes you grow up eating foods and have no idea that not everyone eats these things. You only find it out as you get older and out into the world. It's true for many food traditions, including those of us whose "home cooking" includes Creole/Cajun cuisine. Dirty Rice is a dish that falls into this category.
Traditionally Dirty Rice is a Cajun one-dish meal made from white rice cooked with the trinity (onion, celery & bell pepper) and chopped chicken liver and giblets, which give the rice its typical "dirty" colour. It has a distinctive flavour. Often the rice was leftover from an earlier meal. And no one thought anything about describing a food as "dirty". In our more politically (and otherwise) correct times, Popeyes Fried Chicken has taken the name Dirty Rice off their menu and replaced it with Cajun Rice. In my mind though, this will always be Dirty Rice.
I grew up having Dirty Rice, but it was not one of the things I really enjoyed. Why? Because I am not fond of offal.

not at all. Some people add ground beef to their Dirty Rice. I do not do that either. Other people add sausage. Now that I can do. Dirty Rice with no chicken innards, but sausage makes a tasty dish. And it's easy!
My sister called and was coming by for a few. Her rheumatoid arthritis is bothering her hand and wrist, so I thought I'd make a batch of this pretty quickly and send some home with her. It's hard to cook with a brace on your hand. Luckily I had all the ingredients in the house.
So let's gather ingredients for tonight's dinner::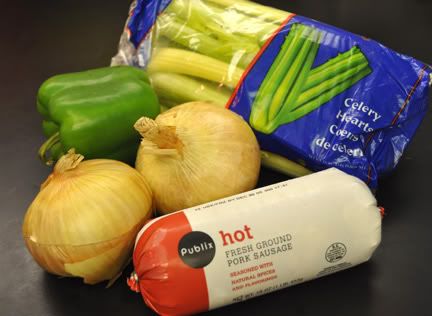 Trinity and sausage in the cast iron skillet: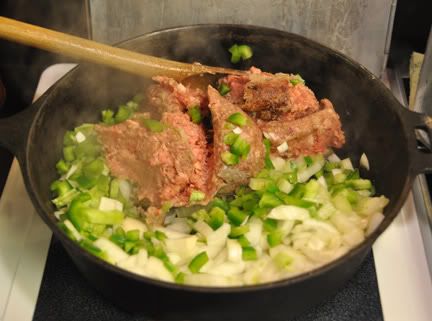 All cooked: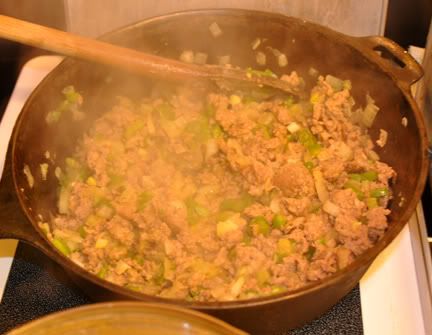 Plated on square ivory Fiesta: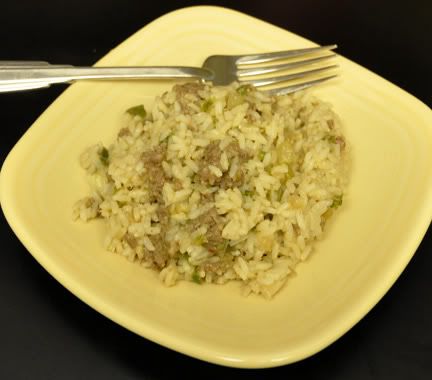 I divided this batch into thirds and sent 1/3 home with my sister, 1/3 to my Mom and kept 1/3 here for us. Hooray for Tupperware!
Dirty Rice
2 onions, chopped
1 stalk celery, chopped
1 green bell pepper, chopped
2 cloves minced garlic
4 Tbsp fresh chopped parsley
1 lb uncooked bulk sausage
Creole seasoning (I use Tony Chachere's), to taste
6 cups cooked rice
chopped fresh parsley, for garnish

Place your large cast iron skillet on the stove over medium heat. I typically use my chicken fryer because it is deeper, but an enamelled cast iron Dutch oven such as Staub or Le Creuset works well, too. Add the trinity (onion, celery, bell pepper), garlic, parsley, and sausage. Break up sausage and cook altogether, stirring periodically, until the sausage is cooked through and the vegetables are tender. Onion should be translucent. Stir in the Creole seasoning. Fold in rice and continue cooking until rice is heated through. Taste and adjust seasonings.

Plate and sprinkle with fresh parsley to serve.



Notes:


1. If you want to make traditional dirty rice, chop fine a pound of chicken livers and giblets to cook with the trinity. Sausage is optional at this point. You could also add ground meat, if you like. If you are only using the chicken parts for your protein, you will need add some oil to prevent sticking.
2. We like this dish with some heat, so I use hot sausage, but mild is perfectly acceptable if that's more in line with your taste.
3. Either pork or turkey sausage can be used.
namasté,