Now that we have the Christmas season behind us, it is time to start the party. From sunset yesterday through 24 February we will celebrate Carnival as it leads up to the Mardi Gras. Every party held during this time (well, at least the ones amongst the believers in Louisiana and those of us who are expatriates of that great state) will have one thing in common: King Cake.
While King Cakes are called different things in different parts of the Catholic world (and in some places only eaten at the Epiphany) what I'm going to blog about is King Cake in the United States. Generally the southern United States, and most particularly Louisiana. This is part of my life tradition, so the other kinds just don't resonate as King Cake. This is a King Cake!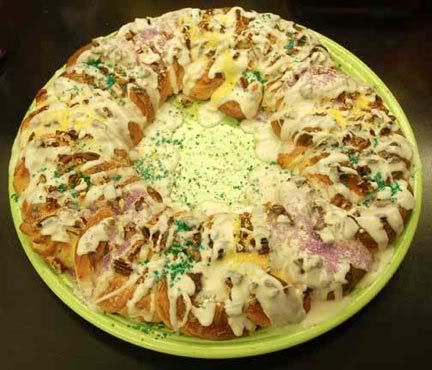 The tradition of King Cake was brought to Louisiana by colonists from France and Spain and had originated as a way to honour the three kings who brought gifts to the baby Jesus. Inside each cake there is hidden a king's token. Originally the token was a bean, but then turned into tiny porcelain or gold baby dolls, as the token represents the baby Jesus. Today nearly all the babies are plastic. (And that particular part of cake was taken from a Saturnalia tradition and incorporated into Christianity.)
Most of my life has seen the pink plastic babies for the token. They are all shaped the same in a sitting position and are about an inch tall. If you make King Cake for someone who has never had one before, be sure to warn them about the baby in the cake. You wouldn't want one of your guests to choke!

Traditionally King Cake is made from Danish pastry that is cut into strips, woven into a braid and shaped into a circle or oval. The baby is hidden in the cake and it is topped with pecans. After the cake is baked, it is drizzled with confectioners sugar icing, then sprinkled with purple, green and gold sugar.
Purple, green and gold are the official colours of Mardi Gras. Purple is for royalty, green is for friendship and gold is for purity. These became the official Mardi Gras colours in 1872. Rex, the King of Carnival, and "If Ever I Cease to Love", the theme song, were adopted that same year in honour of a visit of Grand Duke Alexis Romanoff from Russia. (We believe in tradition in Louisiana! LOL)
Many people will have King Cake parties at least once every week between now and Mardi Gras. And there is a ritual as to how the hosts are chosen. If you get the baby in your slice of King Cake, you have the next party.
As do most things, King Cakes have evolved. Now it is popular for the babies to be made in purple, green, and gold. (These would be inserted into the braid after baking.)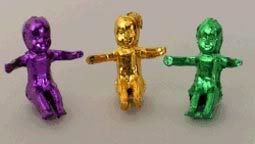 Many times now you can find King Cakes with various fillings, with cream cheese and praline being the two most popular. The most famous bakeries take orders and ship their King Cakes. No one did that when we left Louisiana, so I have always used this traditional recipe.
I can't tell you how many of these I have made over the last 30 years. Always on the Mardi Gras I have sent them to Mike's work and the girl's schools - sometimes multiples. Plus we have to have one for ourselves that day. I had wanted to make one for us to have on 12th Night, but just wasn't feeling up to it. But because the season of King Cakes has started, I'm going ahead and posting it now. The photos are from one of the King Cakes I made last year.
As with many of my yeast bread recipes, I have adapted this dough to the breadmaker and run it on the dough setting. Once the cycle is finished I turn out the dough and roll it. Here it is with the first layer of chopped cold butter. (It is the layers of cold butter that make Danish pastry so flaky. Some Danish pastries have up to 30 layers of butter and can take 3 days to make! We don't have that many layers here.)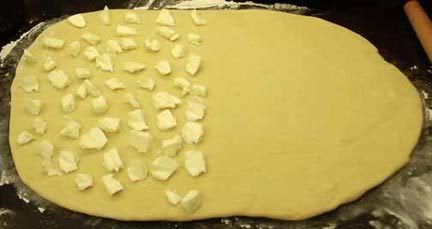 The dough is folded over and the edges sealed.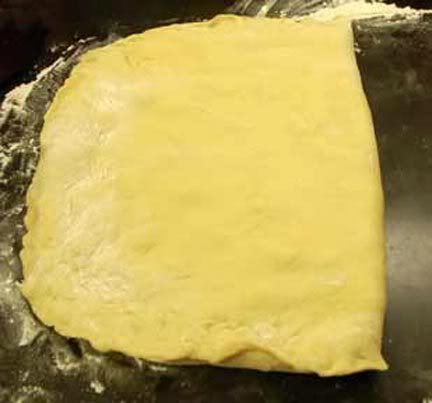 Another layer of cold chopped butter is added.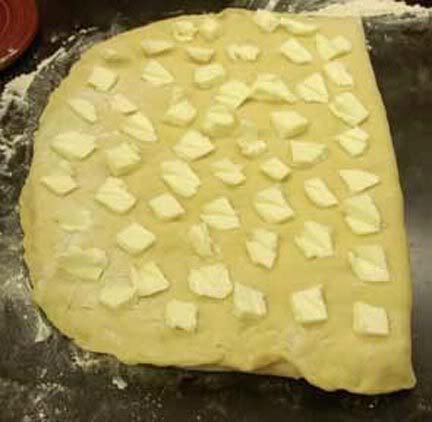 And once again the dough is folded and the edges sealed.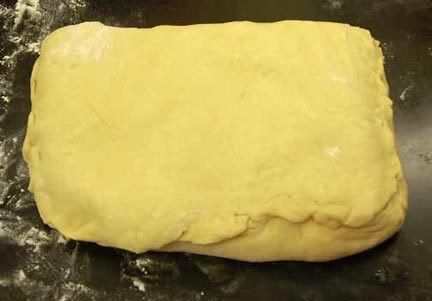 Once all the layers of butter are added and dough folded, it is rolled out into a long rectangle.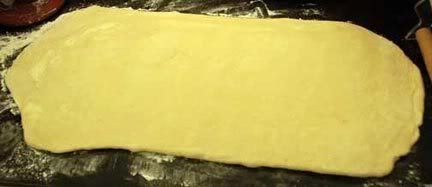 Cut the rectangle into 1" strips.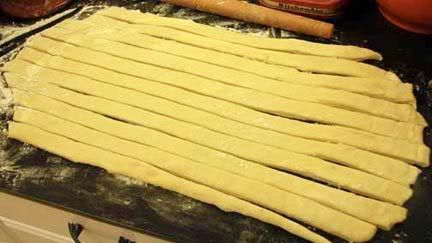 Grease your pan and braid the strips into a ring. I like to use my chartreuse large Fiesta pizza tray for this. And see the baby in the centre?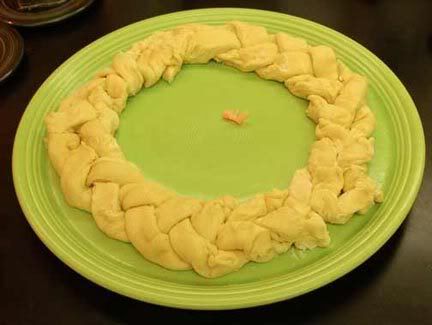 Baby was hidden in the dough and the King Cake is risen.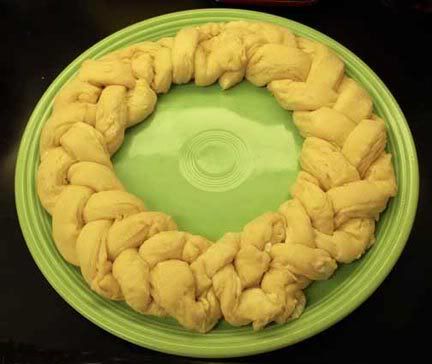 Brushed with egg wash and topped with pecans.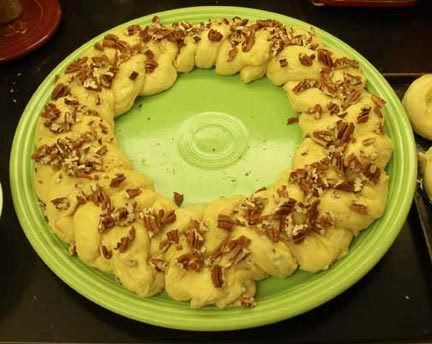 Baked.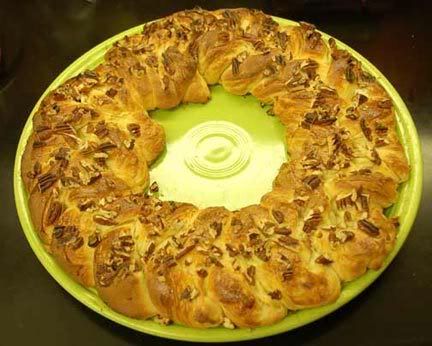 And ready to serve.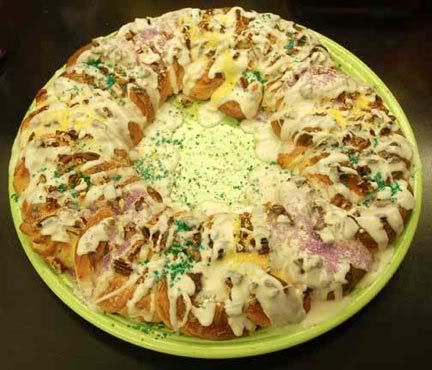 Now even if you can't "Come to the Mardi Gras" in Louisiana, you can at least make your own King Cake for your celebration.
King Cake

1 packet yeast
¼ cup water
1/3 cup sugar
¼ cup butter
1 cup milk, scalded
3 eggs
½ tsp vanilla
½ tsp lemon extract
¼ tsp mace
3½ to 4 cups flour
1 cup butter
1 King's token
½ cup chopped pecans

Glaze:
1 cup powdered sugar
1 tsp vanilla
water, to make a thick paste

Purple sugar
Green sugar
Gold sugar

Sprinkle yeast into lukewarm water; add 1 tsp sugar and stir until dissolved. Set aside. Mix remaining sugar, salt, ¼ cup butter and scalded milk. Mix on low until blended and cool to lukewarm. Beat in 2 eggs. Add yeast, extracts, mace and 3 cups flour to cooled mixture and stir until smooth. Stir in enough additional flour by hand to make a soft, but easy to handle dough. Cover with a clean, damp towel and let rise in warm place for 1½ hours or until doubled.

On lightly floured surface roll dough into a square 1/3" thick. Dot with ½ cup soft butter; fold in half and seal edges. Dot with rest of butter; fold in half and seal edges. Roll out dough a second time to 1/3" thick. Fold in half twice again. Place in greased bowl and cover with towel. Let stand 20 minutes. Place in refrigerator to chill 2 hours. Dough will be easier to handle.

On lightly floured surface roll chilled dough to 1/3" thickness. Cut into 1" strips and braid. Interlace all braided strips into an oval shape on cookie sheet. Hide the King's token in the braid. Cover with towel and let rise in warm place for 45 minutes.

Beat last egg with 1 Tbsp water and brush on top of cake. Sprinkle with nuts and bake at 400°F for 20-30 minutes. Make glaze by mixing powdered sugar, vanilla and water. Drizzle over top of baked braid. Decorate by sprinkling with alternating bands of coloured sugar.



Notes:

The dough can easily be made in the breadmaker up to the point of layering with butter and rolling. This bread receipt is also what is used for Danish pastry. You can shape it into any traditional pastry shapes as well as the braid.