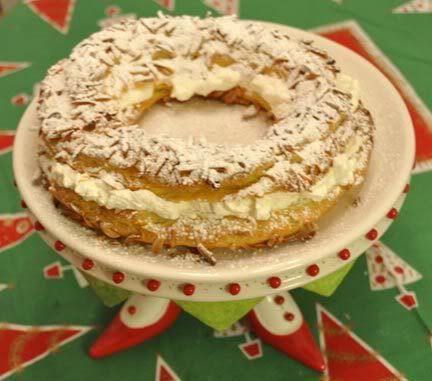 You might be asking, Paris-Brest? What is that? And oh are you in for a treat! Paris-Brest is a dessert, created in 1891, by an enterprising pastry chef on the route of the Paris-Brest-Paris bicycle race. It is made of pâté à choux shaped into a ring like a bicycle wheel and topped with almonds. When the pastry is baked, it is split and filled. Then it can be sprinkled with powdered sugar, topped with spun sugar, etc.
This was our New Year's Day dessert, inspired by my friend, Mary, over at
One Perfect Bite
. She made one she called Peasant's Paris Brest back before Christmas and I knew then it would grace our New Year's table. I had really wanted to do the spun sugar topping, but was pretty tired all day. So this time it got confectioners sugar sprinkled over the top. As this won't be the last time I make Paris-Brest I will plan on doing the spun sugar next time.
There are many recipes for Paris-Brest. Everyone seems to give it their own little twist. The filling can be as simple as sweetened whipped cream, or made much more elaborate with flavoured buttercream or combinations of the two. I used my regular pâté à choux and took ideas from several other recipes to put together our Paris-Brest. The Praline Candy for the filling, as well as the inspiration, came from Mary.
pâté à choux after the eggs are mixed into it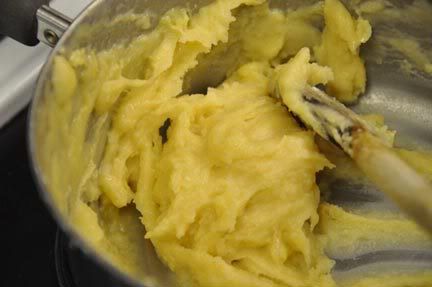 pâté à choux piped & brushed with egg wash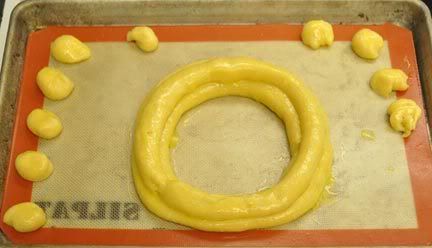 sprinkled with almonds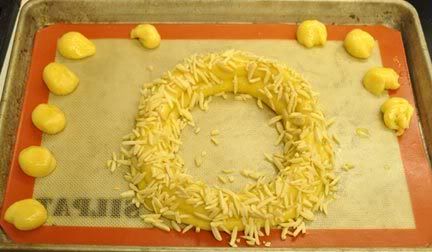 baked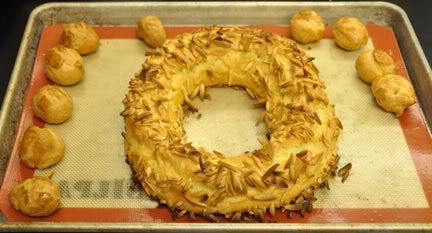 and ready to serve on my very fun Krinkles Cake Plate with the red shoes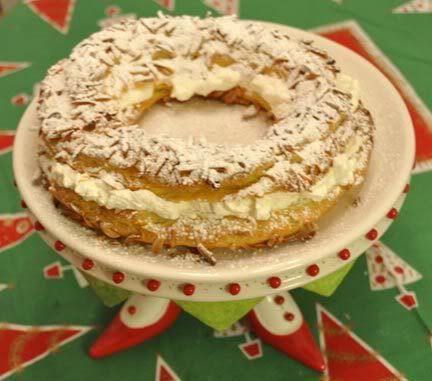 Care for a slice?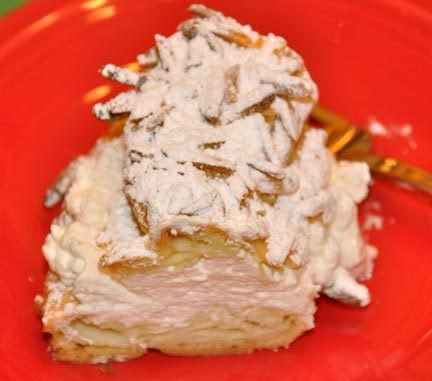 Paris-Brest

Pâté à Choux
1 cup water
6 Tbsp butter
1/4 tsp salt
1 cup all-purpose flour
4 eggs

1 egg, beaten
1/4 tsp salt
1/2 cup slivered almonds



Praline Candy


3/4 cup sugar
1/4 cup water
1/4 tsp cream of tartar
1/2 cup slivered almonds



Filling


1 cup heavy cream
2 Tbsp confectioners sugar
pinch salt
1/2 cup finely crushed praline candy

extra confectioners sugar for dusting


Pâté à Choux
Preheat oven to 400°F.

Combine water, butter, and ¼ tsp salt in a large heavy saucepan and bring to a boil over high heat. Remove pan from heat, add flour all at once, and stir vigorously with a wooden spoon until mixture forms a thick dough and pulls away from sides of pan, 1-2 minutes. Return pan to heat and cook, stirring constantly, for 1-2 minutes. Remove pan from heat, allow dough to cool 5 minutes, then vigorously beat in 4 eggs, one at a time, making sure each egg is completely incorporated.

Place pâté à choux in a piping bag with a 1" tip (or Ziploc bag with a little piece of the corner cut off) and pipe a 1" rope into an 8" circle. Pipe another 1" rope inside the second one, being sure they touch. Finally pipe another 1" ring on top of where the other two rings meet.

Mix beaten egg with 1/4 tsp salt and brush on pastry ring. Sprinkle on slivered almonds and bake at 400°F for 15 minutes. Reduce heat to 350° and continue baking another 30 minutes. Turn off oven and open the door. Let cool for 5 minutes. Remove pan from oven. Cut a few slits in the side of the pastry to allow steam to escape and let cool to room temperature.



Praline Candy


Combine ingredients in a heavy pan. Heat while stirring until sugar dissolves. Continue to heat without stirring until mixture turns the colour of maple syrup. To avoid overbrowning almonds, the pan may be shaken gently once or twice. Pour immediately onto a buttered cookie sheet. Allow to cool before using.

To crush, place in food processor and pulse to break up. Praline may be kept in an air-tight container for several days.



Filling


Whip cream with confectioners sugar and salt until stiff peaks form. Gently fold in the praline candy.



To Assemble


Using a sharp serrated knife, split the pastry crosswise. Lift off the top and fill with the flavoured whipped cream. Replace top and gently press. Not too much. You don't want all the filling to come out. Dust top with confectioners sugar and serve. Serves 8



Notes:


1. Most recipes for Paris-Brest call for drawing a circle on parchment paper and using that as a guide to shape the choux pastry. I decided to use a Silpat and just freehand the circle when piping. The Silpat worked great and though my circle wasn't perfect, it was close enough.


2. After making the circle, I had some leftover pastry and piped it out to use for mini-cream puffs.

Mary, thanks so much for posting about your Paris-Brest and being the inspiration for our New Year's dessert. It was wonderful! I am so glad to add this to my recipe collection.