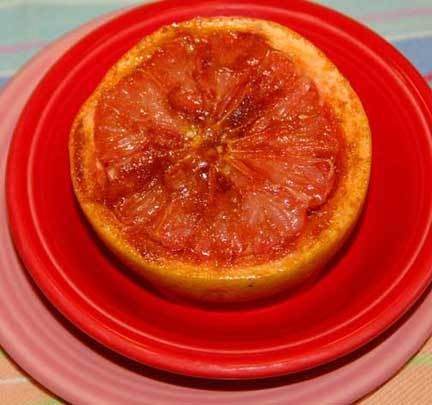 Served on post-86 scarlet and rose Fiesta.
Broiled Grapefruit
serves 4

2 grapefruits
8 Tbsp brown sugar
Optional garnishes: maraschino cherries, mint leaves


Preheat broiler.

Cut the grapefruits in half and section. Place sections back in the shells. Sprinkle brown sugar equally over the grapefruit halves and broil for 3 to 5 minutes, or till brown sugar is bubbly. To serve, garnish as desired.

Notes:
1. This could be used as a first course, but we normally have it at breakfast.
2. It's important to section the grapefruit before broiling as it can be too hot and messy for a person to eat otherwise. If you have special grapefruit spoons it is easier
3. I really like this when it heats enough that some of the sugar caramelises like in a crème brûlée.