Salmon is the fish of choice in our house. I do believe Mike & DD#2 could eat it every day and never get tired of it. As you might imagine, I have collected tons of recipes for salmon. This one I particularly like because it uses smoked paprika.
I was first introduced to smoked paprika about a dozen years ago on a trip to Spain. Smoking - what a wonderful thing to do to paprika. It adds a whole new layer of flavour to any dish where it is used. I am not able to find it locally, but it can be ordered from
La Tienda
. I tend to use the bittersweet when making this salmon.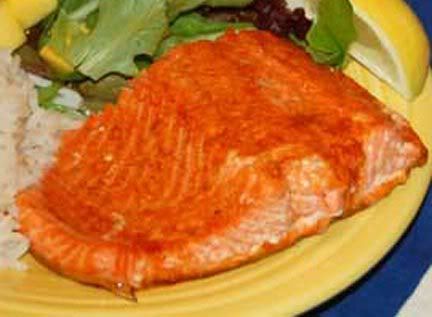 Roasted Salmon with Smoked Paprika Glaze

2 pounds fresh salmon, cut in serving size pieces
1/4 cup extra virgin olive oil
1/4 cup freshly squeezed lemon juice
2 Tbsp honey
1 tsp ground coriander
2 Tbsp Spanish smoked paprika
2 tsp coarse salt
1/2 tsp pepper

Preheat oven to 400°F.

Rinse the salmon and pat it dry. Oil a baking dish and place the salmon in the dish skin-side down. In a bowl, combine remaining ingredients and stir well. Pour half of it into a small pitcher and reserve for the table. Pour and brush the rest of the glaze on the salmon. Roast 10 minutes and check for doneness. Cook it for a few more minutes, if necessary. Serve immediately, passing the reserved glaze at table.