Roasting is a wonderful way to intensify the flavours of vegetables. I could write reams about many of them. But one of my favourite vegetables to roast at this time of year is winter tomatoes. Tomatoes are by far and away my favourite food. But nothing compares with fresh garden tomatoes in the summer. This however, does not keep me from wanting good tomatoes at other times of the year.
Winter tomatoes are blah, bland things that most of the time are not even worth looking at in the market. A few at some of the specialty stores can be better, but even those tend to look somewhat anemic at this time of year. The other day I was craving tomatoes, so Abbey picked me up some at Fresh Market. She did the best she could, but they just didn't look too appetizing to me. I should have known better.
But here is Ina Garten to the rescue. In her new book,
Barefoot Contessa: Back to Basics
, she has a simple recipe for roasting tomatoes. This is not the first time she's roasted them, and I've followed the directions for her Roasted Tomato Soup many times. But always up to try something new, I went with the new directions for these winter imposters.
Don't look very red, do they? To me they look freshly out of the hot house.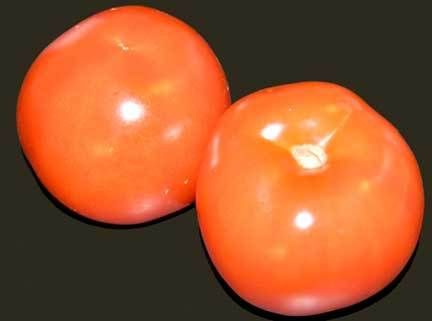 And sliced on the baking sheet doesn't do much to improve them.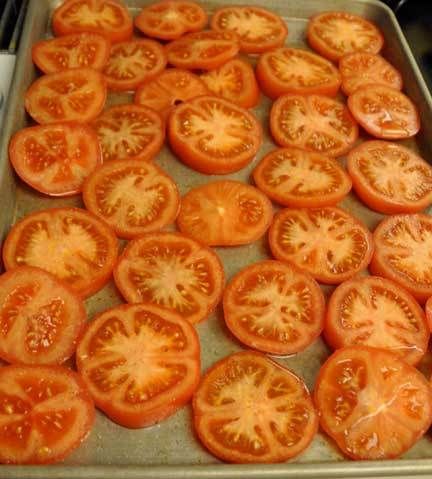 Add some olive oil, balsamic vinegar, salt, pepper, garlic and a sprinkle of sugar. Roast for a bit and look what happens. It's an unbelieveable transformation!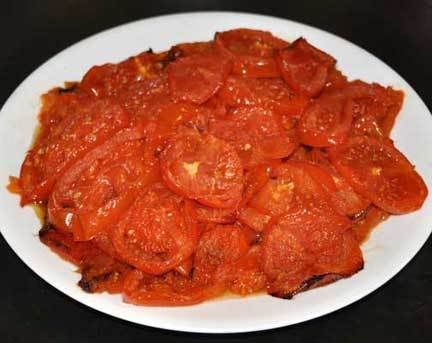 And we'll garnish with some fresh basil. The difference is absolutely amazing. This is something worth eating. And we will, later with dinner.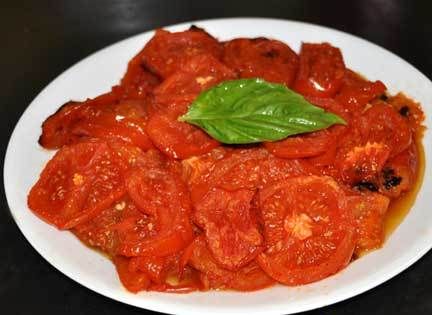 Roasted Tomatoes
Ina Garten

12 plum tomatoes, halved lengthwise, cores and seeds removed
4 tablespoons good olive oil
1 1/2 tablespoons balsamic vinegar
2 large garlic cloves, minced
2 teaspoons sugar
1 1/2 teaspoons kosher salt
1/2 teaspoon freshly ground black pepper

Preheat the oven to 450°F.

Arrange the tomatoes on a sheet pan, cut sides up, in a single layer. Drizzle with olive oil and balsamic vinegar. Sprinkle the garlic, sugar, salt, and pepper over the tomatoes. Roast for 25 to 30 minutes, until the tomatoes are concentrated and beginning to caramelize. Serve warm or at room temperature.



Notes:

My tomatoes were not plum tomatoes, but they roasted well anyway. I wound up with two baking sheets full.