Growing up in Louisiana we ate a lot of rice. My Mom would often make these pancakes for us in the mornings after we had rice for dinner the night before. (There's another version that's a New Orleans tradition called Calas. Those are more of a fritter, typically have yeast in the batter and rise overnight. Both are delicious!)
I made rice yesterday for last night's Broccoli Portobello Rice Casserole, so I cooked enough to have rice pancakes this morning. When we were growing up, these would have been served with Steen's Pure Cane Syrup. That is not always available here, so I used maple syrup this morning. The pancakes still had that wonderful flavour called "home".
Mix all the ingredients in a Fiesta mixing bowl (I don't care what the official name is, this shape is a mixing bowl, not a baking bowl. Thus forward, I shall only refer to it as such.)
Pour on to cast iron griddle.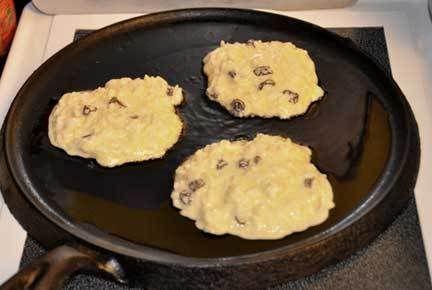 Turn and cook other side.
Served on Kitchen Kraft Art Deco Leaf Cake Plate.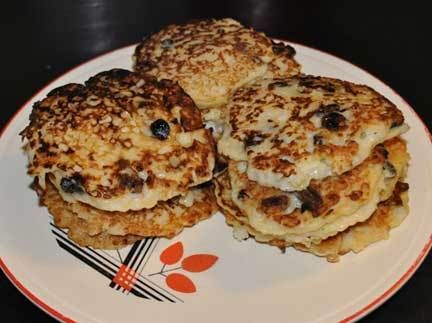 Rice Pancakes
1 cup flour
1/2 tsp salt
2 eggs, beaten
1/4 cup corn syrup
1 cup milk
2 cups cooked rice
1/2 cup raisins
butter or oil for griddle

Sift flour and salt. Add eggs, syrup and milk; beat till smooth. Stir in rice and raisins. Melt butter on griddle. Pour out pancakes using 1/4 cup batter for each. Spread the rice, if necessary. Cook, turning once, till golden brown and edges are crisp.



Notes:

The recipe should make about a dozen pancakes. This morning I got 14.