This is best made in the summer with fresh garden tomatoes.
All mixed up in a Fiesta Kitchen Kraft mixing bowl: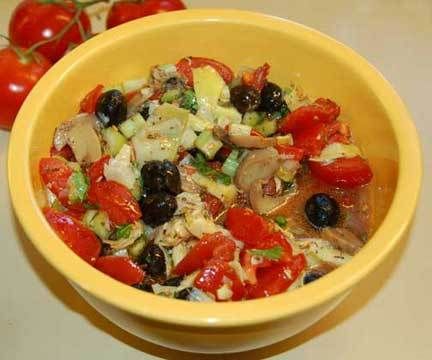 Tomatoes Pinot Grigio

2 Tbsp mixed dried Italian herbs
4 Tbsp pinot grigio wine vinegar
6 Tbsp good olive oil
3 ribs celery, chopped
1/4 cup pinot grigio (wine)
6 medium fresh tomatoes, each cut in 6-8 wedges and wedges halved crosswise
1 can artichoke hearts, drained and hearts quartered
1 can whole seedless ripe olives, drained or 1 cup seedless kalamata olives
1/2 cup sliced mushrooms
kosher salt & freshly ground pepper, to taste
4 Tbsp chopped fresh parsley
4 Tbsp chopped fresh basil

Mix together everything except the fresh herbs and marinate in refrigerator for several hours. Stir in the fresh herbs just before serving.