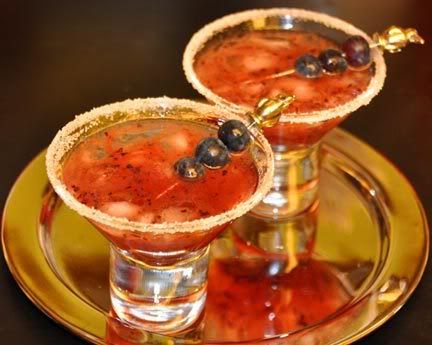 What a lovely way to get in a serving of fruit for the day. And remember, blueberries have lots of antioxidents.

These are delish, but they pack a punch. Don't drink too quickly
I collect art deco. One of the pieces I have is the penquin cocktail shaker. Recently I found these penguin topped cocktail picks. They go great with the shaker and I did use it tonight to shake the martinis.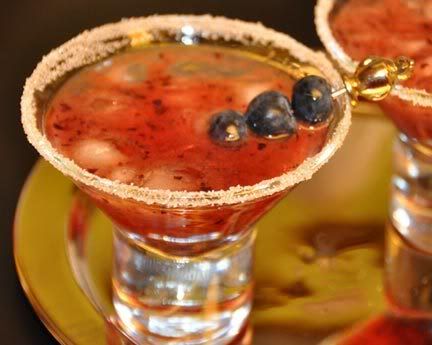 Mike walked in just as I was getting ready to pour and was happy to try one of these in place of a glass of red wine. His and hers.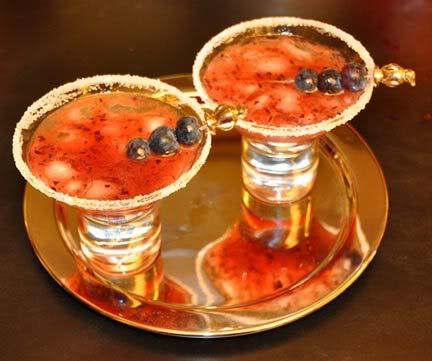 Blueberry Martinis
(Adapted from a recipe for Blackberry Martinis from The Berry Bible, by Janie Hibler)

1 cup plus 1 tablespoon sugar
2 cups blueberries
1/4 cup fruit brandy
4 lemon wedges
sugar
1 cup gin
2 Tbsp Grand Marnier
2 Tbsp freshly squeezed lemon juice.

To make simple syrup: In a small saucepan, combine 1 cup of the sugar and 1 cup water. Bring to a boil and stir until the sugar dissolves. Set aside until cooled.

In a blender or food processor, purée the berries, brandy and remaining tablespoon sugar until smooth.

Prepare four martini glasses: rub the rims with lemon wedges, then dip in sugar on a plate and twirl the glasses in it. Place them in the freezer.

Fill a martini shaker with ice, then add the gin, Grand Marnier and lemon juice. Add 2 Tbsp of the cooled simple syrup and 1/4 cup of the berry purée. Shake robustly for 10 seconds and strain into the glasses. Serve immediately but sip slowly.
Yield: 4 martinis.



Note:

Second time I made these I froze some fresh blueberries to add to glass to help keep the drink cook without diluting it.