A couple of weeks ago the theme of PhotoHunt was
Hats
. I love hats. I think I have always loved hats. When I was a little girl my grandmother kept a box of dress-up clothes for my cousins and me. But I never thought the clothes were enough. I had to have heels, gloves, a purse and a hat. Finally my grandmother put a navy blue hat with rhinestones and a veil in the dress-up clothes box for me.
As you might imagine it is somewhat worse for the wear after many hours on a little girl's head, but I still have that hat. And interestingly, when my grandmother was a child, one of her aunts was a milliner and my grandmother used to help in the millinery shop. It was upstairs over the general store in the town that they lived near.
My Mom and my grandmothers all had beautiful hats. Ladies in the south did not go to church on Sundays without wearing hats and gloves. It just wasn't done.
I was lucky enough to inherit some of my grandmothers' hats and my Mom has gifted me with some of hers. Some date back to the 1930s. I think the earliest ones I have are two Scarlet O'Hara hats that came out in ladies' fashions along with the movie,
Gone With the Wind
.
Over the years I have collected a number of hats from the 1940s and 1950s. For a long time I could find lovely hats in antique stores for less than $5.00 each. My favourites are the ones with veils and rhinestones. Along the way I've also purchased some new hats off and on as interesting ones were fashionable, but none match the glamour of the ones from the 1940s.
I am now lusting over this hat!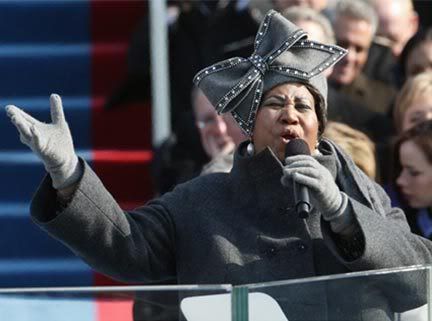 The milliner has been swamped with orders for the hat ever since the inauguration. Aretha's custom made version with all the Swarovski crystals cost around $500, but the milliner will not reproduce it in felt with the crystals. Only the Queen of Soul gets a hat worthy of a queen. He is however, selling a crystal-less, fabric version for much, much less. I'm thinking of calling and seeing if I can order it in red. Wouldn't want to be too much of a copycat.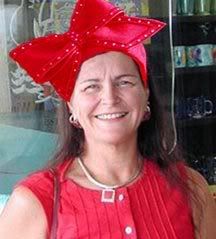 And if you are interested in seeing who else might be wearing Aretha's hat,
click here
.