Barefoot Bloggers' first recipe for January was
Banana Sour Cream Pancakes
, chosen by Karen of
Something Sweet by Karen
. This recipe was supposed to be made and posted by 8 January, but health issues kept me from making these before now. And they're a wonderful Saturday morning breakfast! Thanks Karen, for picking this recipe. It can be found in
Barefoot Contessa, Family Style
, page 177.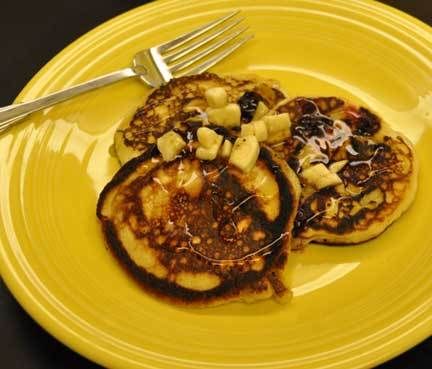 Ingredients all mixed in a small sunflower Fiesta mixing bowl (weirdly called baking bowl by HLC):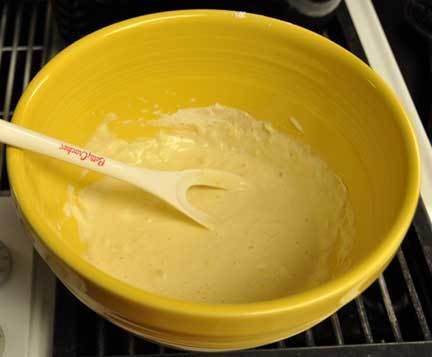 I love to use my great-grandmother's cast iron griddle. The texture of pancakes is always better from being cooked on cast iron. Batter poured on the griddle and topped with bananas: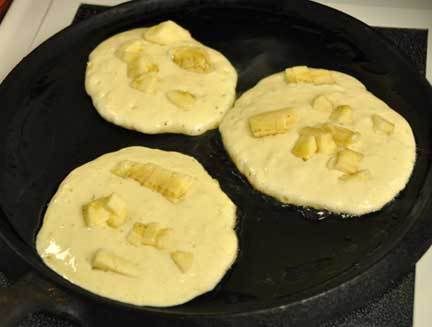 We also love lemon with blueberries, so I decided to blueberry a few of the pancakes.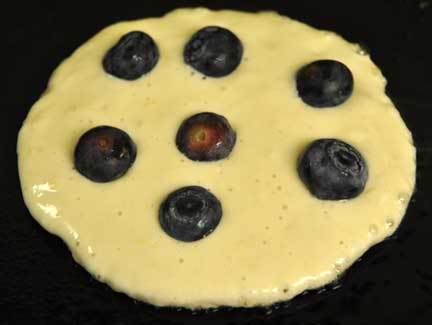 And so as not to be discriminatory, some pancakes got both blueberries and bananas: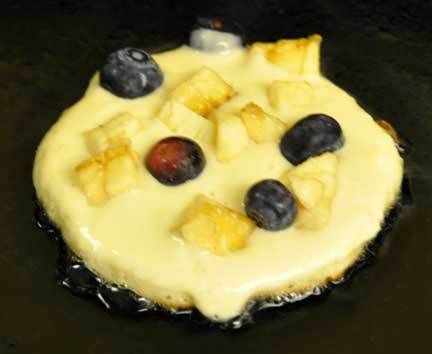 Served on a sunflower Fiesta plate with real maple syrup. Yummy, yummy!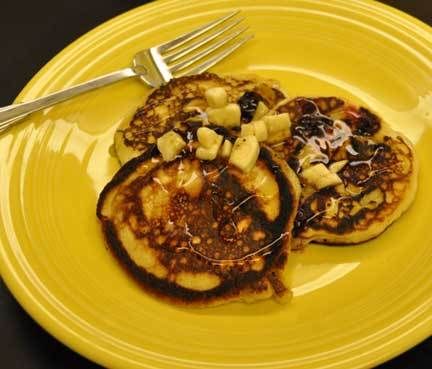 Two things:
1. Cooking thick pancakes on the cast iron griddle on the flat top glass cooktop can be a challenge. The first few were a bit doughy and dark, as I usually make my pancakes thinner than this. Time and a temperature adjustment fixed that, but I hated for the first few to be less than stellar.
2. I thought the addition of blueberries was a definite improvement, just because we are not huge fans of cooked bananas. The pancakes that had both bananas and blueberries were my favourites. The lemon zest is wonderful with both fruits.
Banana Sour Cream Pancakes
Ina Garten

1 1/2 cups flour
3 tablespoons sugar
2 teaspoons baking powder
1 1/2 teaspoons kosher salt
1/2 cup sour cream
3/4 cup plus 1 tablespoon milk
2 extra-large eggs
1 teaspoon pure vanilla extract
1 teaspoon grated lemon zest
Unsalted butter
2 ripe bananas, diced, plus extra for serving
Pure maple syrup

Sift together the flour, sugar, baking powder, and salt. In a separate bowl, whisk together the sour cream, milk, eggs, vanilla, and lemon zest. Add the wet ingredients to the dry ones, mixing only until combined.

Melt 1 tablespoon of butter in a large skillet over medium-low heat until it bubbles. Ladle the pancake batter into the pan to make 3 or 4 pancakes. Distribute a rounded tablespoon of bananas on each pancake. Cook for 2 to 3 minutes, until bubbles appear on top and the underside is nicely browned. Flip the pancakes and then cook for another minute until browned. Wipe out the pan with a paper towel, add more butter to the pan, and continue cooking pancakes until all the batter is used. Serve with sliced bananas, butter and maple syrup.
Click here
to see what other Barefoot Bloggers think of this recipe.