I always enjoy watching Michael Chiarello. Several years ago he introduced me to grilling avocados. I had never thought of that before, but it's a great thing to do. Particularly when you make this wonderful dressing. Definitely a keeper recipe, it's become one of our favourite dressings.
Avocados on the grill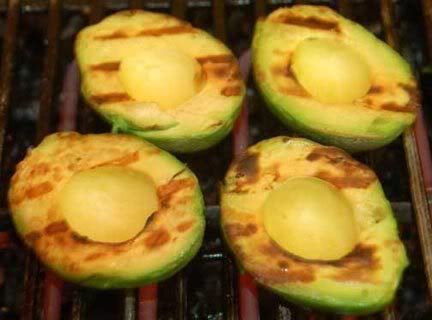 And the dressing in a jar, ready to go in the fridge to chill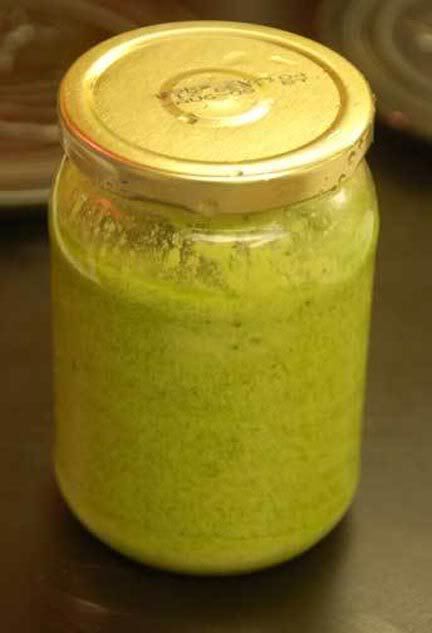 Grilled Avocado Green Goddess Dressing
Michael Chiarello

2 medium avocados
2 tablespoons lemon or lime juice
1 tablespoon roughly chopped basil leaves
1 tablespoon roughly chopped tarragon leaves
1 clove garlic, minced
1/2 cup extra-virgin olive oil
Grey salt
Freshly ground black pepper

Cut avocados in half, remove pits and peel. Grill to get some nice grill marks. Then chop into cubes.

In a food processor, combine avocado cubes, lemon or lime juice, basil, tarragon, and garlic. Blend until smooth. With the motor running, slowly pour in olive oil to make a thick, creamy dressing. If dressing is too thick to pour, add water, a few tablespoons at a time, to reach the desired consistency. Pour into a bowl, season, to taste, with salt and pepper and cover. Refrigerate until chilled.

Notes:
1. Grilling the avocados gave them a really nice flavour.
2. The dressing keeps very well. I've had it in the fridge as long as two weeks.