January's BRC recipe was chosen by Rebecca over at
Ezra Pound Cake
. She referred the most people to the Barefoot Bloggers during the month of December. Besides "recipes" Ina always includes great entertaining ideas and has done cheese platters on more than one occasion. This time we were all invited to make up our own platter. Mike and I had this for dinner Saturday night.
Can I say we were delighted with this choice? I don't think we have met a cheese that at least one of us doesn't like. Plus my Mom always gives us iGourmet's Cheese of the Month club for Christmas. Fruit and cheese are always a favourite for us. Rather than just cheese, I put together several plates. Smaller plates are chartreuse Fiesta salad plates. The larger one is a Fiesta tab-handled tray with the Watercolour decal.
We had both red and green seedless grapes and strawberries. Cheeses included smoked Gouda, marinated mozzarella braid, and a medium cheddar. I also made Watercress Salad Wrapped in Purple Haze Chèvre and Prosciutto. They didn't make it into the photos, but I served Carr's Table Water Crackers.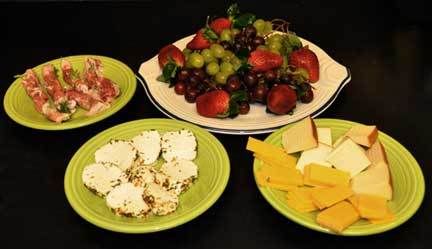 Served on post-86 Watercolour Fiesta luncheon plates.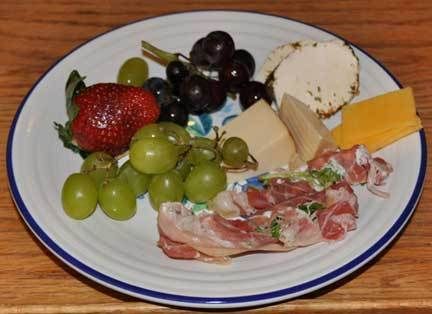 We have watercress that grows prolifically in the creek and ponds at the farm so I am always on the lookout for recipes to use it. Free food year round and completely fresh. The Watercress Salad Wrapped in Purple Haze Chèvre and Prosciutto recipe originally came from Robin of
Caviar and Codfish
. She made this salad using bresaola back at Thanksgiving and I had bookmarked it then. It seemed like it would be a really nice addition to our cheese plate.
We don't eat beef and I love the Purple Haze Goat Cheese so I decided to make the salad using prosciutto instead. Smoked turkey would also be a good substitute, I think. I used a fig flavoured balsamic vinegar. It was a great layer of flavour and I'm glad I tried it. Along with the fennel pollen and lavender it was a wonderful counterpoint to the prosciutto and watercress. Mike harvested the watercress for us on Saturday afternoon.
Cheese, Fruit, Crackers, and Watercress Salad Wrapped in Purple Haze Chèvre and Prosciutto
Inspired by Ina Garten & Robin of Caviar and Codfish
Assorted Cheeses
Assorted Fruits

Watercress Salad Wrapped in Purple Haze Chèvre and Prosciutto

* 1 1/2 Tbsp good balsamic vinegar (I used a fig flavoured one)
* 1 Tbsp fresh lemon juice, or more to taste
* 1 Tbsp good fruity olive oil
* kosher salt
* freshly ground black pepper
* 1 large bunch watercress, trimmed with most of stems left on
* 20-25 slices prosciutto
* 4 oz Purple Haze Chèvre, at room temperature

In a medium bowl, mix balsamic vinegar, lemon juice, and oil until combined. Add salt and pepper to taste. Add watercress and dress so all the leaves are coated. Let sit for 20 minutes to 1 hour.

Working one at a time, spread goat cheese carefully onto a slice of prosciutto, taking care to apply enough pressure with your butter knife flat against the meat so that it spreads thinly but doesn't rip through. Leave both ends of the prosciutto slices without cheese on them. Place a small handful of watercress onto the goat cheese and begin wrapping the prosciutto by rolling from one side to the other. Once rolled, press the edge down to seal the roll. Continue making rolls until you are out of slices of prosciutto. Sprinkle with a little of the kosher salt and freshly ground pepper. Serve at room temperature.



Notes:


1. The fig flavoured balsamic was wonderful with the flowery flavour of the fennel pollen. I definitely want to use that again.
2. Purple Haze Chèvre is a specialty goat cheese made by Cypress Grove Creamery in California. I have been buying it at Fresh Market, but just found out that due to costs, we can't get it now. Purple Haze is flavoured with fennel pollen and lavender flowers. If you can't get Purple Haze, you can use these to make a reasonable facsimilie with plain goat cheese.
Click here
to see what other Barefoot Bloggers think of this recipe.