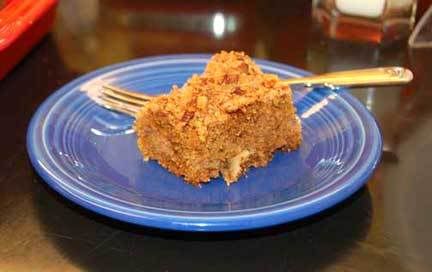 This recipe is originally from The Inn on Sea Street, a bed and breakfast in Hyannis, MA. I found it on Recipezaar when I was searching for something to do with pears. It is very easy and delicious. My family specifically requests this often. We are all big fans of both pear and ginger, so this really is a great recipe. And it works equally well as a breakfast cake as it does for dessert.
Ready to fold pears into dry ingredients: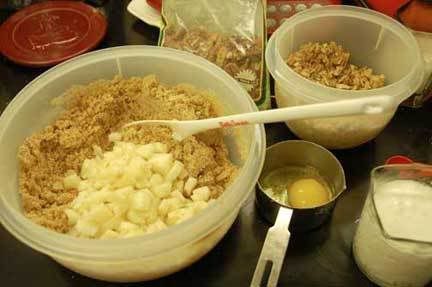 Liquids stirred into the mixture: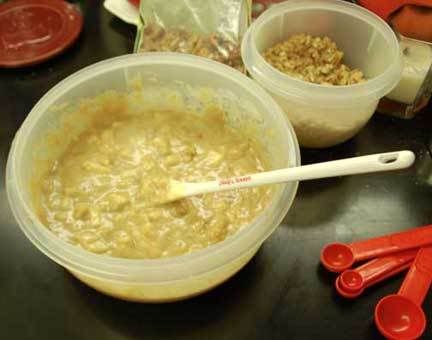 Topping being added to batter in pan: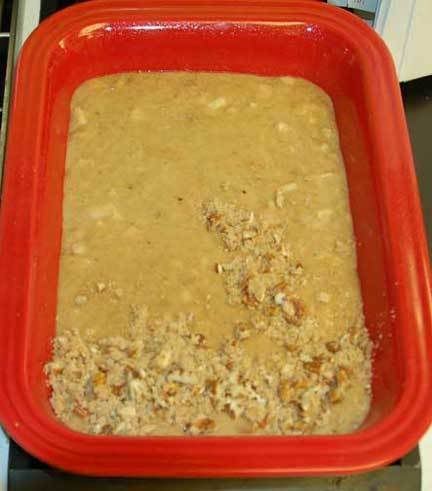 Baked in Fiesta rectangular baker: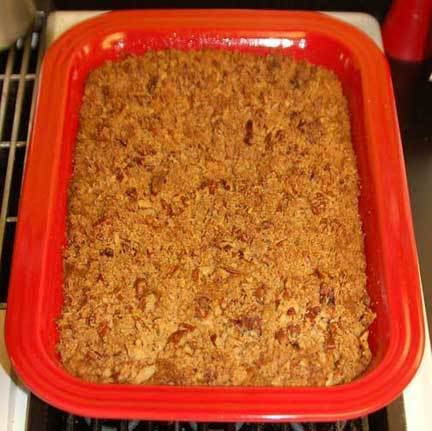 And cut: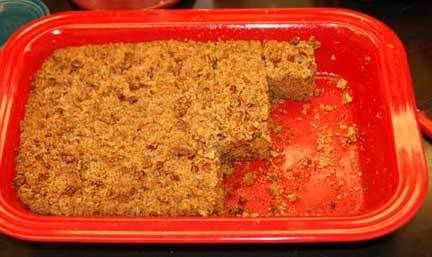 Served on sapphire Fiesta plate: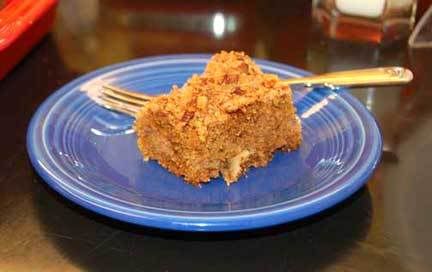 Pear Coffee Cake with Ginger Pecan Crunch Topping
2 1/2 cups flour
3/4 cup sugar
1 cup brown sugar
1 tsp salt
1 tsp nutmeg
3/4 cup oil
2 cups chopped ripe pears
1 slightly beaten egg
1 cup buttermilk
1 tsp baking soda
1 tsp baking powder



Topping


1/2 tsp ground ginger
1 cup chopped pecans

Preheat oven to 350°F. Spray a 9x13 pan with PAM or similar cooking spray.

Mix together the flour, both sugars, salt and nutmeg. Stir in the oil to incorporate thoroughly; then set aside 1 cup of the mixture in a smaller bowl for topping.

Fold the pears into the remainder of the flour mixture. Stir in the egg, buttermilk, baking soda and baking powder. Pour into prepared pan.

For the topping, add the ginger and pecans to the 1 cup of reserved mixture. Sprinkle the topping evenly over the batter. Bake for 40 minutes or until knife inserted comes out clean.

Notes:
1. The original recipe called for dark brown sugar, but I made this version with light, as that's what I had on hand.
2. Also, I didn't have buttermilk, so I just added lime juice to sweet milk.