I love salads and am always looking at different combinations of greens, vegetables, fruits, nuts and cheese. Fruits in salads are good any time of year, but I find I use them often in the winter when tomatoes are virtually inedible. This recipe is based on one I saw in
Fine Cookin
g #76. The marinated onions are a great counterpoint to the mango and greens. I like to serve this with grilled chicken or fish. And the flavours are really excellent with the
Roast Salmon with Smoked Paprika Glaze
.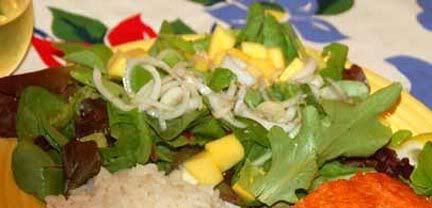 Baby Greens with Mango & Marinated Onion

1/2 cup very thinly sliced red onion
1/3 cup red wine vinegar
Kosher salt and freshly ground black pepper
2 Tbsp rice vinegar
4 Tbsp extra-virgin olive oil
8 to 10 oz. (six to eight large handfuls) baby greens or mesclun
2 medium-size ripe mangos, peeled, pitted, and finely diced (about 2 cups)

In a small bowl, combine the onion and red wine vinegar with a little salt and pepper. Set aside for at least 20 minutes or up to 90 minutes.

In a small bowl, combine the seasoned rice vinegar, canola or grapeseed oil, and the olive oil. Just before serving, generously season the greens with salt and pepper, whisk the dressing, and toss the greens with just enough of the dressing to lightly coat. Divide the salad among six or eight large salad plates. Drain the onion. Arrange the onions and mangos over the greens. Serve immediately.




Notes:

As we eat from the veggie box, I used fresh green Vidalia onion, rather than red onion. Also, I didn't have enough red wine vinegar so I added some pinot grigio wine vinegar. The proportions were about half and half. My onions were actually in a Tupperware bowl in the fridge for several hours before I used them on the salad.