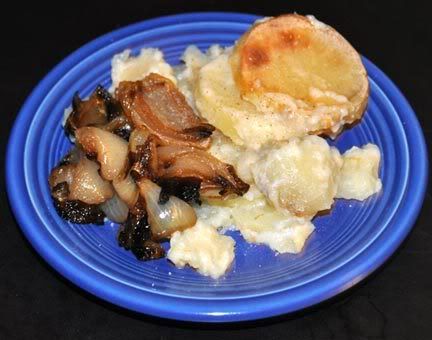 This is a recipe that came from my paternal grandmother, Mamah. When I was a little girl we lived in the same town in Louisiana with my paternal grandparents. Then my grandfather crossed over when I was 6 years old. Mamah broke up housekeeping and moved 500 miles away to live with my aunt in Fort Worth.
Because I was so young when she moved, I don't have as many memories of her cooking as I do my maternal grandmother, Mimi. However, I do have many of her recipes and was lucky enough in 1978 to spend many hours with her at my aunt's, measuring what she meant when she said things like "half a handful of sugar". Her recipes are collected with all the others in our family cookbook that I put together. At least a couple of hers, I've melded with those of Mimi's to make a completely different dish. It's funny how things like that happen..
Mamah was originally from Lower Alabama. When she was 18 she moved to Houston to stay with her brother and met my grandfather. It was love at first site. She was engaged to a guy back home, but promptly married my grandfather instead. Now Papaw was from Erie, PA. He was a first generation German American and had come with his brothers to Texas to make money in the oilfields. Pennsylvania Dutch and German food meets Southern cuisine had an interesting effect on their menus. My grandparents taught each other about the foods they grew up with. And her MIL taught Mamah how to cook those great foods from Germany and "up north".
Unlike the maternal side of my family which was thoroughly Louisiana and ate a lot of rice, the paternal side of my family had potatoes as their main starch. My Papa used to wax poetic about the wonderful potato dishes Mamah used to make. My Mom learned to make those and so have I. This recipe for scalloped potatoes is simple, old-fashioned comfort food. Sometimes Mamah made it as written as a side. Other times she would top the potatoes with seasoned pork chops or bacon to make it more of a main dish.. Most often she used bacon, I think. My aunt always added cheese, but I don't remember Mamah ever doing that.
I typically make scalloped potatoes without any added meat products or cheese. In it's simplest version it is perfect on a cold winter night. (An aside: I had asked Abbey to buy potatoes for me. She picked up a giant bag at Costco, so I am actively making potato dishes for awhile.) Scalloped Potatoes were on last night's menu. As there were only three of us eating, I did not make the full recipe. Instead I used four potatoes, scaled the other ingredients accordingly, and baked it in a Fiesta square baker.
Four peeled potatoes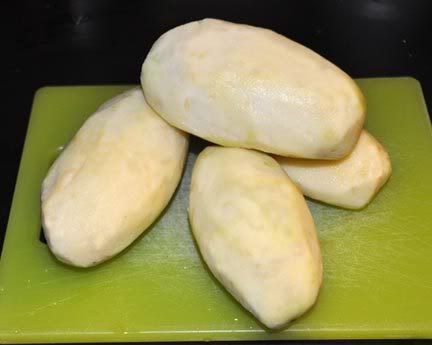 Sliced and being layered in the baker with flour, butter and salt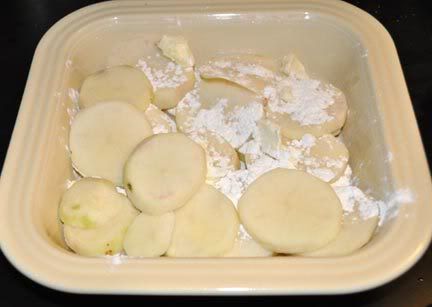 Ready to go in the oven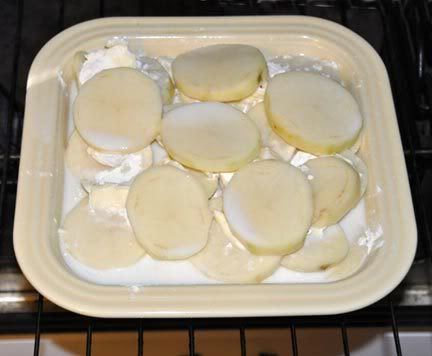 Baked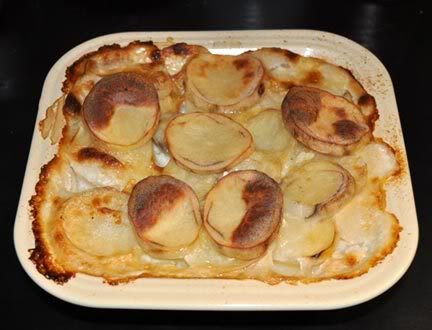 Ready to serve on a sapphire Fiesta plate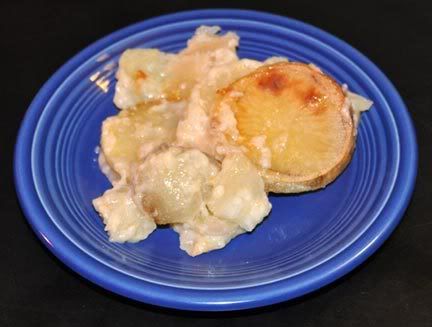 And I violated all the home-ec rules about food colours, etc, Mike had Chicken Kiev with his, but I just ate some roasted onions with mine. It was delish!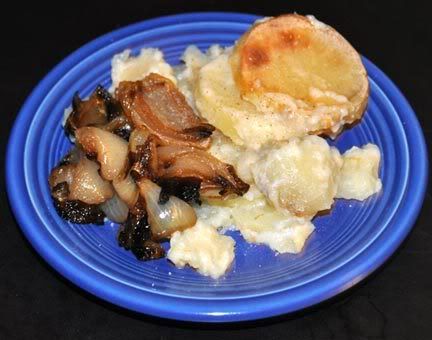 Scalloped Potatoes
6 large baking potatoes
flour
1/2 stick butter
salt
2 to 3 cups milk

Peel potatoes and slice into greased casserole dish. Sprinkle with flour and dot with butter. Sprinkle on salt. Make 3 layers, omitting flour on third layer. Potatoes should almost fill the dish. Pour on milk until it comes nearly to the top of dish. Can top with cheese, bacon or browned pork chops, if desired. Bake at 350°F for about an hour.



Note:

I always use 2% milk because that is what we buy, but Mamah used whole milk.