Butternut squash often comes in our CSA veggie box during the winter months. This has to be one of my favourite ways to prepare it. The lime makes an amazing difference in the flavour and I absolutely love it!
Prepping the squash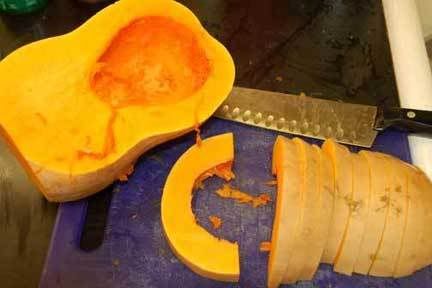 Ready to go in the oven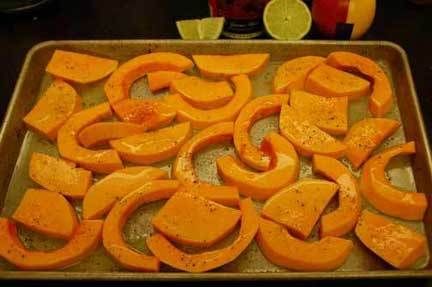 Halfway through and time to turn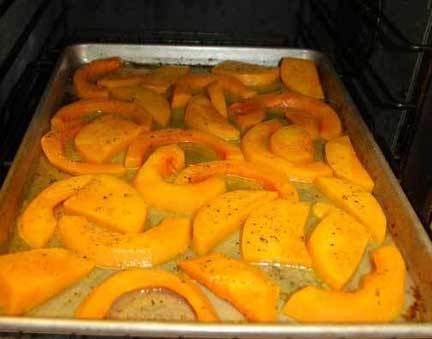 Finished roasting
And ready to eat. Come join me!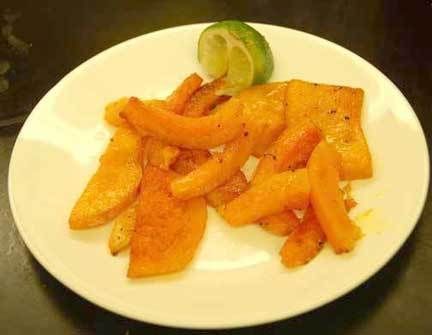 Roasted Butternut Squash with Lime Juice
Inspiration for this recipe came from

Bon Appétit

.

3 1/2 lb butternut squash
3 Tbsp olive oil
2 Tbsp melted butter
4 tsp fresh squeezed lime juice
kosher salt
freshly ground black pepper
lime wedges


Preheat oven to 400°F.

Cut squash in half lengthwise. Remove seeds and cut into 1/2" crosswise slices; peel.

Spray baking sheet with PAM. Mix olive oil, melted butter and lime juice. Place squash on baking sheet and drizzle with lime juice mixture. Season with salt and pepper.

Roast for 20 minutes. Turn over pieces of squash and roast 20 more minutes. Serve immediately with wedges of lime. OR, can be prepared 4 hours in advance. Let stand at room temp, then rewarm in 400°F oven for about 10 minutes.

Note: I can't tell you all how very good this is! Give it a try.