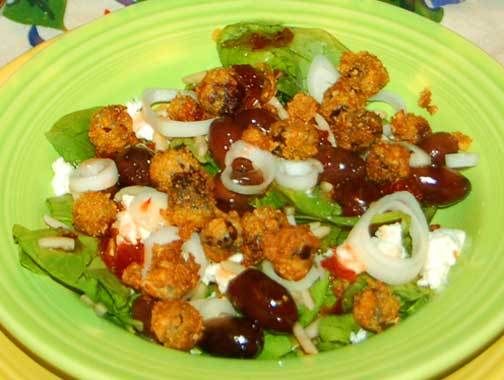 Served in a chartreuse Fiesta deep plate.
I love to make this salad to serve to guests. It's one of my signature dishes. The whole salad is really good and the blueberry croutons never fail to impress. It can all be made ahead a bit except for the croutons.
Spinach Salad with Pepper Jelly Dressing & Blueberry Croutons
Serves 4

10 oz fresh baby spinach, washed
1 cup crumbled goat cheese
1/2 cup toasted slivered almonds
1 cup pitted black olives – I use the mixed ones from the olive bar at Fresh Market
1/2 cup sliced onion (green Vidalia, red, etc.)
Pepper Jelly Dressing (see below)
Blueberry Croutons (see below)

Divide spinach between four plates. Sprinkle each plate with goat cheese, almonds, olives, and onion. Dress each and top with croutons.




Pepper Jelly Dressing


8 oz pepper jelly – I use Apricot Pepper Jelly
1/4 cup white wine vinegar

Heat jelly and vinegar, stirring till jelly melts. Cool to room temperature before using to dress the salad.




Blueberry Croutons


1 1/2 cups blueberries
1 cup flour
2 eggs, lightly beaten
1 1/2 cups crushed cornflakes
vegetable oil, for frying

Rinse the blueberries, draining off excess water but do not dry them. Roll berries in the flour. Dip the berries in the egg and drain with a slotted spoon. Roll in cornflake crumbs to coat completely.

Heat oil over medium heat. Fry the berries in batches until they are brown and crisp, being careful not to burn. It won't take very long! Drain on paper towels and immediately sprinkle over salads.