Pepper Jelly continues to be a favourite - as an appetizer with cream cheese, as a marinade, in dressings, etc. It's great to have on hand for holiday entertaining and it's great to have to give as a gift. Some years ago a friend on a foodie board shared a recipe for Apricot Pepper Jelly. OMG, I had a new fav. The addition of the fruit made such a delicious difference.
A couple of years ago Abbey asked me if we could make Cranberry Pepper Jelly. Not to be discouraged - of course we can! I used the Apricot Pepper Jelly recipe and substituted a can of whole berry cranberry sauce for the apricots. This year I decided to branch out some more and make Mango Pepper Jelly with dried mangoes. (I had thought I was picking up apricots, but when I got home, mangoes were in my bag. C'est la vie.)
My Sunday project actually started back in September. Just before Mike and I left to go to upstate New York, we had lots of peppers from the garden and the veggie box. I grow a number of different varieties. Some are sweet, some are very hot, and some are in between. We were in a rush the morning we were leaving, so I decided to just put them all up together in the freezer to make into jelly at a later date. No idea which ones are which heatwise. We will be surprised! This is a Fiesta spaghetti/pasta bowl. It held enough peppers for 13 batches of pepper jelly!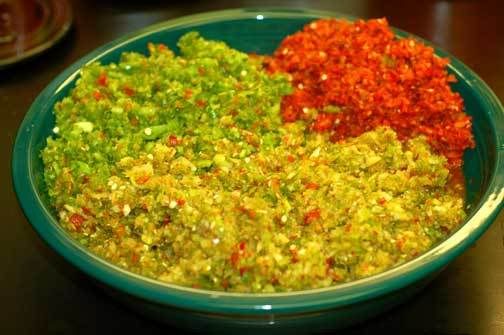 After I chopped the peppers in the food processor, Mike packaged them for the freezer, where they have lived happily until Sunday. Each individual bag has enough peppers for one batch of jelly.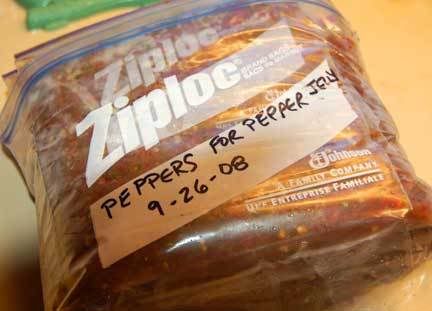 Besides the peppers, we need apple cider vinegar and some sugar.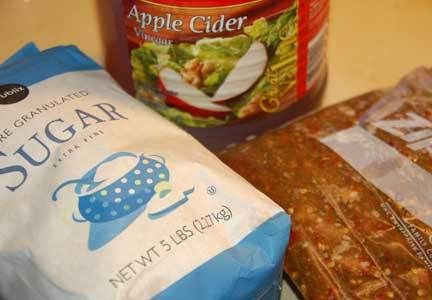 This
maslin pan
is so great for making any kinds of jellies or preserves. In France this is the typical vessel for preserving, and I was able to order this from Lee Valley Tools in Canada. The base of the pan is thick and heavy, making it difficult for things to burn.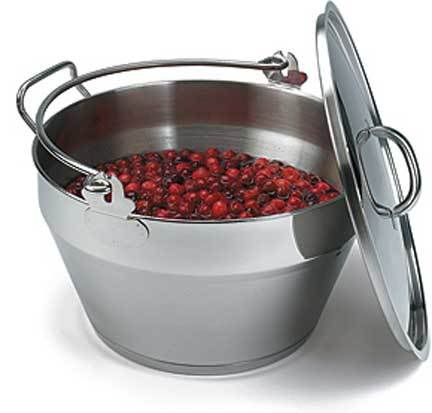 Here the peppers and vinegar are in the pan heating.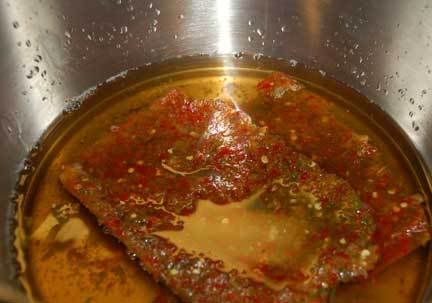 At the farm I store the sugar in a vintage mid-century canister and use a tin measuring cup that has cherries impressed in the bottom. Nothing to do with pepper jelly, but these things make me happy.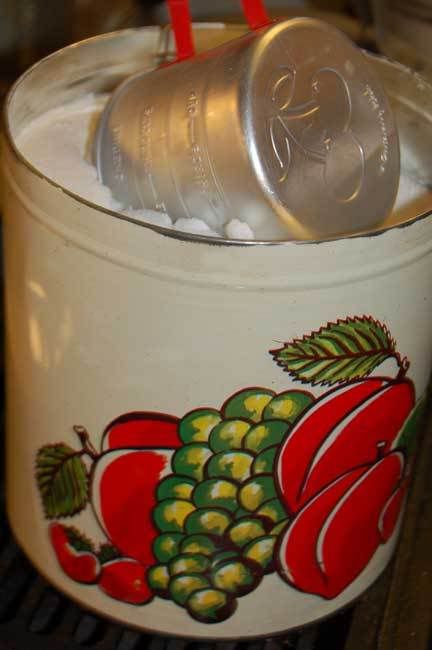 Better view of the maslin pan with all the ingredients.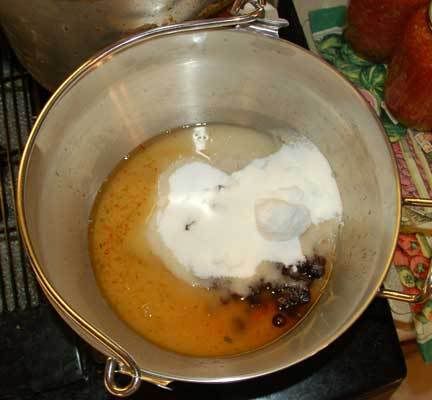 And some of our sealed bounty. There's nothing like hearing the lids pop when you take jars out of the canner.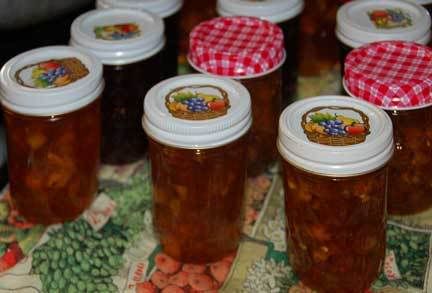 Apricot Pepper Jelly

2 cups red or green bell pepper strips
2 cups cider vinegar
1/4 cup (or more, depending on taste) chopped fresh jalapeño peppers
1 cup dried apricot halves, slivered
6 cups sugar
3 oz liquid pectin

Combine pepper strips, vinegar and jalapeno peppers in a blender or food processor. Pulse until small chunks remain. Combine with apricot slivers and sugar in saucepan; bring to a boil. Boil and stir 5 minutes. Remove from heat; skim off any foam. Cool 2 minutes; stir in pectin. Pour into sterilized jars; seal at once. Process for 15 minutes in boiling water bath.

Makes 6 1/2 cups



Notes:


1. I have used both commercial and homemade cranberry sauce to make the cranberry version of this jelly. Use one can of the commercial stuff or a scant 2 cups of homemade per batch.
2. Peppers can be chopped ahead in the food processor and frozen to make jelly later.
3. With the four batches today, we wound up with 26 half-pint jars of jelly.
Today we made both Cranberry Pepper Jelly and Mango Pepper Jelly - four batches. One jar even had both mixed up in it. :-) For the cranberries, I used some of the
Cranberry Sauce Grand Marnier
that I had already made this weekend. That jelly has a lovely layer of flavours. There are still more peppers and I'm thinking of making some Pomegranate Pepper Jelly. We shall see. And given that we have so many pears, I should make
Pear
Pepper Jelly! In the meanwhile we have some lovely gifts for Christmas. I'm intending to tie on holiday spreaders with a cute Christmas ribbon before gifting.