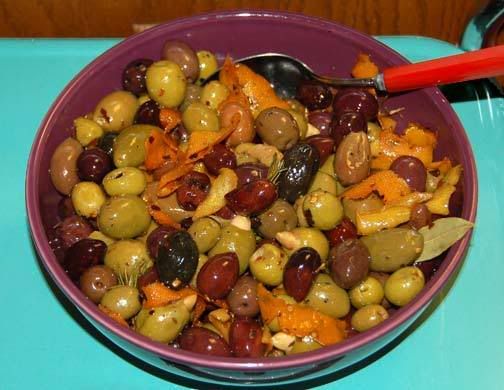 My Mom has been making this olive recipe for years. We tend to have it at all our parties. After I got home from Under the Christmas Tree Friday, I compared her recipe to the Marinated Olives we had there. They are similar, but I have to say, I like these best.
Citrus-Spiced Mixed Olives

3 Tbsp olive oil
2 cloves garlic, smashed
1½ tsp crushed red pepper
1 lg sprig fresh rosemary or 2 bay leaves or both
zest of 1 orange, peeled in long strips
zest of 1 lemon, peeled in long strips
12 oz. mixed olives (kalamata, nicoise, corignola) drained
½ tsp kosher salt
freshly ground pepper

Put oil, garlic, red pepper, herbs and zests into medium skillet. Heat over medium-high heat, swirling pan until fragrant, 3 to 4 minutes. Add olives, salt, and black pepper. Cook until garlic is golden and zest begins to curl, about 5 minutes. Remove and discard bay leaves if used. Serve warm or at room temperature. Will keep for several months in the refrigerator.

Note: Mom always uses both rosemary and bay leaves when she makes this.