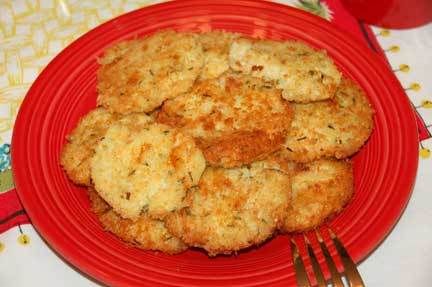 In November the Barefoot Bloggers are lucky enough to get TWO BRC recipe picks. This one is by Deb of
Kahakai Kitchen
for referring the most people to the blog. The recipe is in Ina's new book,
Back to Basics
. I started looking at these as soon as I got the book and was excited to be making them! Thanks for a great choice, Deb.
Lets gather our ingredients. We need Arborio rice, Italian Fontina cheese and chives.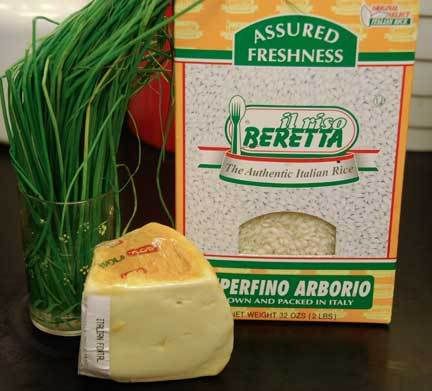 Also some Greek yogurt and wonderful free-range eggs from the veggie box.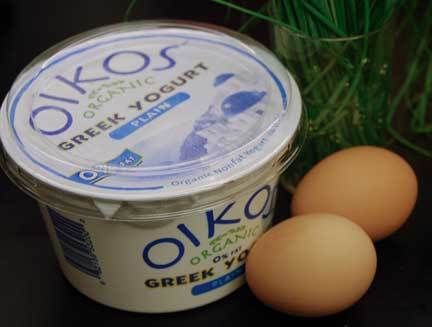 Mix the eggs, yogurt and chives in a Fiesta mixing bowl.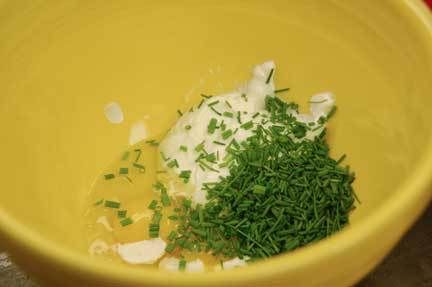 Measure the rice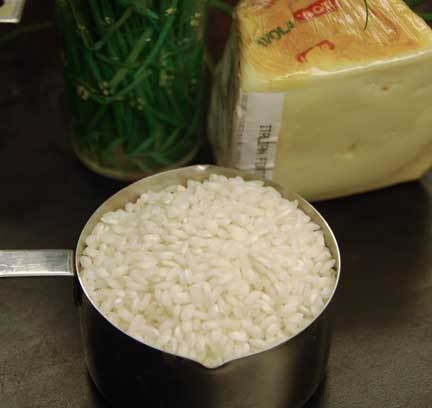 And stir it into the boiling water.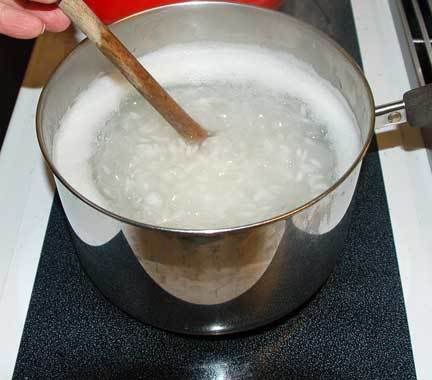 While the rice is cooking, grate the cheese and stir it into the egg mixture.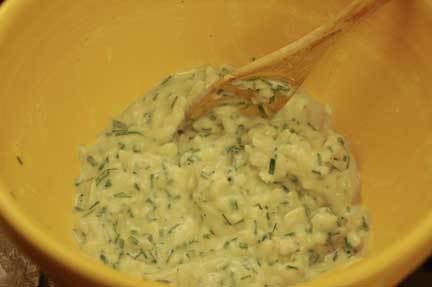 Once the rice is tender, turn it into a colander and rinse with cold water.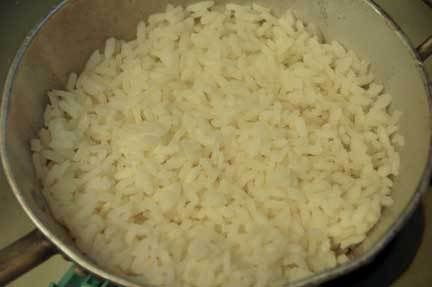 When the rice has cooled, stir it into the wet ingredients.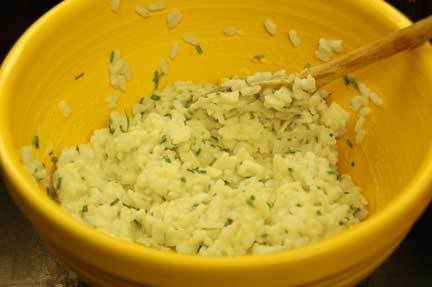 Chill.........
When it's time to make the cakes, get out an ice cream scoop and the panko. The scoop makes it very easy to get equal sized cakes. Get a scoop of the rice mixture and shape it into a cake.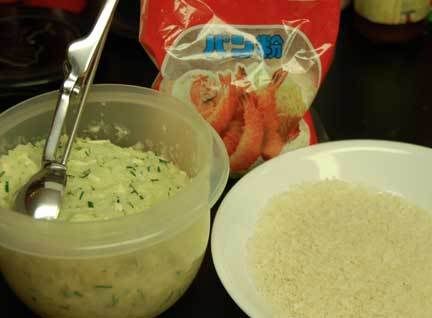 Coat each risotto cake in the panko.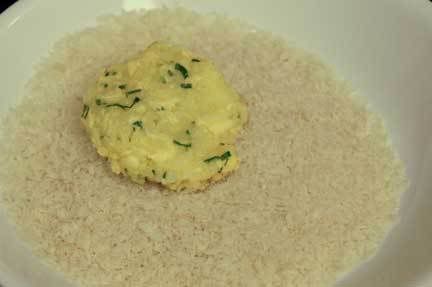 I got one dozen.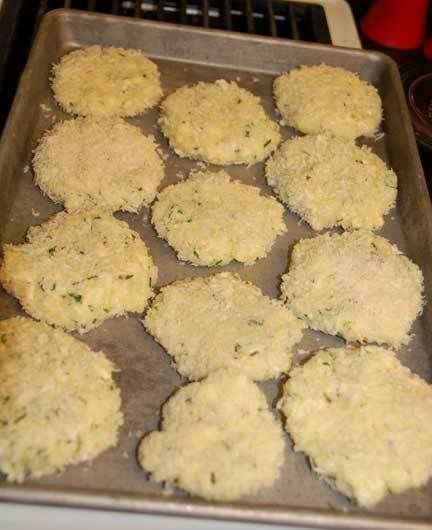 I cooked mine four at a time in my cast iron skillet and it worked wonderfully. Then I set them to drain on paper towels before serving.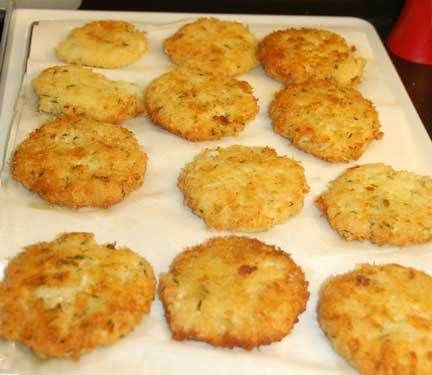 Chive Risotto Cakes
Ina Garten


" I used to have to wait until I made risotto in order to make risotto cakes from the leftovers. So I decided to do a recipe for risotto cakes that I make from scratch. Most of this can be assembled early in the day and then sautéed just before dinner. The yogurt, chives, and Italian Fontina give these a delicious creamy interior, and the panko gives them a wonderful crunchy crust."



Kosher salt
1 cup uncooked Arborio rice
½ cup Greek yogurt
2 extra-large eggs
3 tablespoons minced fresh chives
1 ½ cup cups grated Italian Fontina cheese (5 ounces)
½ teaspoon freshly ground black pepper
¾ cup panko (Japanese dried bread flakes)
Good olive oil

Bring a large (4 qt) pot of water to a boil and add 1/2 Tbsp salt and the Arborio rice. Cook, stirring occasionally, for 20 minutes. The grains of rice will be quite soft. Drain the rice in a sieve and run under cold water until cool. Drain well.

Meanwhile, whisk together the yogurt, eggs, chives, Fontina, 1 1/4 tsp salt, and the pepper in a medium bowl. Add the cooled rice and mix well. Cover with plastic wrap and refrigerate for 2 hours or overnight, until firm.

When ready to cook, preheat the oven to 250°F.

Spread the panko in a shallow dish. Heat 3 Tbsp olive oil in a large skillet over medium-low heat. Form balls of the rice mixture using a standard (2 1/4 –inch) ice cream scoop or a large spoon. Pat the balls into patties 3 inches in diameter and 3/4 inch thick. Place 4-6 patties in the panko, turning once to coat. Place the patties in the hot oil and cook, turning once, for about 3 minutes on each side until the risotto cakes are crisp and nicely browned. Place on a sheet pan lined with parchment paper and keep warm in the oven for up to 30 minutes. Continue cooking in batches, adding oil as necessary, until all the cakes are fried. Serve hot.



Note from Ina:

"Panko, or Japanese bread flakes, have a crisper, lighter texture than regular bread crumbs."



Notes:


1. Used a 3 qt saucepan to cook my rice as I don't have a 4 qt one. It was plenty large enough.
2. I mixed these up on Friday and cooked them Saturday night. They chilled for a good 24 hours. IMO, these were very easy to make. Some people mentioned that their cakes seemed to come apart, but I did not have that problem at all. They held together beautifully and had a lovely delicate crust. Excellent.
2. We all found these to be slightly too salty and I used Diamond Crystal Kosher salt. I think I will try them again using Gouda cheese. Last night they were an accompaniment to salmon and a green salad. All in all I really was pleased with these and will definitely make them again.
Click here
to see what other Barefoot Bloggers think of this recipe.