Recipe #2 for Barefoot Bloggers this month is
Mexican Chicken Soup
from
Barefoot Contessa at Home
, chosen by Judy of
Judy's Gross Eats.
. Judy, thanks for such a great choice. My family loved the soup! I served it in Fiesta jumbo mugs, and we ate sitting around the fire in the family room. The jumbo mugs are great for serving soup this way.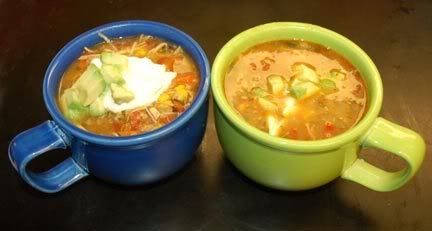 To get to what was served in the lovely Fiesta dishes, I started with the freshest of organic veggies from this week's CSA box.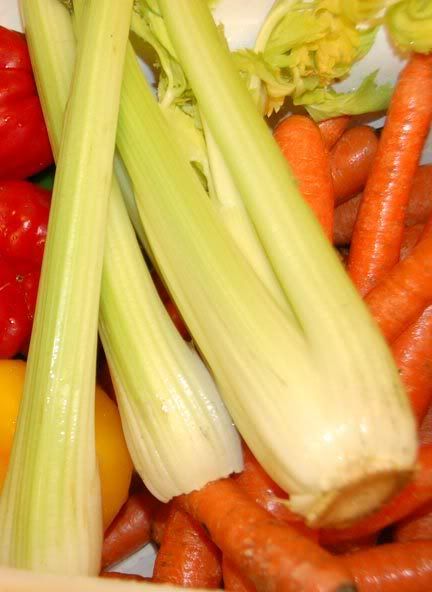 Cut up and sautéing in my favourite Staub pot.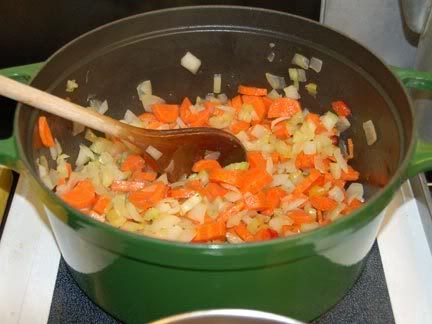 Tortillas cut in strips.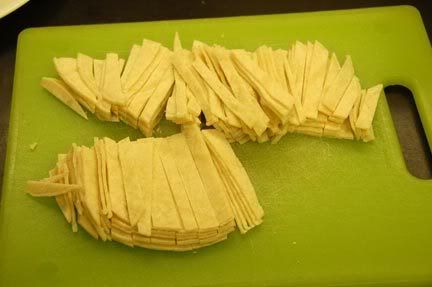 Stir them into the pot.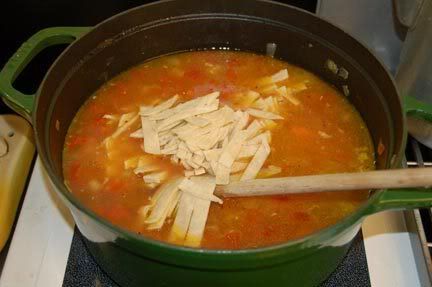 Add cilantro and simmer.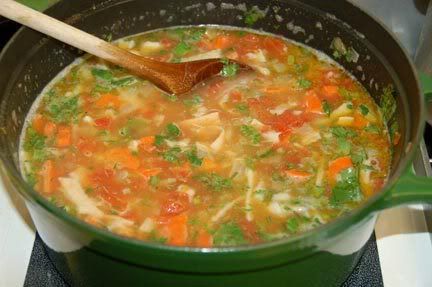 Stirring in the chicken and it's almost ready to serve.
Mexican Chicken Soup
Ina Garten

4 split (2 whole) chicken breasts, bone in, skin on
Good olive oil
Kosher salt and freshly ground black pepper
2 cups chopped onions (2 onions)
1 cup chopped celery (2 stalks)
2 cups chopped carrots (4 carrots)
4 large cloves garlic, chopped
2 1/2 qts chicken stock, preferably homemade
1 (28-ounce) can whole tomatoes in purée, crushed
2 to 4 jalapeno peppers, seeded and minced
1 tsp ground cumin
1 tsp ground coriander seed
1/4 to 1/2 cup chopped fresh cilantro leaves, optional
6 (6-inch) fresh white corn tortillas

For serving: sliced avocado, sour cream, grated Cheddar cheese, and tortilla chips

Preheat the oven to 350°F.

Place the chicken breasts skin side up on a sheet pan. Rub with olive oil, sprinkle with salt and pepper, and roast for 35 to 40 minutes, until done. When the chicken is cool enough to handle, discard the skin and bones, and shred the meat. Cover and set aside.

Meanwhile, heat 3 Tbsp of olive oil in a large pot or Dutch oven. Add the onions, celery, and carrots and cook over medium-low heat for 10 minutes, or until the onions start to brown. Add the garlic and cook for 30 seconds. Add the chicken stock, tomatoes with their purée, jalapenos, cumin, coriander, 1 tablespoon salt (depending on the saltiness of the chicken stock), 1 tsp pepper, and the cilantro, if using. Cut the tortillas in 1/2, then cut them crosswise into 1/2-inch strips and add to the soup. Bring the soup to a boil, then lower the heat and simmer for 25 minutes. Add the shredded chicken and season to taste.

Serve the soup hot topped with sliced avocado, a dollop of sour cream, grated Cheddar cheese, and broken tortilla chips.



Notes:


1. On the FNTV site, many reviewers suggested using rotisserie chicken rather than roasting your own. I chose that option due to my current health constraints that require pacing myself and choosing exactly what I can do. It worked great!
2. I had never used tortillas like this to thicken the soup, so I am doubly glad to have made this recipe. I can think of several soups where this would be a good addition.
3. There were a couple of ears of leftover corn in the fridge, so I cut the kernels off the cobs and added those to the soup.
4. We decided to only use sour cream and avocado for toppings and that worked very well for us. I really didn't think it needed cheese or chips. As we were eating from the mugs, I diced the avocado, rather than use slices.
5. This is an easy and yummy recipe. We have always loved tortilla soup and I have made other recipes. Ina gives us one that is easy to make and easy to tweak according to individual taste. Thanks!

Click here
to see what other Barefoot Bloggers think of this recipe.