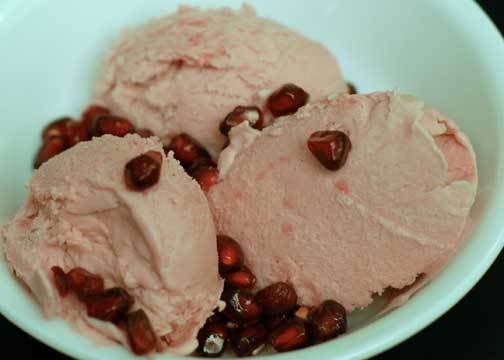 This is such an easy recipe from Nigella Lawson in
Nigella Express
. We love it around here and it can easily be doubled for a crowd.
No Churn Pomegranate Ice Cream
Nigella Lawson
serves 8
"It's not hard to think of a pudding that can be made in advance. But mostly the advantage is simply that all the effort is upfront and early. The thing about this recipe is that you do it in advance - it's ice cream, so that stands to reason - but what you do in advance is negligible in terms of effort. You don't make a custard, and you don't have to keep whipping it out of the deep freeze to beat the crystals. No, you simply squeeze and stir. On top of that cause for greater contentment, there is also the fact that this delicate pink ice cream tastes like fragrant, sherbety heaven."

2 pomegranates (plus seeds from a third for decoration, optional)
1 lime
1 1/2 cups powdered sugar
2 cups heavy cream

Juice the pomegranates and lime into a bowl. You should have about 3/4 cup pomegranate juice. Slowly whisk in the powdered sugar to dissolve it. Then whisk in the cream until soft peaks form. Pour into plastic container with tight fitting lid and freeze at least 4 hours or overnight.

Notes:
1. What really makes this easy is that I always use 3/4 cup POM for the pomegranate juice, and add the fresh lime juice.
2. I do all the mixing with the whisk attachment in the Kitchen Aid mixer.
3. As written it is a little sweet for our taste, so I typically use a bit less sugar and a juice a large lime.
4. It looks beautiful and we love the flavour. But I think it definitely needs to be garnished with the seeds of the fresh pomegranate. And pomegranates are beautiful in the stores now.