It's time for November's first Barefoot Bloggers recipe. Herb Roasted Onions, from
Barefoot Contessa at Home
was chosen by Kelly of
Baking with the Boys
. I'm excited to be making such a great side dish and decided to serve these Thursday night with Rotisserie Chicken,
Shredded Brussels Sprouts
from Sara Moulton, and The Pioneer Woman's
Crash Hot Potatoes
.
But first the onions. OMG, so delicious! Served in a Sunflower Fiesta Hostess Bowl.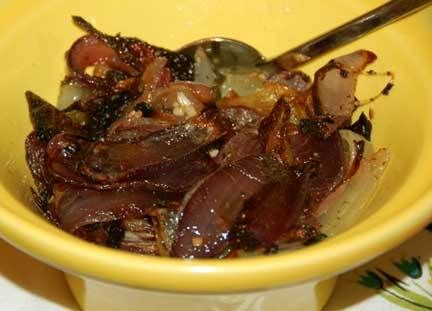 Start out with a bunch of great ingredients. How can these be anything but good?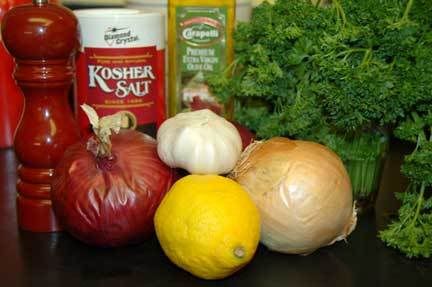 Cutting up the onions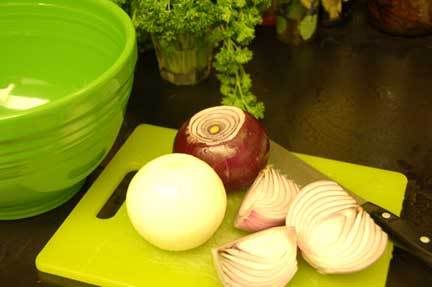 Parsley and garlic. The garlic came from our garden. The parsley from Kroger. (Just an aside - Why does Kroger never have flat leaf parsley?)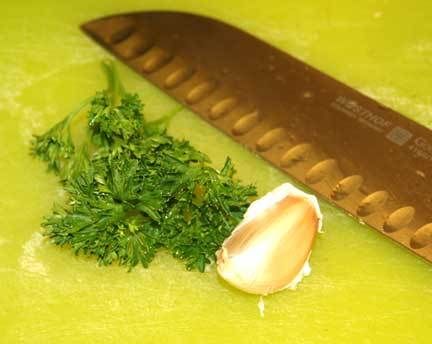 Minced garlic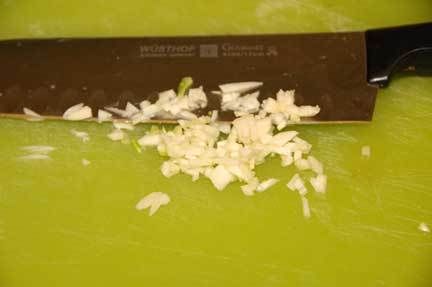 Onions with the marinade in Shamrock Fiesta mixing (aka to HLC as baking) bowl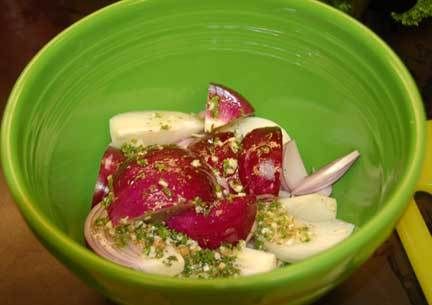 Ready for the oven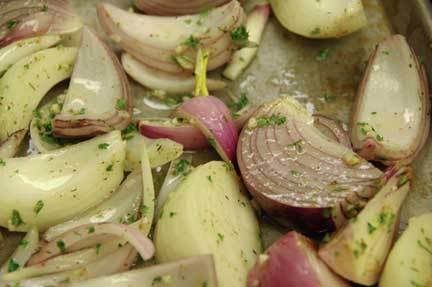 Half roasted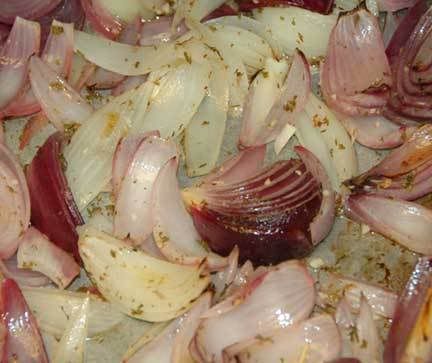 Fully roasted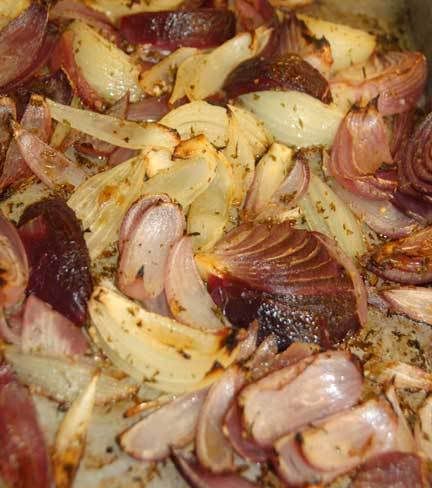 And ready to serve in the Sunflower Fiesta Hostess Bowl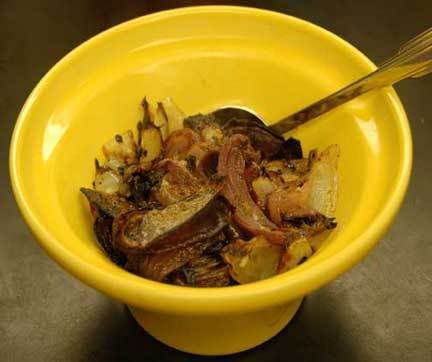 Herb Roasted Onions
Ina Garten

* 2 red onions
* 1 yellow onion
* 2 Tbsp freshly squeezed lemon juice
* 1 tsp Dijon mustard
* 1 tsp minced garlic
* 1/2 Tbsp minced fresh thyme leaves
* 3/4 teaspoon kosher salt
* 1/4 teaspoon freshly ground black pepper
* 1/4 cup good olive oil
* 1/2 Tbsp minced fresh parsley leaves

Preheat the oven to 400°F.

Remove the stem end of each onion and carefully slice off the brown part of the root end, leaving the root intact. Peel the onion. Stand each onion root end up on a cutting board and cut the onion in wedges through the root. Place the wedges in a bowl.

For the dressing, combine the lemon juice, mustard, garlic, thyme, salt, and pepper in a large bowl. Slowly whisk in the olive oil. Pour the dressing over the onions and toss well.

With a slotted spoon, transfer the onions to a sheet pan, reserving the vinaigrette that remains in the bowl. Bake the onions for 30 to 45 minutes, until tender and browned. Toss the onions once during cooking. Remove from the oven, and drizzle with the reserved dressing. Sprinkle with parsley, season to taste and serve warm or at room temperature.

Notes:
1. This recipe is one of those recipes that is truly perfect as-is. We love it and it is often on our menu.
2. I was out of Dijon mustard, so used. Boar's Head grainy mustard instead.
Click here
to see what other Barefoot Bloggers think of this recipe.