Apple butter is one of the most preferred preserved fruits at our house. My DDs love it. The Guy loves it. I love it. Apple butter goes on biscuits, toast, peanut butter sandwiches, in a lovely bar cookie and all sorts of other things. Tyler Florence has a great turkey sandwich dressed with apple butter. I have even seen it be eaten by the spoonful. It's a joy to prepare something that is so well liked.
During October, lots of my online friends went to various apple festivals and brought home fresh-made, homemade apple butter, marvelling at this perfect food of autumn. I told them they can make this at home anytime they have fresh apples. This recipe is so easy, I don't even have to look it up anymore. Many have tried it with happy success. Enjoy!
This crockpot is my friend. YES! It is avocado green - a most icky and unimpressive colour, imo. However, this is truly a case of "don't judge a book by it's cover". I got this crockpot as a doorprize with a TG&Y opening in Baton Rouge back in 1976. I used it off and on, then for many years it sat neglected on a back shelf, just collecting dust. It's had to have it's cord repaired, but it still works. And for at least the last 15 years, it always comes out for apple butter!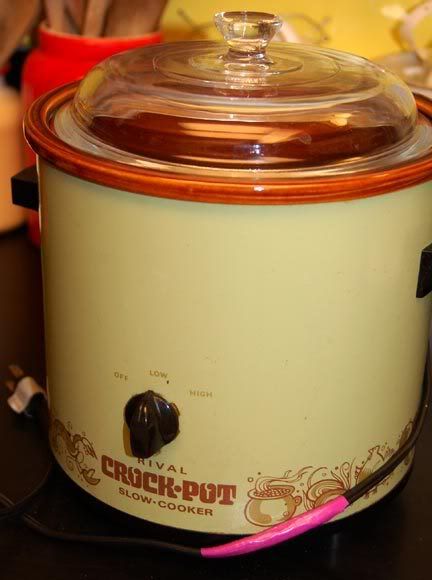 Making apple butter was on yesterday's agenda because this week's veggie box came with 25 apples! I had 8 leftover after filling the crockpot.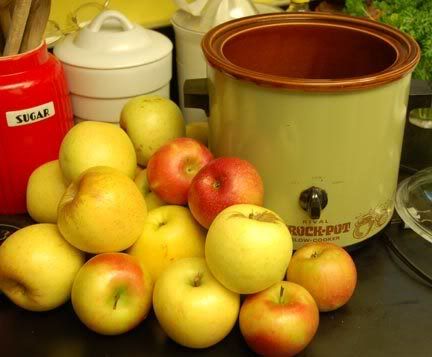 We need apple cider, too. Didn't have any fresh, so am making do with this jar off the shelf.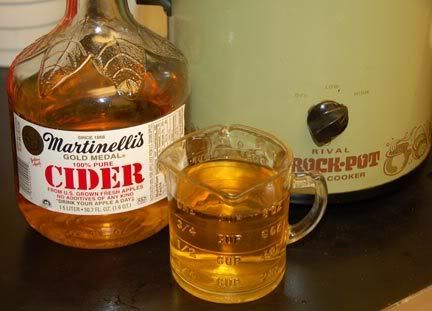 Fill the crockpot with cored, quartered apples.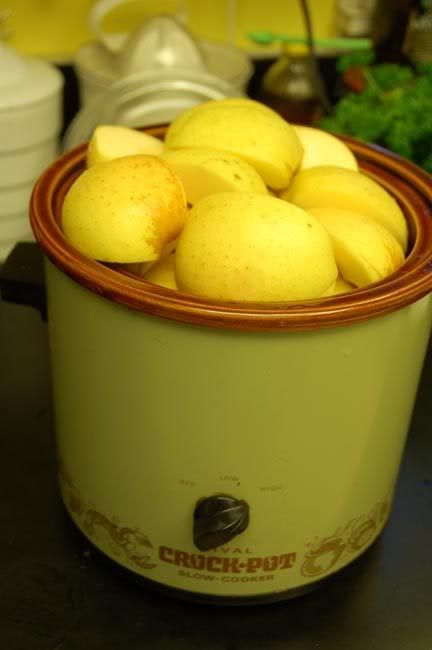 If you have an new crockpot, you need to know that they do not cook at the same temperatures as the older ones. Somewhere along the way, the government decided that the temps of the old ones were too low for some foods to prepare safely (some meats, I think), so all crockpots made from that time on cook hotter. Be aware of this if you are just now getting a crockpot and want to try the old recipes. Or if you have an old pot and are using new recipes. I learned this the hard way. Then went to Goodwill to find an "old" crockpot to use at the farm. Lucked into a red/orange one still in its box that looked to have never been used. A real bargain for only $1.50. This recipe was developed for the older crockpots.
So now the apples have cooked covered for about 4 hours on HI.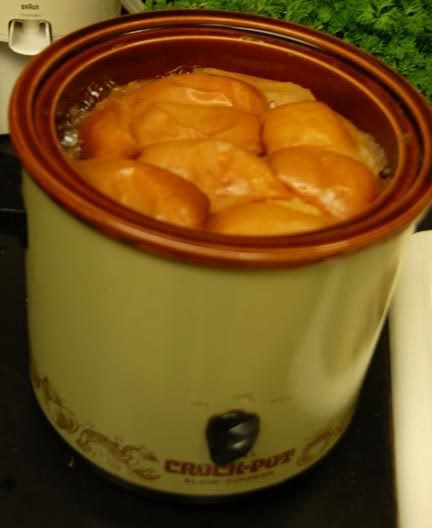 Stick blenders are a most wonderful invention. For years I just passed them by, wondering why I would need one. Then I got a cordless version. Didn't like that so well. It just didn't have the power I was expecting. A couple of years ago I broke down and got a corded version. What a difference! I use this for all kinds of things. Particularly hot things that need to be blended. Instead of risking burns by transferring hot foods back and forth to a blender, this makes such puréeing so easy. Get a good one and you won't be disappointed. But try the apple butter, even if you don't have a stick blender.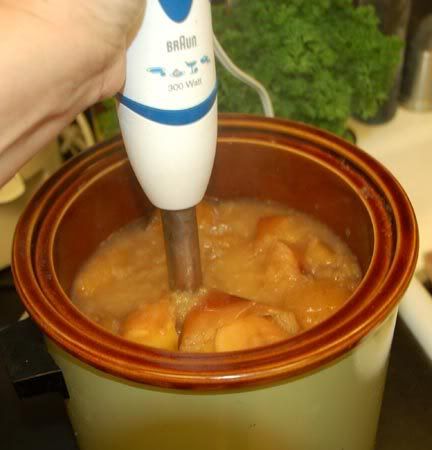 Just a little blending and the apples are puréed.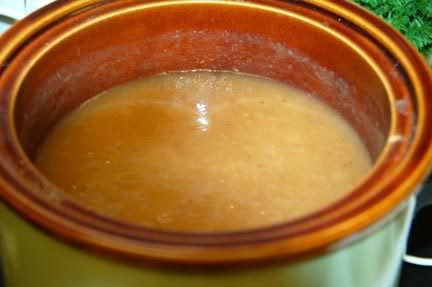 Leave off the top and cook down until dense and the apple butter is ready to eat. I put it in a couple of jars in the fridge to store. As I said, it doesn't last long around here. Or just serve it up in a nice little Fiesta dish. Normally I get about a couple of pints of apple butter from this recipe.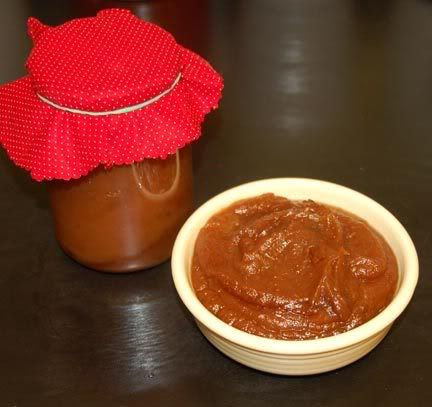 Crockpot Apple Butter

6 lbs cooking apples
1 cup apple cider (or water)
3 cups sugar (or as desired)
1/4 tsp kosher salt
1 Tbsp ground cinnamon
1/4 tsp ground cloves
1/4 tsp freshly ground nutmeg

Quarter and core apples. Put the quartered apples and cider in the crockpot. Cover and cook on LOW overnight or on HI for 3 to 4 hours. Purée with the immersion blender, then stir in sugar and spices. Add sugar gradually and taste. You may not need as much sugar as specified. Cook on LOW with the lid off till apple butter is desired thickness. In my crockpot this takes anywhere from 4-6 hours.

The apple butter can be frozen, if desired. Thaw before using.



Notes:


1. I never measure the poundage of apples anymore. Just fill up the crockpot full enough that you can still sit the top on it.
2. Most of the apples we've been getting the last few years only need about 1 to 1 1/2 cups sugar.
3. We like a pronounced cinnamon flavour, so I tend to use Vietnamese cinnamon from Penzeys. You can always adjust the spices to your own taste.
4. You can easily substitute pears in this recipe for pear butter.
5. If you don't have a crockpot, the apple butter can be cooked in a slow oven in a deep heavy dish..