I cannot extol enough the virtues of getting fresh vegetables every week through our CSA. They are organically grown. They are local. They are seasonal. And they are much better for us. When you've gotten used to going to the market and buying whatever is there, it can be a challenge to go back to our roots, as far as food choices are concerned. We do not eat completely seasonal or local, but we try to as much as possible. Most of the time things taste better to me when I don't have to think about all the energy expended to get a vegetable halfway around the world. It's harder when I am ill, but I have decided to just do the best I can and not worry about it.
That said, we've been members of a CSA for a number of years now. With the weekly veggie box we can swap out veggies from the list available, or we can just take whatever comes in the week's delivery. The box should feed a family of four for a week, or two vegetarians for a week. Sometimes I like to be surprised, so I do not look at the list.
This week in our box I found a lovely large cabbage and some carrots. Hmmmm. To me that always brings to mind a wonderful autumn dish from Molly Stevens - World's Best Braised Green Cabbage. Since we were going to be at the farm for several hours yesterday afternoon, I took the ingredients with us to braise the cabbage there. Two quarts got put in the freezer and we brought the rest home for last night's dinner.
Here's our cabbage, ready to cut.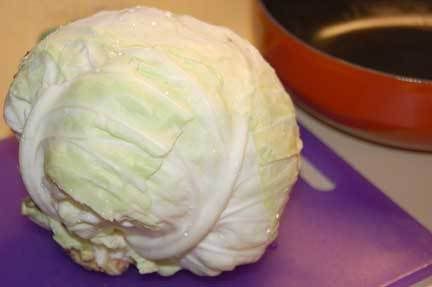 Carrots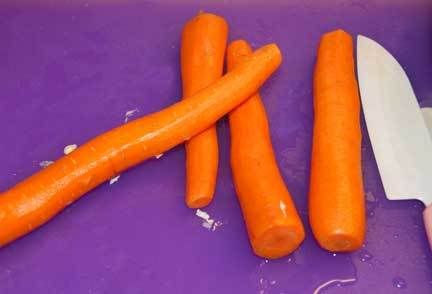 Veggies in the pot. I always braise this dish in one of my Staub pots - either the bouillabaisse pot or the fall soup pot. They are the same size and shape, just different colours and different finials on the lid. That way I don't have to worry about foil either.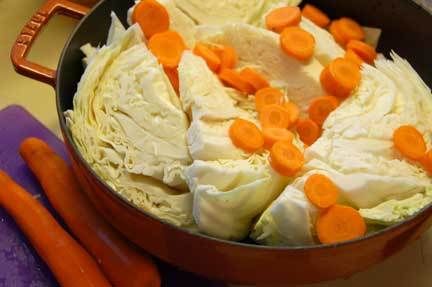 Drizzled with olive oil and liquid.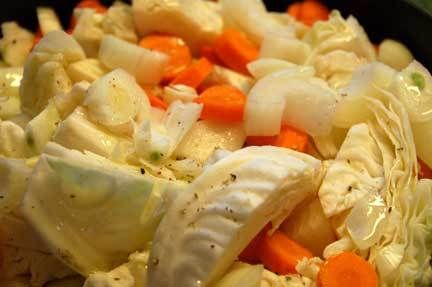 Wedges ready to turn.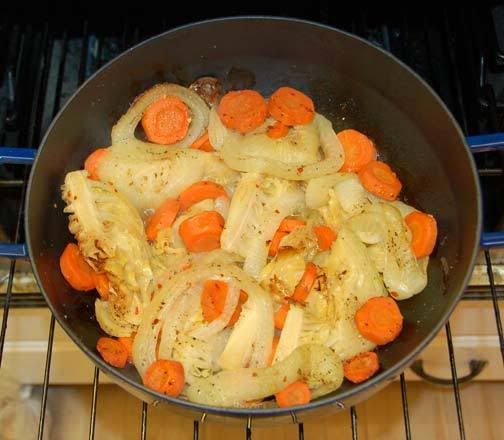 Dinner is served! This is a great dish to have a on a cold fall evening with cornbread on the side. It really is a comfort food.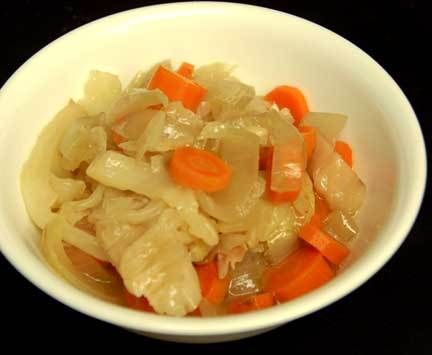 World's Best Braised Green Cabbage
Molly Stevens
from All About Braising

1 medium head green cabbage (about 2 pounds)
1 large yellow onion (about 1/2 pound), thickly sliced
1 large carrot, cut into 1/4-inch rounds
1/4 cup chicken stock or water
1/4 cup extra virgin olive oil
Coarse salt and freshly ground pepper
1/8 teaspoon crushed red pepper flakes, or to taste
Fleur de sel or coarse sea salt

Heat oven to 325°F. Lightly oil gratin dish or baking dish (about 9-by-13-inch).

Peel and discard any bruised or ragged outer leaves from cabbage. Cut into 8 wedges. Arrange wedges in baking dish in a single layer, and scatter in onion and carrot. Drizzle with oil and chicken stock and season with salt, pepper and pepper flakes. Cover tightly with foil.

Slide into the middle of the oven to braise until the vegetables are completely tender, about 2 hours. Turn the cabbage wedges with tongs after an hour. Don't worry if the wedges want to fall apart as you turn them; just do your best to keep them intact. If the dish is drying out, add a few tablespoons of water.

Once cabbage is completely tender, remove the foil, increase oven heat to 400°F, and roast until the vegetables begin to brown, another 15 minutes or so. Serve warm or at room temperature, sprinkled with fleur de sel or other coarse salt.



Variation:


After you remove the foil, sprinkle on 1 1/2 tablespoons balsamic vinegar, then turn the cabbage with tongs to distribute the vinegar, then roast for 15 minutes, uncovered, as directed.



Note:


Like many braises, this cabbage tastes even better the next day, at room temperature, or warmed in oven for about 20 minutes.



Notes:


1. Because of belonging to the CSA I adapt recipes to use what is in the veggie box each week. Molly says this recipe is so easy that once you make it, you never need the recipe anymore. That is true. Plus it is forgiving about the amount of vegetables that get added. I never weigh the cabbage or measure out the exact amount of carrot or onion. Starting with the cabbage, I just cut it in wedges and add enough of the other veggies until it looks right.
2. Most of the time I use water instead of chicken broth, just to keep this vegetarian.
3. Although the directions say this can be served at room temperature, I prefer it hot from the oven.