So we started out election night food with Red Chips & Blue Chips with Guacamole and Queso, and Lomi-Lomi Salmon with Melba toast.
Found the Red Chips & Blue Chips at Fresh Market.
Here are the two colours of chips with Famous Guacamole in White and Scarlet Fiesta.
Famous Guacomole
1 avocado
1 lime, juiced
1 tomato, peeled, drained and chopped
½ tablespoon finely chopped onion
jalapeño pepper, to taste
salt, to taste, Optional

Peel avocado and remove seed. Mash briefly with potato masher and stir in lime juice. Add tomato, onion, jalapeño and salt. Serve with chips.

This recipe came from my boss's wife when we lived in Texas. She was reared in Mexico as her father worked for the Embassy there. This recipe was shared so many times around Dallas that it made the newspaper and got to be famous. Hence the name. I doubled the recipe for presenting in the Hostess Bowl, but it might take triple, depending on the size of the avocados.

I have adored Lomi-Lomi Salmon ever since I found the recipe for our Luau for my 47th birthday. Today I got Cajun seasoned wild caught smoked Alaskan Coho Salmon at Fresh Market. I think this may have been the best Lomi-Lomi I've made yet. Served on Scarlet and White Fiesta. Appetisers don't get much easier than this!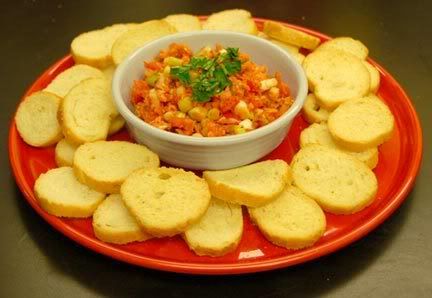 Lomi-Lomi Salmon
Serves 4

8 oz smoked salmon, finely chopped
1 cup thinly sliced green onion
1 cup peeled & diced tomato
1/4 cup finely chopped green bell pepper
Hawaiian red salt, optional

Mix salmon, onions, tomato, and bell pepper. Taste and add some salt, if desired. Your salmon may be salty enough that no extra is needed. Chill well for several hours to allow flavours to blend. Serve with assorted crackers.