What an great thing to do with new potatoes!
Pioneer Woman
posted these back in June of 2008 after a reader in Australia sent the recipe to her. I first made them not long after that. Sometimes I use new potatoes and sometimes fingerling potatoes. Either kind work very well. Other people do similar recipes and all are just great!
These are alot like Michael Chiarello's Potatoes da Delfino. Caprial and John's Kitchen did a version of these called John's Potatoes with Fontina. On FNTV in Guy's Big Bite, Guy made a version of these that he called McAlister's Potatoes. Others have added different cheeses, herbs and salt. Every version I've read about sounds like they are worth trying. As the Pirates of the Caribbean just use their Pirates Code as a guideline, I suggest doing the same with this recipe. Use the basic technique and go with whatever herbs, cheese or salt that sounds good to you. I don't think I have ever made them exactly the same way twice.
Because of the menu we were having, I chose to put these in the base of our favourite chicken baker for serving. can't tell you how much I love this dish. It's such a cheerful piece. Revol makes it and a lot of our blogger friends have gotten it. I think most of them chose the white version, but Sur la Table was able to get it in yellow and I had to have that to go with all my colourware dishes. It's one of those dishes that just makes me happy. DD#2 loves it, too!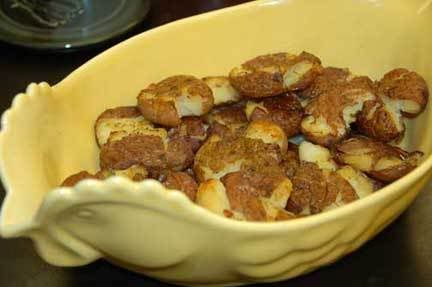 Started out by boiling new potatoes. The recipe calls for 16, but we had 23 in the CSA veggie box and decided to cook them all.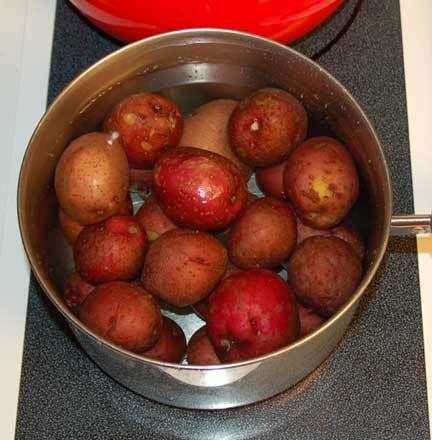 Due to having to adjust my schedule because of the health issues, I actually boiled the potatoes very early Thursday morning. Then I drained them and put them in a Ziploc bag in the fridge until time to get them ready for dinner. Cold potatoes do not mash so well with my vintage potato masher. Instead I used a wooden spoon, but found the flat wooden polenta stirrer worked even better for smashing them flat.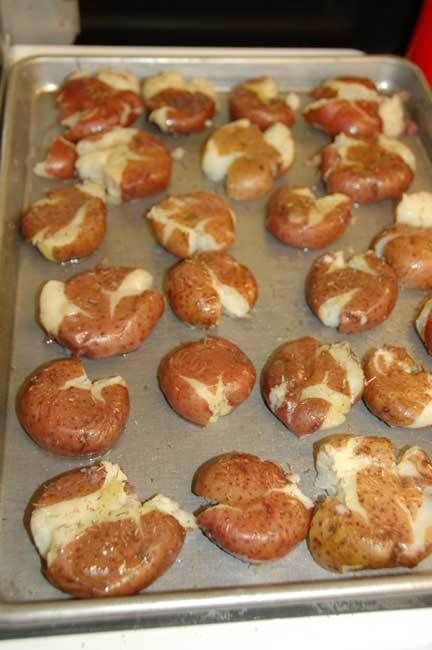 Tonight I seasoned the potatoes with Penzey's Spanish Thyme and Himalayan Pink Salt.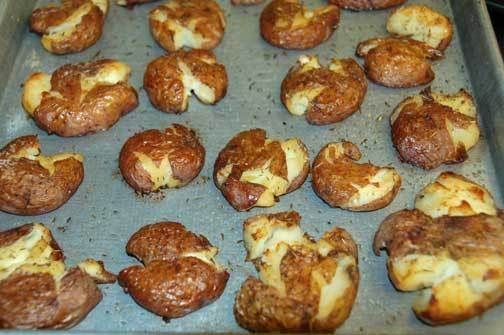 So very good! MAKE THESE. You won't regret it.
Crash Hot Potatoes
originally from Pioneer Woman's website
Serves 4

* 16 small, round potatoes
* salt
* 1 Tbsp extra virgin olive oil
* 1 tsp sea salt
* freshly ground black pepper
* 1 Tbsp fennel or caraway seeds ( Pioneer woman left these out)
* 1 Tbsp thyme or rosemary sprigs

1. Heat oven to 450°F - yes, hot. Don't peel the potatoes. Just put them into a pot of salted water, bring to the boil, and simmer for around 15 minutes until they'll take a skewer without too much resistance. They should be just about cooked, without being soft.

2. Drain, and arrange on an oiled baking tray or sheet. Use a potato masher to squash each potato flat, until it is twice its original diameter.

3. Brush the tops with olive oil, and scatter with sea salt, pepper, fennel seeds and thyme.

4. Bake on the top shelf of the oven for 20 to 25 minutes until terminally crisp and golden. Serve hot.

Notes:
1. Potatoes can be boiled ahead of time and chilled, but try mashing with a flat wooden spoon, instead of potato masher.
2. Season as desired with whatever salt, cheese or herbs that you like.
3. If starting with cold potatoes as I did, they need to bake longer. I'd say I left them in the oven about 30-35 minutes.