This is my favourite cranberry sauce!

I got the original recipe some years ago from a friend on a food board, but she used apple brandy. I choose to make it with Grand Marnier instead and it is just fantastic. I have also used Calvados, but I find the Grand Marnier seems to be the flavour that guests at our table like best. Preferable to make this at least 2 weeks ahead of time, you can still make it the day before and it is great. I am inside the two week window, but having just tasted it I can attest that the flavour is as good as ever.
At our house cranberry sauce is not considered a side or a relish by some of the family. It is the main dish!

Therefore, I buy a large amount of fresh cranberries and make up a big batch. This year I got two large bags of cranberries from Costco.
One bag will make this version and one bag will make a non-alcoholic version. You can make the plain version the same way, just use water instead of the alcohol. (I have to say it felt odd purchasing cranberries from Dole! Particularly since I have a friend in Oregon who sells hers to Ocean Spray. How am I going to rationalise that I'm using her cranberries when they came from a completely different company???) These bags yield about 12 cups of berries, so this is the time to bring out my All Clad Lasagna Pan. Just the right size!
Add the sugar, salt, and Grand Marnier.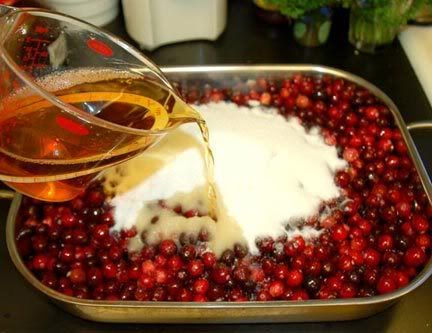 Stir everything and into the oven it goes.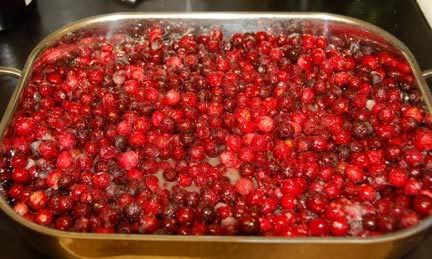 A couple of hours or so later - tart, jewelled goodness.
And around here we might just serve it this year in an Ivory Fiesta Hostess Bowl.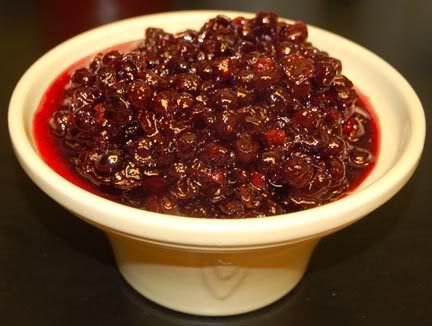 Cranberry Sauce Grand Marnier

2 cups fresh cranberries
1 cup sugar
1/4 cup Grand Marnier
pinch of salt

Preheat oven to 275°F.

Mix ingredients well in a baking dish. Bake, uncovered, for 1 1/2 hours, stirring every 20 minutes or so. When the sauce is baked, remove from oven and cool to room temperature. Store, tightly covered, in the fridge until ready to serve.



Notes:


1. The larger amount of berries in the bigger pan takes longer to bake. Allow at least 3 hours.