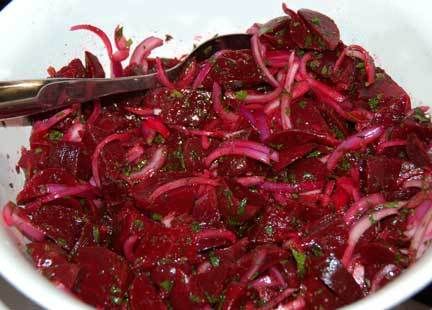 This was my favourite dish at Under the Christmas Tree. I could have made a meal of it.
Roasted Beet Salad

1 1/2 lbs large red beets
3 Tbsp extra virgin olive oil
kosher salt and freshly ground black pepper
1 Tbsp red wine vinegar
2 Tbsp orange juice
1/2 red onion
1 Tbsp chopped fresh tarragon
1 Tbsp minced chives

Preheat oven to 375°F.

Wash beets and trim stems, leaving about 1/4" of stem attached. Place in roasting pan with 2 Tbsp olive oil, 2 Tbsp water, 1/2 tsp salt and 1/8 tsp pepper. Cover tightly and roast for about an hour and a half, or until tender and easily pierced with a fork. Uncover and allow to cool enough to handle.

Rub each beet with a paper towel to remove the skin, then cut off and discard any stems. Cut the beets into quarters. Cut the quarters crosswise into 1/4" slices and place in bowl. Season lightly with salt and pepper.

Mix remaining olive oil with vinegar and orange juice. Toss with the beets, then taste and adjust seasoning. Let the beets marinate up to one day in the refrigerator. Bring to room temperature before finishing the salad.

About half an hour before serving, cut three or four 1/8" slices from onion and separate into pieces. Toss with the beets, tarragon and if desired, some more vinegar, to taste.