The most recent veggie box had a lot of peppers and it reminded me of a recipe I used to have before children - Pepper Dressing. The recipe came from a girl I worked with in an office. And it was an easy one dish meal. She used it as a main dish, though I think it could easily be used as a dressing or stuffing. With all the peppers and some ground turkey on hand, I thought this might be a good plan for supper. I know at one time this recipe was written down.

But I have been looking for this recipe since Friday and have not been able to find it.

So how long has it been since I made this dish? Let me see.... I would say I have not made it since 1984. Hmmmm... I wonder if I could just sorta remember it?...... Never to turn away from a challenge, I decided to forge ahead. And dinner actually turned out to be very tasty. Not gourmet food, but simple home cooking when you are in a hurry - and have excess peppers.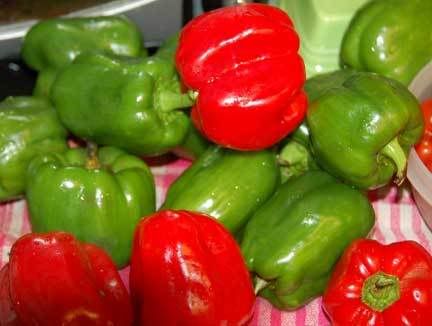 (There are more, they just all aren't in the photo.)
Sautéing peppers with the onions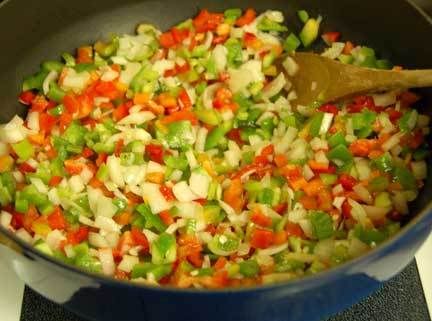 Add the ground turkey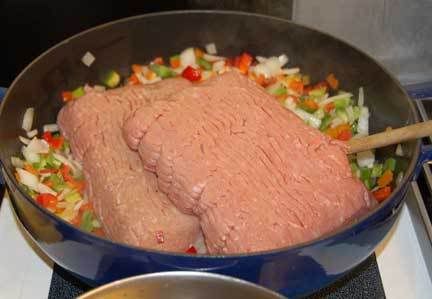 And cook a bit more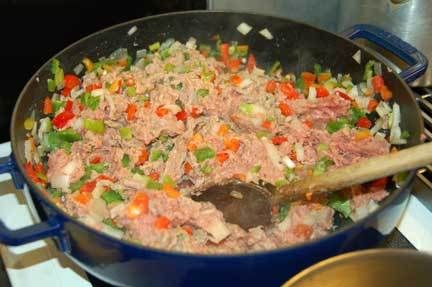 Stir in some rice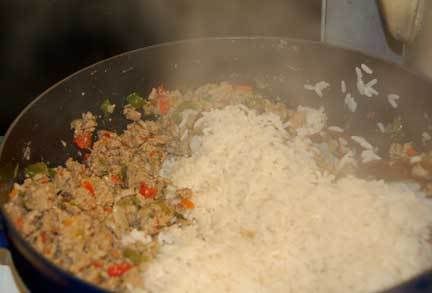 And pop in the oven for a bit to heat through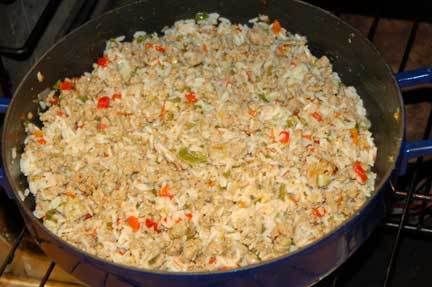 Dinner is served - in a vintage Betty bowl, with drinks for two.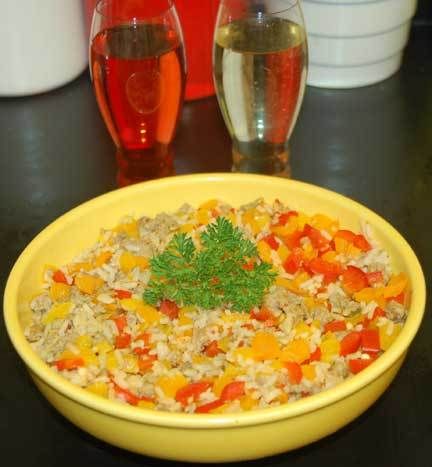 When I took it out of the oven, it didn't look like it had as many peppers as I remembered, so I diced and sautéed some more to add in before serving.
Pepper Dressing

olive oil
yellow onion, diced
bell peppers, diced
ground turkey
rice, cooked
seasoning of choice

Preheat oven to 350°F.

Heat oil and sauté the onions and bell peppers. Then add the ground turkey. Break up with a spoon and continue cooking till turkey is not pink. Add leftover cooked rice (or cook some fresh - that's what I did Monday night) and stir it in the pot. Season as desired. Bake, uncovered, for about half an hour.

As I recall, I used to use Tony Chachere's Famous Creole Seasoning, but this time I used Sauce Goddess' BBQ Sweet Heat Rub.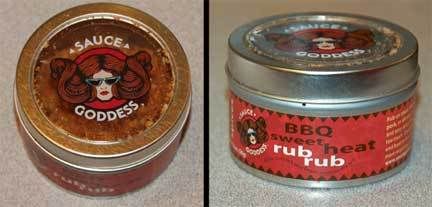 This rub is some seriously good stuff. I've been using it ever since a friend sent it to me in a gift exchange on one of the foodie boards. It's made in San Diego and I need to order some more.
Dessert was more of Nigella's
Pomegranate Ice Cream
.