Monday night is French Night at DD#2's school. Upper School students are supposed to bring either dessert or a main dish. For the most part, the students who bring a main dish bring quiche. This year we decided to branch out in the main dish category and make Cassoulet. The dish is traditionally cooked in an earthenware pot known as a cassole (hence the name). Doing some research I found that by French law, a cassoulet must be made up of 70% haricot beans & stock, fresh pork rinds, herbs and flavourings AND 30% pork (which can include sausage), preserved duck or goose. A nice coating of breadcrumbs is put on top to form the mandatory crust. Traditionally, each family cook has their own "recipe" and like the gumbo, étouffée, and jambalya of my growing up years in Louisiana, that "recipe" can differ from time to time depending on the exact ingredients available.
Our cassoulet could not legally be called so in France. Typically these days cassoulet is made with confit of duck leg and pork sausage. Because confit of duck legs is scarce around here and I prefer not to eat pork, we used chicken thighs and turkey Italian sausage to make this traditional peasant dish. Herbs and peppers came from our garden and the CSA veggie box. The house smelled FABULOUS while this was cooking. And I wish we had, as Emeril calls it: smell-evision. Or better yet, taste-evision. This is sooooo good! I'd love to share it with all of you.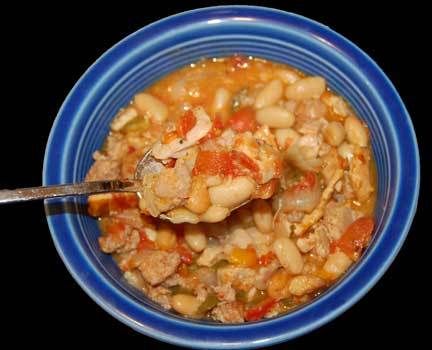 Started out by browning cubes of chicken thighs.
Raw animal products are so gross to me. Cooking helps.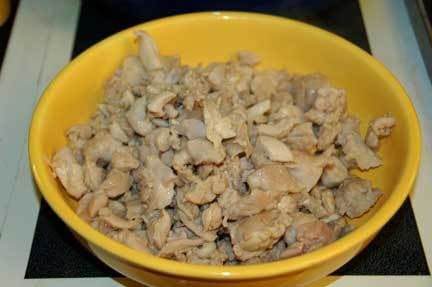 Onion and various peppers from the garden and our CSA veggie box:
Adding the wine:
Coming to boil: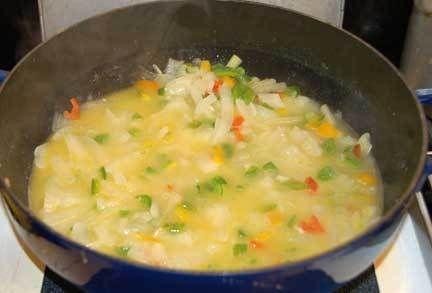 Tomatoes added and bringing back to simmer: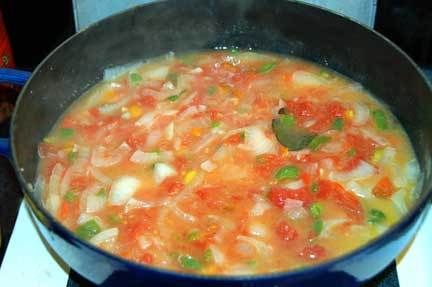 Chicken and sausage back in the pot:
Topped with breadcrumb mixture and going in the oven: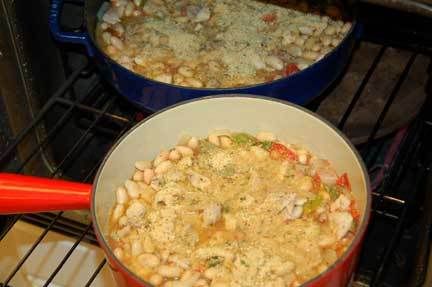 Ready to have the crusty top stirred under the second time: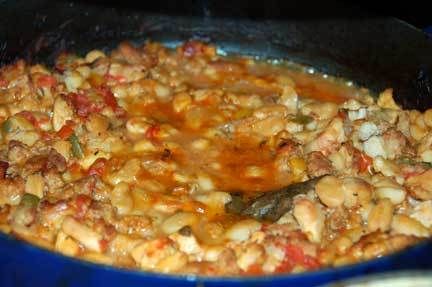 Cassoulet ready to serve:
Cassoulet ~ an easy version of this French peasant dish for American kitchens

1 Tbsp fresh thyme or 1 tsp dried
1 Tbsp fresh chopped rosemary or 1 tsp dried
2-3 tsp minced fresh sage or about 1 tsp dried
1 Tbsp minced fresh oregano or 1 tsp dried
1/2 tsp kosher salt
1/2 tsp freshly ground pepper

3 Tbsp olive oil
3 lb boneless, skinless chicken thighs, cut in 1" cubes
1 1/2 lbs turkey Italian sausage, casing removed
2 large yellow onions, chopped
2 large red bell peppers, diced
2 large garlic cloves, minced

1 cup dry white wine (I use Kendall Jackson Vintners' Reserve Chardonnay.)
28 oz diced tomatoes with juice (canned or fresh)
2 cups chicken broth
1 bay leaf
5 (19 oz) cans cannelloni beans, drained & rinsed

1/2 cup dried bread crumbs
1/4 cup chopped fresh parsley

kosher salt, to taste


In a small bowl, mix thyme, rosemary, sage, oregano, salt & pepper. Set aside.

In a large Dutch oven (about 8 qts), heat 1 Tbsp oil over medium heat. Cook the chicken, adding more oil if necessary and turn occasionally, until browned lightly on all sides. This should take about 10 minutes. Transfer the browned chicken to a plate.

Add sausage to the pot, breaking it up with a wooden spoon, and cook until it loses its pink colour, about 8 minutes or so. Remove sausage from pot & drain off some of the grease.

Add onions, peppers & garlic to the pot. Cook, stirring occasionally, until the onions are translucent. Stir in the wine & bring to a boil, scraping up any browned bits on the bottom of the pan. Add tomatoes with their juices, chicken stock & bay leaf. Stir in the chicken & sausage. Sprinkle the seasoning mixture over & mix well. Bring to a simmer, then add beans, folding them in to evenly distribute.

In a small bowl, mix the breadcrumbs with the parsley. Sprinkle over the top of the cassoulet. Bake @ 350°F in oven for 30 minutes. Using a wooden spoon, gently press the thin crust that has formed on the cassoulet down under the surface. Taste and adjust seasonings. You may need to add salt. Continue baking until the cassoulet is simmering & a second thin crust has formed, about 30 minutes. Let stand for 10 minutes before serving. Taste and adjust seasonings, if necessary.

Notes:
1. Cassoulet can be made ahead of time. After adding the beans, cool, cover & refrigerate, up to one day ahead. When ready to proceed, stir in up to 2 cups of additional chicken broth if needed. Add breadcrumb-parsley topping & bake.

2. I used various small bell peppers from the garden and our CSA veggie box to get approximately the amount of two large bell peppers. Ergo, we had a variation of colours.

3. I didn't have it in a large enough pot, so had to divide it into two smaller ones. Next time I make this for just our family, I will only make half the recipe.

4. This is going in the fridge tonight and will be put in the crockpot tomorrow to heat up for the evening's festivities. I'm sorry this won't preserve the typical crust, but at least the participants will get an idea of how a cassoulet should taste.