Isn't this a nice presentation?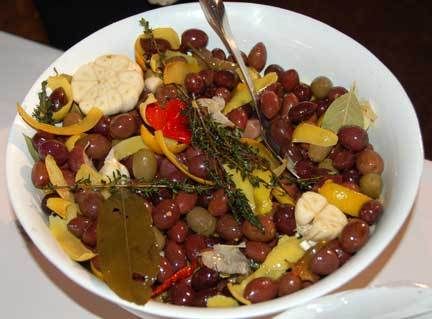 This was one of the recipes that was prepared and served at the Holiday Entertaining event at Under the Christmas Tree Friday. These are offered on the menu at Mezza Luna and are served warm at the restaurant. As these had been prepared ahead of time, they were at room temp. Good either way. You can't really tell from the angle of this shot, but that bowl held about a gallon of the olives. For the presentation the chef had added some garlic bulbs that had been cut in half and some pieces of red pepper.
Marinated Olives
1 orange
1 lemon
1 (6") sprig rosemary
2 sprigs oregano
1 bay leaf
2 1/2 cups mixed olives
1/3 cup extra virgin olive oil
6 cloves garlic, peeled and mashed with the flat side of a knife

Zest orange and lemon into large non-reactive bowl. Add the rosemary, oregano, bay leaf, olives, olive oil and garlic. Cover the mixture tightly and allow to rest in the refrigerator for two days. Serve at room temperature. These will keep in the refrigerator for several months.