The game hens were a were a wonderful alternative to turkey for our Thanksgiving celebration. DD#2 had been doing most of the food prep all day. I was not having the best day and would have had to cancel the meal if it hadn't been for her. When Abbey and Donnie arrived the three of them pretty much took over everything. I showed them how to spatchcock the first hen and they took it from there. And they did a great job! To put six on the broiler pan crowded them a bit, so they were not as flat as they could have been, but they were very juicy and flavourful. We served them on a large Fiesta pizza tray.
Spatchcocked Game Hens with Cranberry Pepper Jelly Glaze

favourite brine
6 Cornish game hens

Glaze:
1/4 cup chopped fresh parsley
4 green onions, finely chopped
1/4 cup unsalted butter
1/3 cup cranberry pepper jelly
3/4 cup dry white wine

Mix up your favourite brine and let cool. I used a mix given to me by a friend that contains sea salt, sugar, orange peel, garlic, red peppercorns, black peppercorns, rosemary, thyme, and bay leaf that was mixed with water. Rinse hens and remove any bags of parts from the cavity. Cover with cool brine and refrigerate 4 to 5 hours.

Preheat oven to 450°F. Remove hens from brine and drain. Spray broiler pan with PAM. Spatchcock each hen and lay on broiler pan. Roast for about 30 minutes.

While hens are roasting, combine glaze ingredients and bring to a boil. Stir while heating. When butter and jelly are melted and all ingredients are combined, remove from heat and set aside.

Remove hens from oven and brush on glaze. Roast about 5-7 more minutes. Remove from oven and let sit 5-10 minutes for juices to set before serving. Serves 6
Hens on the broiler pan.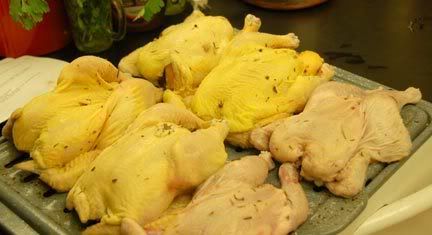 Brushed with glaze and ready to go back in the oven. The girls used the
cranberry pepper jelly
I made a couple of weeks ago.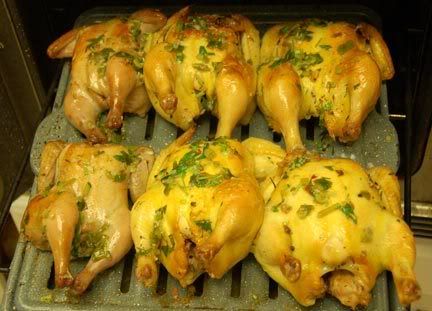 Out of the oven and resting before serving