Mike took me out to the farm this afternoon. I wanted to get some pepper jelly made for Christmas gifts, and I was anxious to see how things were looking as we get really into fall. It was a beautiful day.
And we are buried in pears! I believe we probably have about 4 or 5 bushels (at least) of pears that fell on the ground with the storm this week. More still on the tree. We filled a couple of 10 lb onion sacks full to bring home. If I feel like it, I'd like to go back out there this week on my own and make some Pear Honey Marmalade - a favourite my grandmother made when I was a child. As it is, I'm planning to call the neighbors, because some of them will come harvest and use the pears.
A close-up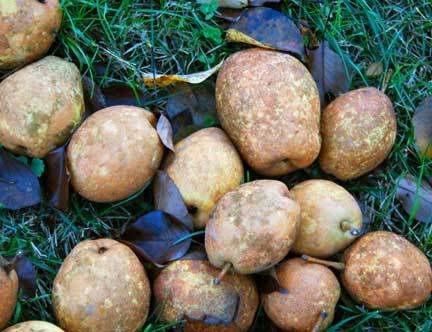 At the front gate. The hayfield is looking good.
This red tree was just glowing.
On the hill across the creek from the log house.
Afternoon on the hill reflecting in the lake pond.
Barn in late afternoon shadow.
It won't be long before the leaves are completely gone for this year. Temps are already dropping. Mike winterised the hose bibbs while I made the pepper jelly. It was 34°F when we left, so will likely get below freezing there tonight. Time to start building fires in the fireplace!