On one of the foodie boards we've been talking about Bread Soup Bowls & someone suggested the Rosemary Bread recipe from
Celebrate the Rain
, Seattle's Jr. League Cookbook. On another board there is a Soup Cook-Along. This week's recipe is Crescent Dragonwagon's Supreme of Chicken & Olive Soup Eureka from the
Dairy Hollow House Soup and Bread, A Country Inn Cookbook
. Between it being in the upper 70s and my health situation I had not yet made a single soup. And I have to choose one before long! Looking at these two things I decided to combine them for dinner Tuesday night.
First order of business was to convert the bread recipe for my breadmaker. After the bread dough got started I began working on the soup. I was getting somewhat weak and probably should not have been chopping. The doc had told me the Dacogen would hit me much more quickly and harder than the Vidaza and that is the truth. I barely had any energy tonight after two treatments. And it came on very quickly.The knife slipped and cut my finger. That took about 10 minutes to stop because of my low platelet count.

After recovering from that I pretty much let DD#2 take over. Making a yeast bread was totally new to her, but she is thrilled with learning a new skill. After dinner she wanted me to explain how to make bread without a breadmaker, and then volunteered to make another batch of these bread bowls in the breadmaker tonight. Can't beat that, can we? And she did a great job with the soup, too.
So we have lots of photos. Let's start with the bread.
Here is the dough turned out of the breadmaker: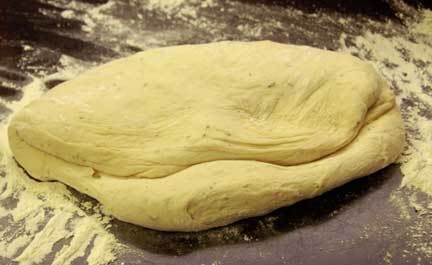 Divided into four bowls and having the finishing salt added before baking: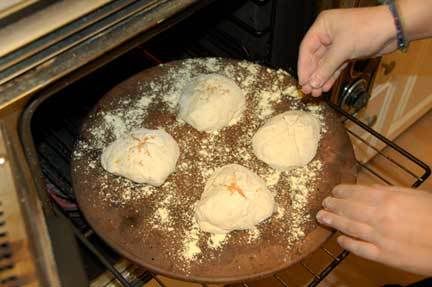 Baked bowls ready to come out of the oven: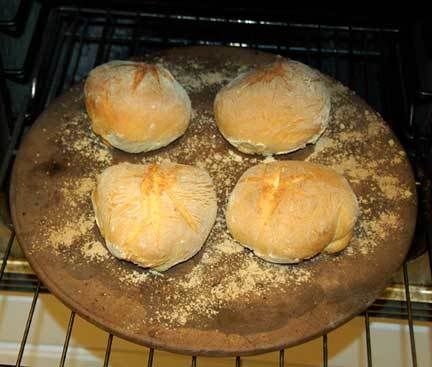 Cooling on a rack: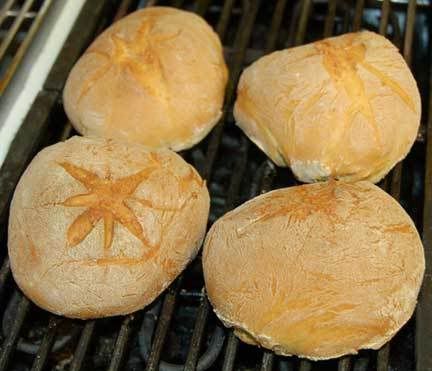 Hollowed out and ready for the soup: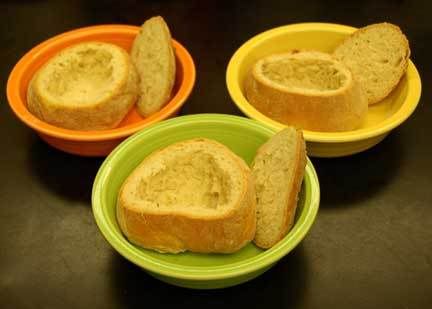 Beginning the soup: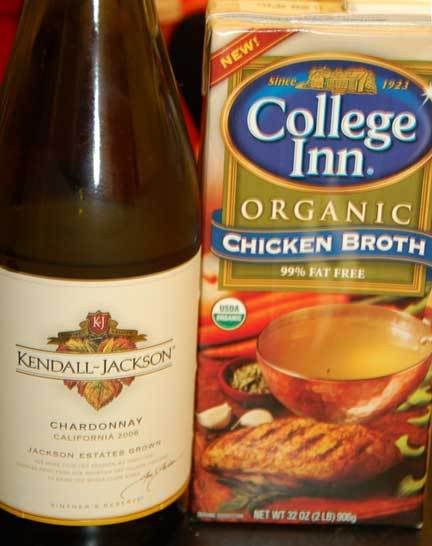 Chopped veggies: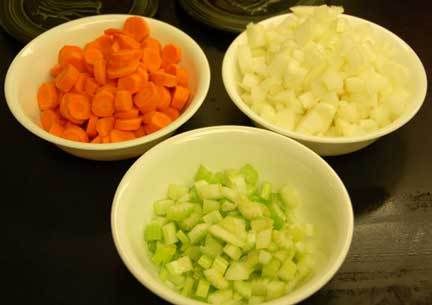 Veggies sautéing: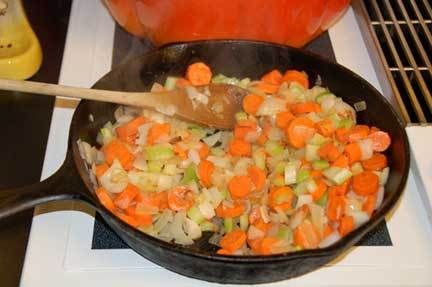 Soup is cooked: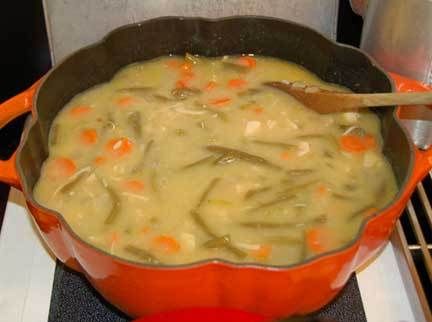 Soup is served: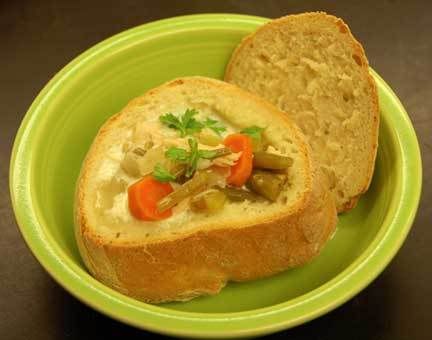 Herbed Bread Bowls
Adapted to my breadmaker from Rosemary Bread in Celebrate the Rain

3/4 cup warm water
1/2 cup milk
2 Tbsp olive oil
2 tsp kosher salt
2 Tbsp minced fresh rosemary or thyme
3 cups unbleached flour
2 1/4 tsp instant yeast

3/4 tsp finishing salt
Cornmeal, for baking

In breadmaker pan place all the ingredients, except for the finishing salt and cornmeal, in the order listed. Set breadmaker to dough and start.

When dough is made, turn out on floured surface and knead lightly. Shape into a round loaf. Can bake as is, or can divide in four pieces to make soup bowls. If dividing, shape each into a round. Cover and let rise until doubled – about an hour and a half.

Preheat oven to 450°F.

Score the tops of the bread in eighths. Sprinkle a bit of finishing salt in the cut on each loaf. Sprinkle cornmeal on baking stone or baking sheet. Transfer loaf or loaves to stone or sheet and bake for 10 minutes. During the 10 minutes spray the sides of the oven with water about three times to make sure there is a nice chewy crust.

Reduce heat to 400°F and bake another 30-35 minutes, or until crust is nicely browned. Let cool on wire racks before cutting.

Notes:
1. Tonight we used thyme for the herb and coarse Hawaiian Red Salt for the finishing salt.
2. DD#2 is in love with this bread. She's planning to make it tonight with rosemary.
3. I thought the bowls turned out a little small to be the main course for dinner with no salad or anything extra with it. Everyone got refills. For the next batch the dough should be divided into thirds to make the bowls. This size would be fine for lunch.
Supreme of Chicken and Olive Soup Eureka
Dairy Hollow House Soup and Bread, A Country Inn Cookbook by Crescent Dragonwagon

4 cups chicken stock
1 cup dry white wine
1/2 stick butter
1 medium onion, diced
1 medium carrot, peeled and diced
1 rib celery, diced
5 Tbsp flour
1/2 cup fresh or frozen peas
1 1/2 cups half and half
1/2 cup cooked rice
1/4 cup fat black olives, pitted and sliced (regular supermarket style California black olives, nothing fancy)
1/4 cup pimento stuffed green olives, thickly sliced
3 cups chunked cooked chicken
salt and pepper
chopped fresh parsley

In soup pot, combine stock and wine and bring to a boil. Turn down heat to medium-low and let simmer while you continue.

In a skillet, melt butter and sauté onion until slightly softened, about 5 min. Add carrot and celery and saute, stirring for another 5-6 min. Sprinkle the sauteed vegetables with the flour and lower the heat. Cook 2 minutes, stirring. Gradually add a ladle of the hot stock-wine mixture, then add the thickened pan contents to the stock pot. Barely simmer on very low heat for 20 min uncovered. If using fresh peas, add during the last 5 minutes of cooking time.

Stir in the half & half. Add peas, if using frozen, along with the olives and chicken. Heat through. Add salt and pepper to taste. Garnish with parsley. Serves 4-6 as an entrée.

Notes
1. The member who chose this recipe suggested doubling the amount of veggies and that's what I did. Carrots came from the CSA veggie box.
2. Also going with using veggies from the box, we had green beans rather than peas in our soup.
3. For the wine I used Kendall Jackson Vintner's Reserve Chardonnay.
4. Didn't have any leftover rice, so we put 1/2 cup of Uncle Ben's Converted Rice to cook in the broth while the veggies were being sautéed.
5. When nearly done we divided the soup in half. To one portion we put in half & half and the other portion got extra chicken broth. The concensus was that the soup with more broth would be better in the summer and the one with half & half was good for winter.
6. I do not think I would use the olives again next time. They didn't seem to add much to the dish, IMO.
7. Serving in the bread bowls was a wonderful idea.